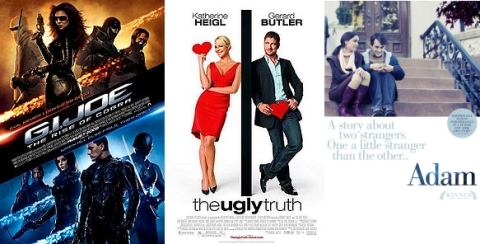 NATIONAL RELEASES
G.I. Joe: The Rise Of Cobra (Paramount): Following in the footsteps of Transformers (another 1980s toy saga to hit the big screen), this one is an origin story about an elite US military unit (G.I. Joe) and focuses on the characters Duke (Channing Tatum) and Ripcord (Marlon Wayans) as they join the team.
Directed by Stephen Sommers, who's last film was the high profile train wreck Van Helsing (2004), the plot focuses on the team's efforts to stop an evil organization led by a notorious arms dealer. The cast also includes Rachel Nichols, Ray Park, Adewale Akinnuoye-Agbaje, Christopher Eccleston, Sienna Miller, Joseph Gordon-Levitt, Dennis Quaid and Jonathan Pryce.
Paramount will be hoping that the bad early buzz on this film (which meant they didn't screen it for US critics) will not deter the young male audience from going to see it.
Given the success of the Transformers (also produced by Lorenzo Di Bonaventura) the studio may have their fingers crossed for a decent opening that could turn it in to a franchise.
The main problem it faces is not really critical derision (or the dodgy CGI from the trailer) but whether its core audience thinks it is a lame action film and whether non-US audiences get the concept. [Odeon Leicester Square & Nationwide / Cert 12A]
The Ugly Truth (Sony Pictures): A romantic 'battle of the sexes' comedy about a TV producer (Katherine Heigl) who is reluctantly embroiled in a series of outrageous tests by her chauvinistic correspondent (Gerard Butler) to prove his theories on relationships and help her find love.
Directed by Robert Luketic, it was presumably designed to be the female equivalent of a Judd Apatow comedy, that capitalises on the emerging star power of it's two leads.
The poor reviews in the US, along with the less than expected box office there means that Sony won't be expecting huge things from it here. But that said, it was a smart move to open against G.I. Joe and thus ensnare female viewers not up for explosions and hi-tech weaponry. [Vue West End & Nationwide – Previews 5 August / Cert 15]
Adam (20th Century Fox): An increasingly rare thing in mainstream cinema is the plucky indie-drama acquired at Sundance by a specialty division.
This drama about a New Yorker with Asberger Syndrome (Hugh Dancy) and his relationship with his neighbour (Rose Byrne) is just such a film – it premiered at Park City back in January and was bought by Fox Searchlight.
Directed by Max Meyer, it is an agreeably handled affair with two decent lead performances in roles which could have easily gone astray. Dancy in particular gets a role he can sink his teeth into and manages to avoid the traps of playing a character with a disability.
The chemistry of the central love story is good – even if at times it sugarcoats the realities of what would happen in such a situation – and it is well put together overall. The main flaw with the film is a weak subplot involving Byrne's father (played by Peter Gallagher) which wouldn't be out of place on daytime TV.
That said though, it is a film that deserves credit for attempting to craft a drama about a difficult subject matter. Fox will only be expecting semi-decent box office from more enquiring audiences. [C'World Haymarket, Curzon Mayfair, Odeon Covent Gdn. & Nationwide / Cert 12A]
Orphan (Optimum Releasing): Another horror film is unleashed at cinemas and this one is about a husband (Peter Sarsgaard) and wife (Vera Farmiga) who adopt a 9-year-old girl after losing their baby.
Directed by Jaume Collet-Serra, it was produced by Joel Silver and Leonardo DiCaprio but opened recently in the US to mixed reviews and tepid box office.
Optimum will be expecting horror fans to turn out for this but DVD seems where it is likely to see success. [Odeon Covent Gdn., Vue West End & Nationwide / Cert 15]
[ad]
IN LIMITED RELEASE
The Meerkats (Momentum Pictures): A docu-drama about meerkats featuring the voice of the late Paul Newman.  [Vues Greenwich, Finchley Road, Fulham & Key Cities / Cert PG]
Mesrine: Killer Instinct (Momentum Pictures): Crime drama starring Vincent Cassell as French criminal Jacques Mesrine. [C'Worlds Fulham Rd, Haymarket, Curzon Soho & Key Cities / Cert 15]
Home (Soda Pictures): A documentary directed by Yann Arthus-Bertrand with aerial footage from 54 countries depicting how the Earth's problems are all interlinked. [London & Key Cities / Cert 15]
Mega Shark Vs. Giant Octopus (Metrodome): A quick show in cinemas for this very-soon-to-be-on-DVD potboiler which is adequately descibed by its title. [Apollo Piccadilly Circus / Cert 15]
The Yes Men Fix The World (Dogwoof): Another film about film about the exploits of The Yes Men. [Screen-On-The-Green, Gate Notting Hill, Greenwich Picturehouse, Ritzy / Cert 12A]
[ad]
> UK cinema releases for August 2009
> DVD Picks for this week including Let The Right One In and Winstanley (W/C Monday 3rd August)