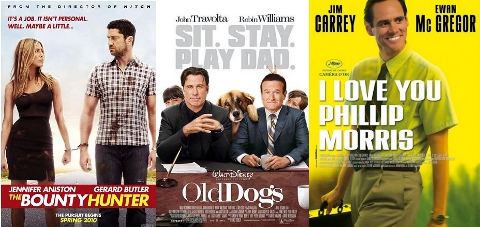 [ad]
NATIONAL RELEASES
The Bounty Hunter (Sony Pictures): A romantic comedy about a struggling bounty hunter (Gerard Butler) who find out that his bail-jumping ex-wife (Jennifer Aniston) is his next target.
Directed by Andy Tennant (Hitch), this looks like it is going to get slaughtered by critics and yet still making a decent chunk of money at the box office from undemanding audiences. [Nationwide / 12A]
Old Dogs (Walt Disney): The sequel to the godawful Wild Hogs is about two friends and business partners (John Travolta and Robin Williams) who find their lives turned upside down when strange circumstances lead to them being placed in the care of 7-year-old twins.
It hasn't been as successful as the first film in the US and has also received "extremely negative reviews" according to Wikipedia. Which means it's probably crap. [Nationwide / PG]
I Love You Philip Morris (E1 Entertainment): A comedy-drama film based on the life events of con artist and multiple prison escapee Steven Jay Russell (Jim Carrey) who falls in love with his cell mate Phillip Morris (Ewan McGregor) whilst in prison.
After Morris is released from prison, Russell escapes from prison four times in order to be reunited with Morris. After difficulty finding a US distributor, probably due to its homosexual content, the film was re-edited and has taken a while to reach UK cinemas after playing at Sundance in January 2009. [Vue West End & Nationwide / 15]
My Last Five Girlfriends (Paramount): A British romantic comedy (alarm bells are already ringing) based on Alain De Botton's book, Essays In Love, which sees a guy (Brendan Patricks) quiz his last five girlfriends to find out what went wrong in order to figure out how to find love. [Nationwide / 12A]
The Spy Next Door (Paramount/Momentum): A family friendly action caper about a mild-mannered babysitter (Jackie Chan) who has to fend off secret agents after one of the kids he's looking after inadvertently downloads a secret code. [Empire Leicester Square & Nationwide / PG]
[ad]
ALSO OUT
Staten Island (Warner Bros.): A crime drama written and directed by James DeMonaco about a Staten Island mob boss Parmie (Vincent D'Onofrio) who is robbed by a septic tank cleaner (Ethan Hawke).
The Scouting Book for Boys (Pathe): A boy (Thomas Turgoose) and a girl (Holly Grainge) growing up on a Norfolk caravan park come up with a plan to stay together when her mother loses custody of her. [Curzon Soho & selected Key Cities / 15]
Dirty Oil (Dogwoof): A documentary from director Leslie Iwerks that explores how the bulk of America's oil supply comes from Canada – specifically northern Alberta – and the effects it has on the local environment. [Odeon Panton Street & Nationwide / U]
Happy Ever Afters (Verve Pictures): Another British romantic comedy (that's two in one week) about two weddings that have their receptions in the same hotel on the same day. Sally Hawkins stars alongside Tom Riley. [15]
> DVD and Blu-ray Picks for Monday 15th March including A Serious Man, Johnny Mad Dog and The White Ribbon
> Get local cinema showtimes for your area via Google Movies