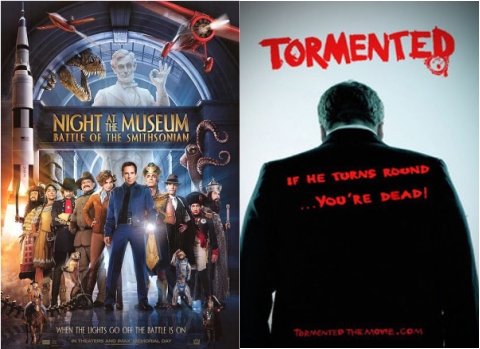 NATIONAL RELEASES
Night At The Museum 2 (20th Century Fox): The sequel to the 2006 hit comedy sees the museum pieces from the first film (which come to life) attacked by an evil Pharaoh.
Security guard Larry (Ben Stiller) then has to break into the Smithsonian Institution to save the old exhibits from New York (like Theodore Roosevelt) from new exhibits (like General Custer, Napoleon Bonaparte, Al Capone and even Darth Vader).
Fox are looking to capitalise on the runaway success of the first film (which dominated the 2006 Christmas box office) and turn this into a summer family tent pole movie. Although it has a lot of competition, expect this to get to the top spot. [Nationwide / Cert PG] 
Tormented (Warner Bros/Pathe): A British horror film about a bullied asthmatic who is driven to suicide and returns from the dead to get revenge on his teenage tormentors. Starring Alex Pettyfer, April Pearson and directed by Jon Wright.
Partly funded by BBC Films, this will be looking to lure gullible teens in but might struggle to get them in the current crowded marketplace. [Nationwide / Cert 15]
[ad]
IN SELECTED RELEASE
Alice Neel (Revolver Entertainment): A look at the life of portraitist Alice Neel, whose paintings were embraced in the 1970s, some 50 years after she began to work. [ICA Cinema]
Awaydays (Optimum Releasing): Based on the book of the same name by Kevin Sampson, this explores a bunch of thrill seeking young men looking to escape their 9 to 5 lives in the 1970s.
Blind Loves (ICA Films): The film debut by writer/director Juraj Lehotsky of Slovakia who cast real blind people to play themselves in this blend between fiction and documentary about the everyday lives of four blind lovers. [C'Worlds Fulham, Wandsworth & Nationwide / Cert 18][ICA Cinema & Key Cities From June / Cert 18]
Everlasting Moments (Icon): A Swedish drama starring Maria Heiskanen, Mikael Persbrandt and Jesper Christensen. Directed by Jan Troell it is based on the true story of Maria Larsson, a Swedish working class woman in the early 1900s, who wins a camera in a lottery and goes on to become a photographer. [Curzon Soho & Key Cities / Cert 15]
The Girl Cut In Two (Artificial Eye):  Veteran French director Claude Chabrol returns with this tale about two men (Benoît Magimel & François Berléand) who vie for a single young woman (Ludivine Sagnier). 
Louise Bourgeois (Revolver Entertainment): A documentary about artist and sculptor Louise Bourgeois, directed by Marion Cajori and Amei Wallach. [ICA Cinema]
Mark Of An Angel (Metrodome): A French thriller about two unusual mothers who both claim kinship over the young girl. [Curzons Mayfair & Renoir, Gate, Screen On The Green & Key Cities / Cert 12A]
Objectified (Plexifilm): A documentary by director Gary Hustwit which explores the elusive world of industrial design and the interaction of people with the objects they've brought into their lives. [Barbican]
Painters Painting (Revolver Entertainment): A 1972 documentary directed by Emile de Antonio which covers American art movements from abstract expressionism to pop art through conversations with artists in their studios. Artists appearing in the film include Willem de Kooning, Jasper Johns, Andy Warhol, Robert Rauschenberg and Kenneth Noland. [ICA Cinema]
Pierrot Le Fou (bfi Distribution): A re-issue of the 1965 film by Jean-Luc Godard, starring Anna Karina and Jean-Paul Belmondo. It is based on Obsession, the novel by Lionel White. [London & Key Cities / Cert 15]
[ad]
> UK cinema releases for May 2009
> UK DVD Picks for this week including Frost/Nixon and Defiance (W/C Monday 18th May)