This is a list of useful movie websites to help guide you to the best film content on the web.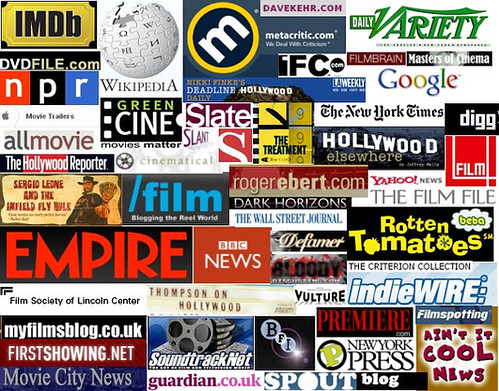 Back in August 2006 I created a list of what I thought were the 10 most useful movie websites but I felt a fresher and more comprehensive one was needed (which is why it is the 2.0 version).
So, the following is a collection of sites related to the world of film broken down into these categories: essential sites, news, blogs, critics, DVDs and podcasts.
If you look on the sidebar to the right you'll see links to a lot of these sites but I thought I'd expand it and explain why they are worth bookmarking.
Part of the aim here is also to spread the word about quality film sites, so if you want to post this to Digg or another social news site then just use the buttons at the bottom of this post.
I'm sure there are more links out there worthy of inclusion in a future list, so if you have any suggestions email me or leave a comment below.
ESSENTIALS
These are sites that I would consider essential bookmarks. They range from some of the most popular film sites on the web to the more obscure, but all are useful at helping you find the movie information you want.

NEWS
The following section is a little broad but it centres on more general sites that cover the world of film.
Some are established news organisations whilst others are purely online, but all are useful sources of information on the latest film stories.
BLOGS
Blogs have grown rapidly in the last four years, allowing professional journalists and keen movie lovers to publish their thoughts online in a structured format.
Some of these belong to established news organisations, others are independent – but all are worth reading if you want regular doses of movie opinion and insight.
/Film: Peter Sciretta edits this blog that has come on leaps and bounds in the last couple of years. The focus is on mainstream movies, but the stories here are a useful snapshot of what is going on in the wider movie blogosphere from posts about Indy 4 to coverage from Sundance.
Awards Daily: Sasha Stone is one of the elite awards season bloggers, which means she covers the road to the Oscars with a passion and detail that is rare indeed. If you have any interest in the raft of awards that lead to Oscar, such as the Golden Globes, SAG awards and BAFTAs, then this is the place to visit.
Salon / Movies: Although it still has that annoying ad at the beginning of the site (can't they find a new commercial model?) Salon is still a home for perceptive and lucid journalism. Writers like Stephanie Zacharek and Andrew O'Hehir provide a distinctive take on films and Andy Klein's 2001 piece on Memento is one of the best things I've read about that film.
Cinedelica: A range of different cult movies are covered in this fine UK based site, which features competitions and coverage of films like The Frightened Woman and Vault of Horror.
Cinematical: One of the first movie blogs to really make a mark, it is still a very useful place to catch up with news, features, reviews and interviews from a range of writers including Monika Bartyzel, Erik Davis, Scott Weinberg and James Rocchi. It has a sister site called Cinematical Indie that is also worth bookmarking.
Cinephiliac: The personal website of New York based film writer Aaron Hillis – a contributor to The Village Voice, Premiere, IFC News, Moviefone, and The Reeler – which has links to his work and a rather funky design.
Dave Kehr: You may know Dave as the guy who reviews DVDs for the New York Times but his own blog is also worth a look for his intelligent take on a variety of films and directors.  If – like me – you are excited by the prospect of Criterion releasing The Third Man and The 400 Blows on Blu-ray – then this is the place to find out.
David Bordwell: The Jacques Deloux Professor of Film Studies at the Univeristy of Wisconsin-Madison is also a prolific blogger. Useful for anyone interested in the history of cinema and how it relates to what you see on the big and small screen.
David Carr / New York Times: Also known as 'The Bagger', David Carr has become something of a delightful paradox – a hip 'new media' blogger at the most prestigious 'old media' outlet in America. His video blogs from Times Square during the awards season are smart, funny and always end with the strange payoff line: 'It's called Times Square …for a reason'. His writing is also a pleasure to read (check out his Oscar debate with fellow NY Times writer A.O. Scott) and even though Paul Thomas Anderson has (perhaps jokingly) quizzed his knowledge of films, I'm a fan.
Deadline Hollywood Daily: Nikki Finke is a journalist almost born for the medium of blogging – tough, smart, opinionated and armed with an impressive array of Hollywood sources. She puts up the latest Hollywood stories ranging from box office grosses to why the former head of New Line Cinema is not to her liking. During last year's WGA strike her reporting of the bitter dispute between the studios and the writer's union was eye opening and boosted her profile even further.
Defamer: The Hollywood branch of Nick Denton's Gawker blog empire is a barrage of no holds barred gossip. Sometimes cruel, sometimes amusing it can also be a useful window into the wackier aspects of the Hollywood machine.
GreenCine Daily: One of the best and most comprehensive film blogs on the web. It is a fantastic resource for any film fan with regular posts on a wide range of movies, although it skews towards the high brow.
Filmbrain: A New York based blog worth checking out for their take on current film issues, like the now-old-but-still-kind-of-relevant critics vs bloggers debate and an addictive screen capture quiz.
First Showing: The gang at First Showing submit news items that regularly make the front page of Digg and their blog is a good mix of reviews, news, rumours and interviews.
Hollywood Elsewhere: Jeffrey Wells is one of the most prolific bloggers anywhere, with regular daily updates on all manner of film related news. The comments section is usually an interesting place, especially with the likes of producer Don Murphy and director George Hickenlooper posting there from time to time.
IFC Blog: The blog of the Independent Film Channel is updated daily and covers a wider range of movies than you might think.
In Contention: Another blog that covers the awards season with an impressive depth and zeal. Edited by Kristopher Tapley (who also writes for Variety's Red Carpet District) is usually full of intelligent analysis and interesting features like this one on the best shots of 2007.
Moving Picture Blog: You might know Joe Leydon form his role as a critic for Variety (or you may even be one of his students at the University of Houston) but his blog has a nice range to it, covering mainstream movies and more artistic fare with a pleasing sense of fair-mindedness.
Masters of Cinema: A feast for any cinephile this site has a highly impressive stream of information on classic films and links to where you can get them on DVD.
Movie Marketing Madness: A blog that explores how films are marketed, with some interesting insights on how this part of the Hollywood machine works. Check out their take on how Speed Racer was marketed by Warner Bros.
My Films Blog: A UK based blog written by a collective of film writers including Angie Errigo and Charles Gant, it often has a useful breakdown of the UK box office as well as reviews of the latest films.
Not Coming to a Theater Near You: Tasteful blog written edited by Rumsey Taylor, Leo Goldsmith, and Jenny Jediny that slants to the high brow end of the spectrum.
Patrick Goldstein / LA Times: The LA Times film writer has regular opinion pieces that are worth checking out.

Risky Biz Blog: The blog of trade journal The Hollywood Reporter, which is edited by Steven Zeitchikand features contributions for various other HR writers. Useful for industry analysis even if there isn't much in the way of outbound links.
Roger Ebert's Journal: Although his official site has been going strong for years now, the famous critic for the Chicago Sun-Times has now started a blog in which he's already written about fanzines begetting blogs and his early days as a teenage newshound.
Scanners by Jim Emerson: Ebert's colleague at the Sun Times is the founding editor-in-chief of RogerEbert.com and also runs his own blog which is another useful place to catch up with the latest news and opinion on movies.
Sergio Leone and the Infield Fly Rule: As a devoted Leone fan, the title of this blog had me hooked from day one. But the great thing about the site – written by Dennis Cozzalio – is it's unique voice and passion for cinema. For an explanation of the rather funky title check out this post.
Spout Blog: This blog claims to be 'daily coverage of what is truly interesting in the film world' and it is just that. Lots of intelligent insight is served up daily by Karina Longsworth, and
The Envelope / LA Times: The awards section of LA's daily newspaper might lack the detail of certain rivals but is usually a good place for more 'establishment' coverage of Oscar season with big name interviews and analysis.
The Hot Blog by David Poland: David Poland is the editor of Movie City News and has been writing online since the late 90s at The Hot Button. His blog is filled with lots of smart, detailed insight into the latest releases, issues affecting the film industry and a good deal else besides.
The House Next Door: A terrific place to catch up with all sorts of daily film content from around the web. The contributors and comments are often spot on although the recent departure of founder Matt Zoeller Seitz is a big blow – let's hope he continues writing there in some capacity.
The Playlist: Dedicated to 'that sweet spot where music and movies meet' this is a place where you can explore soundtracks and enjoy their amusing riffs on current film releases.
The Screengrab: A blog with 'news, gossip and comment for indie film addicts', this also has a fine strand of unwatchable movies (e.g. Bolero) that you perversely want to see after reading about them here.
Thompson on Hollywood: Variety's Anne Thompson used to be at Risky Biz Blog but switched over to their trade paper rival and posts regularly on the industry with her customary insight and taste. Refreshingly for someone at an established media outlet she understands the virtues of blogs and how they are reshaping film coverage.
Twitch: An excellent destination for anyone interested in Asian cinema.
CRITICS
The role of the film critic is one that has come under some scrutiny in recent times with many getting laid off and some questioning their role in an age of blogs and sites like Rotten Tomatoes.
What follows here are the film critics whose opinion and insight is valuable to anyone who cares about the medium.
DVD
For those interested in finding films on DVD and what the latest releases are like then I would suggest the following.
Amazon UK / US: The giant online retailer is still the place to search for and buy (or even sell) DVDs. They own the IMDb, so when you are browsing entries there look on the top right hand corner and you will see links to the film on DVD or the soundtrack. The user reviews can also be handy.
DVD Beaver: An excellent place to check out the specs of the latest DVD releases – check out these screenshots of the Criterion release of Days of Heaven to see how useful the site can be.
DVD File: A very solid and comprehensive site featuring news, reviews and technical explanations of the format.
DVD Price Check: A good place to get price comparisons on the latest DVDs from the various regions.
DVD Spin Doctor: Glen Abel's blog about the latest DVD news and releases is a very useful source of news and opinion.
DVD Times: Posssibly my favourite DVD site, with a comprehensive list of release dates, news, reviews and images.
The Easter Egg Archive: Useful site for finding hidden bonus features (also known as Easter Eggs) on DVDs.
Ebay US / UK: If you can't find a DVD at a retail outlet, have a browse on the auction giant to see if a user is selling an old copy.
Play: A consistently excellent place for good deals on DVDs, as well as CDs and other products. Very useful for getting a bargain on a DVD box set.
PODCASTS
A number of fine film related podcasts are now available for free and you can subscribe to them via iTunes, RSS feed or via direct MP3 download.
Here are my pick of the best:
So that wraps this list up.
As I said before, if you have any good sites worthy of inclusion then leave them in the comments below or email me.
UPDATE: Jim Emerson's Scanners blog has now been included (an oversight by me but thanks to Denis at SLIFR for reminding me!)