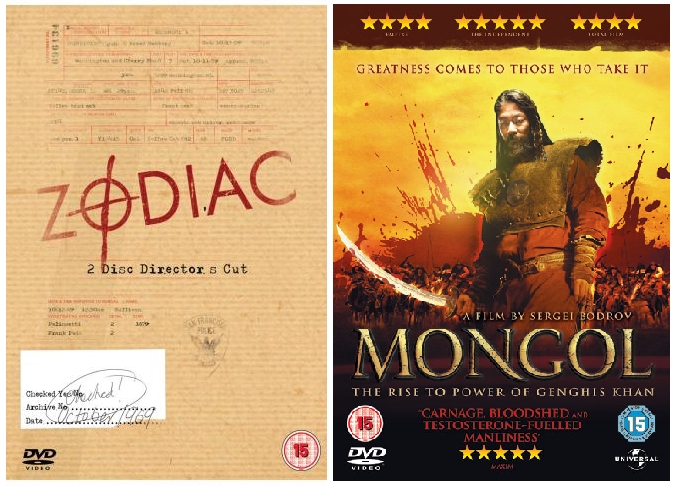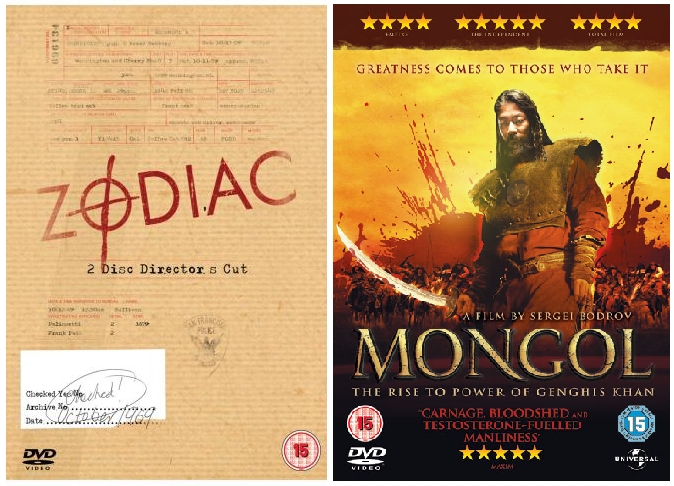 DVD PICKS
Zodiac – 2 Disc Director's Cut (Warner Bros): One of the best films of the last few years finally gets the re-release treatment it richly deserves. It tells the story of the Zodiac killer who terrorised the San Francisco area in the late 60s and 70s. It explores three key figures related to the case: Robert Graysmith (Jake Gyllenhaal) – a newspaper cartoonist fascinated by the case; Paul Avery (Robert Downey Jr.) a crime reporter who covers the killings; and Dave Toschi (Mark Ruffalo) – the detective assigned with solving the murders. Director David Fincher has long been one of Hollywood's great visual stylists and here beautifully captures the period whilst also creating a pervasive sense of dread. It is almost as if he is revisiting Se7en by way of All The President's Men.
The script by James Vanderbilt also does a great job of spanning the years the killer was on the loose, highlighting the frustrations and mysteries the case threw up. Indeed, the conventions of a lot of serial killer movies are abandoned in favour of a much more thoughtful and serious approach. The 'directors cut' has about 10 minutes extra footage and this version has a commentary by Fincher, plus a second commentary by Gyllenhaal, Downey, producer Brad Fischer, Vanderbilt and writer James Ellroy. The 2nd disc contains a raft of superb extras including documentary features on the Zodiac case and a look at the extensive visual effects used in the film. Definitely one of the DVD highlights of the year. [Cert 15 / Also available on Blu-ray]
Mongol (Universal): A rich and visually spectacular biopic of Ghengis Khan, this takes a much more sympathetic approach to a much maligned historical figure. Directed by Sergei Bodrov, it explores the early life of the young Genghis and his rise to power as a famous general in Mongolia. Tadanobu Asano plays Khan and Khulan Chuluun stars as his wife and love interest. An international co-production between companies in Germany, Kazakhstan, Mongolia and Russia, it makes great use of the Chinese and Kazakhstan landscapes in creating a memorable and often surprising story. The main extra of note on the DVD is the 26-minute 'The Making of Mongol – The Rise to Power of Genghis Khan'. [Cert 15 / Also available on Blu-ray]
[ad]
ALSO OUT
Caligula: The Imperial Edition (Arrow Films): The opulent multi-million dollar depiction of the decadent Roman emperor with Malcolm McDowell, John Gielgud, Peter O'Toole and Helen Mirren. This 4-disc edition features three separate versions of the film: the full, Uncut Version (2 hours 36 minutes); the UK Theatrical Version (1 hour 42 minutes) and the Alternative Version (2 hours 33 minutes). The latter replaces most of the more sexually explicit sequences with alternate scenes and alternate camera angles. The fourth disc of Extras features a variety of materials (documentaries, interviews, press notes, etc.) that provide a comprehensive background on the history and the making of the film. 
Cassandra's Dream (Optimum): Set in contemporary London, Woody Allen's tale of two brothers (Ewan MacGregor and Colin Farrell) caught up in a murder is sadly one of his poorest films. Ever.
Dangerous Parking (Anchor Bay): Peter Howitt's adaptation of Stuart Browne's novel stars Howitt alongside Saffron Burrows, Sean Pertwee, Racahel Stirling, Alice Evans, Tom Conti and Dervia Kirwan.
Daylight Robbery (Liberation Entertainment): A British crime movie that follows a group of England football fans robbing a London bank, whilst using the Germany 2006 World Cup as their cover. Written and directed by Paris Leonti, the film stars Geoff Bell, Paul Nicholls, Vas Blackwood, Justin Salinger and Shaun Williamson.
Doctor Who: The Trial of a Time Lord (2 Entertain): Colin Baker era Dorctor Who.
Jack Brooks: Monster Slayer (Momentum): This B-movie comedy horror is Jon Knautz's directorial debut and stars Trevor Matthews, Robert Englund, Rachel Skarsten, Daniel Kash and James A Woods. 
Loaded (Icon): An action thriller starring Jesse Metcalfe, Vinnie Jones and Monica Keena that follows one man's descent into a world of drugs and violence as his new acquaintance turns out to be exacting a long-harboured revenge.
Made of Honour (Sony): A romantic comedy with Patrick Dempsey and Michelle Monaghan as platonic friends since college who have never entertained the prospect of romance – until she plans to get married to another guy. 
Nomad (The Warrior) (Optimum): Set in 18th Century Kazakhstan, this is the story of a boy who is destined to one day unite the three warring tribes of the country who have survived and fought for centuries – against invaders, against their formidable enemies and amongst themselves. Directed by Sergei Bodrov, the director of Mongol (also out this week), the film stars Kuno Becker, Jay Hernandez and Jason Scott Lee.
Oasis of Fear (Shameless): Also known as 'Dirty Pictures', Oasis of Fear is a sexploitation thriller from Umberto Lenzi (Paranoia, Cannibal Ferox, Nightmare City) in which two young hippies, Dick (Ray Lovelock) and Ingrid (Ornella Muti) get stuck in a mysterious house.
One Missed Call (2008) (Warner): In this remake of the Japanese horror film "Chakushin Ari" (2003), several people start receiving voice-mails from their future selves — messages which include the date, time, and some of the details of their deaths.
P2 (Palisades Tartan): Co-written and produced by Alexandre Aja (writer-director of Switchblade Romance, The Hills Have Eyes and the forthcoming Mirrors) and Gregory Levasseur, this horror stars Wes Bentley and Rachel Nichols and is set in a parking lot.
Pokémon: The Rise of Darkrai (Network): This Pokémon movie features Ash and Pikachu on another adventure.
Robot Chicken – Season 1 (Revolver): Created by Seth Green and Matthew Senreich, Robot Chicken is an affectionate assault on pop culture. Utilising stop-motion animation Season 1 comprises of 20 fifteen minute episodes of fast-paced sketches.
Salò or The 120 Days of Sodom (BFI): Pier Paolo Pasolini's final and most controversial film has been banned, censored and reviled the world over since its first release in 1975. It did not receive UK certification until late 2000, when it was passed uncut. The film is a brutal allegory based on the novel 120 Days of Sodom by the Marquis de Sade.
Starship Troopers 1-3 Box Set (Sony): This three-disc set includes the Walt Disney Special Edition release of Starship Troopers along with the Sony releases of Starship Troopers 2: Hero of the Federation and Starship Troopers 3: Marauder.
Starship Troopers 3: Marauder (Sony): The war against the Bugs continues as a Federation starship crash-lands on the distant alien planet OM-1, stranding beloved leader Sky Marshal Anoke and several others, including comely but tough pilot Lola Beck. Colonel Johnny Rico, reluctant hero of the original Bug Invasion on Planet P, has to lead a team of Troopers on a daring rescue mission.
Strip Nude for your Killer (Shameless): The death of a fashion model leads to a revenge-driven trail of death that soon has the modelling agency she worked for in a frenzy of panic as the clothes get slashed and the sluts get slayed. Edwige Fenech stars as the woman trying to avoid being the next to shed her clothes for the killer.
Tales of the Riverbank (Metrodome): An animated update of the BBC children's series which tells the story of three friends – Hammy Hamster (Ardal O'Hanlon), Roderick Rat (Steve Coogan) and GP the Guinea Pig (Jim Broadbent) – who, having been swept down-river in a violent storm, embark on an epic journey in search of their lost homes. The narrator of the story is Owl (Stephen Fry).
The Animals Film (BFI): A controversial and confrontational film about how and why modern societies exploit animals for food, fur, sport, entertainment and science. In the UK it was broadcast on Channel 4 during its first week on air in November 1982 and caused uproar and thereafter was shown in cinemas and on TV around the world. It is narrated by Julie Christie, with music by David Byrne/Talking Heads and a score composed and performed by Robert Wyatt. This is the uncut and digitally re-mastered version, featuring a new conclusion.
The Designated Victim (Shameless): A remake of Hitchcock's Strangers on a Train from director Maurizio Lucidi about a character named Stefano (Thomas Milian) who meets a wealthy Count (Pierre Clemente), which then leads to a plan where both will do each other a murderous favour.
The Fantastic Four – Complete Season 1 (1994 series) (Liberation): This 2 disc set, features all 13 episodes of Season One of the heralded 1990's animated series. Created by Stan Lee and Jack Kirby, Season One contains a faithful re-telling of their original comic book stories.
The Incredible Hulk – Season 5 (Universal Playback): Season 5 of the 70s show with Bill Bixby and Lou Ferrigno. There are no extras.
The Incredible Hulk: The Complete Series (Universal Playback): Seasons 1-5 of the 70s show.
The Red Hand Gang: The Complete Series (Fabulous Films): First broadcast on BBC 1 in September 1977 and then repeated during the summers of 1980 and 1982, The Red Hand Gang still remains something of a cult show. Like The Famous Five, The Red Hand Gang were a group of five inner-city pre-teens who unwittingly found themselves foiling heists, robberies and kidnaps. They were so called because they left their trademark red hand print to mark where they had been. This series was thought to be lost until Fabulous Films unearthed it this year. All 12 full length episodes have now been fully restored for this release.
[ad]
BLU-RAY
The following titles are also out now on Blu-ray disc:
Army of Darkness (Optimum)
Batman (Warner)
Batman & Robin (Warner)
Batman Forever (Warner)
Batman Returns (Warner)
Blow (EIV)
Evil Dead II (Optimum)
How the West was Won (Warner)
Made of Honour (Sony)
Mongol (Universal)
My Best Friend's Wedding (Sony)
Night of the Living Dead (Optimum)
One Missed Call (Warner)
Rise of the Footsoldier (Optimum)
Salò or The 120 Days of Sodom (BFI)
Starship Troopers 1-3 Box Set (Sony)
P2 (Palisades Tartan)
Starship Troopers 3: Marauder (Sony)
The Shawshank Redemption (ITV DVD)
If you have any questions about this week's DVD releases or any upcoming titles then just email me or leave a comment below.
> Buy Zodiac – 2 Disc Director's Cut or Mongol on DVD at Amazon UK
> Browse more DVD Releases at Amazon UK and Play
> Check the latest DVD prices at DVD Price Check
> Take a look at the current UK cinema releases (W/C Friday 26th September)