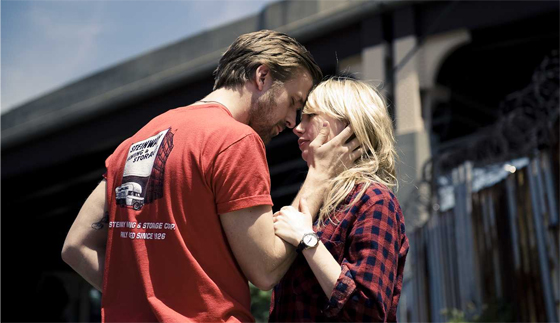 The changes in a long-term relationship are examined with rare intimacy in this second feature from writer-director Derek Cianfrance.
Over the course of several years we see how a young couple, Dean (Ryan Gosling) and Cindy (Michelle Williams), fall in and out of love over a number of years.
Juxtaposing their initial, youthful courtship (shot on super 16mm) with their marital struggles (filmed on the Red One digital camera), it employs clever framing along side the contrasting visual palettes to convey how their lives have changed.
The narrative and visual design is impressive, conveying the passage of time and providing a highly effective counterpoint for the two stages of their relationship.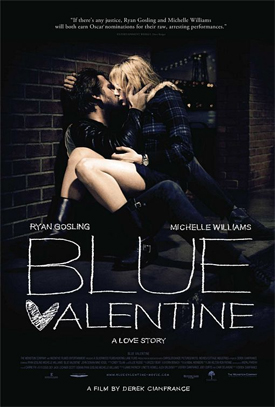 Co-written by Cianfrance, Cami Delavigne and Joey Curtis, the script manages to avoid the clunking clichés that can haunt mainstream relationship movies.
Not only does it contain telling details that reveal much about the characters, it also significantly leaves room for speculation as to what happened in the intervening years.
Cianfrance and DP Andrij Parekh also shoot scenes with a vivid sense of being in the room with these characters. At times the effect can be claustrophobic, but it heightens the drama without resorting to cheap theatrics.
But what really gives Blue Valentine added kick is the two lead performances: Gosling is a convincing as a genuinely decent man, whose lack of ambition and devotion to his young daughter (Faith Wladyka), make him a bad husband but a good father.
Williams in some ways has the harder role, as a frustrated wife pushing for change but finding herself increasingly isolated in her wants and desires. Together, they form a completely believable couple in both sections of the film.
The almost total lack of false beats in their scenes together seems like a product of Cianfrance giving his actors room to improvise and feel like awkward, real people instead of puppets controlled by a screenwriter.
One of the most astute elements of the film is the way in which it depicts the snowballing conflicts in a crumbling relationship, when innocent words and actions quickly become weapons seized upon by the frustrated parties.
There are other aspects to admire: an atmospheric score from Grizzly Bear, solid – if fleeting – supporting performances from John Doman, Mike Vogel and Ben Shenkman; and an exploration of class, which is rare in most American movies.
The considered pace and often raw emotions might prevent Blue Valentine from breaking out of the indie realm, but it has already garnered deserved praise on the festival circuit at Sundance and Cannes.
Coupled with strong awards season buzz, it marks a remarkable turnaround for Derek Cianfrance, who has persevered for years to follow up his first feature Brother Tied (1998).
The independent film world is currently in a state of crisis, with many films outside the studio ecosystem struggling to be financed or distributed, but the existence of this film is a heartening reminder that the indie flame can still burn brightly.
Blue Valentine opens in the UK on January 14th and is currently on limited release in the US.
> Official site
> Blue Valentine reviews at Metacritic
> Derek Cianfrance at the IMDb