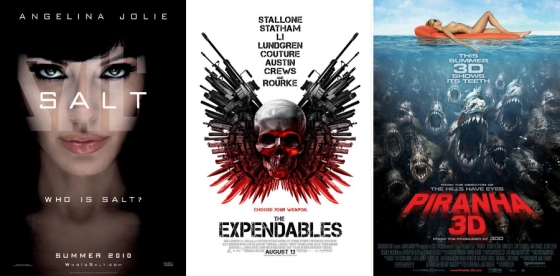 [ad]
NATIONAL RELEASES
Salt (Sony Pictures): A spy thriller about a CIA agent named Evelyn Salt (Angelina Jolie) who is forced to go on the run after being accused of working for the Russians. Directed by Philip Noyce (Patriot Games, The Quiet American), it co-stars Liev Schreiber and Chiwetel Ejiofor.
Although this was a project for Tom Cruise it underwent rewrites to fit Jolie. What seemed to be a familiar set-up for a spy thriller got a timely bout of publicity when actual Russian spies were arrested on the eve of the film's release in America.
Reviews were mixed in the US and it also suffered from opening seven days after Inception, which had a better than expected 2nd week at the American box office. However, the star power of Jolie and generic action elements will probably see it do well internationally. [Nationwide / 12A]
The Expendables (Lionsgate UK): An action movie teaming up various stars of the last 30 years (Sylvester Stallone, Jet Li, Jason Statham), the plot involves a group of mercenaries who are hired to overthrow a drug running operation in South America.
Featuring cameos (Bruce Willis, Arnold Schwarzenegger) and plenty of old school action, it is designed to appeal to those who grew up watching Rambo movies and the generations since that know about them second hand.
Although this stormed to the top of the US box office last weekend, it is a sloppily directed mess that has little real charm or invention. For all its old school appeal, it features a lot of CGI effects which augment the explosions and violence.
It has surfed an impressive wave of publicity, but this is a film that might even send Stallone fans running back to their Rambo box sets. [Odeon Leicester Square & Nationwide / 15]
* Read my longer thoughts on The Expendables here *
Marmaduke (20th Century Fox): A live-action adaptation of Brad Anderson's comic strip about a Great Dane named Marmaduke (voiced by Owen Wilson).
Directed Tom Dey, this might rank as a career low for Owen Wilson and Kiefer Sutherland, especially given the disastrous US reviews. [Empire Leicester Square & Nationwide / U]
Piranha 3D (Entertainment): A horror remake of Joe Dante's 1978 film about killer fish on the loose. Set in a sleepy lake during the Spring tourist season, an underwater earthquake unleashes ancient Piranha with a taste for humans.
Directed by Alexandre Aja, this features a better-then-expected ensemble cast including Adam Scott, Elisabeth Shue, Richard Dreyfuss, Christopher Lloyd, Ving Rhames and er… Kelly Brook.
This is looking to repeat the late summer box office success of last year's The Final Destination, it might pull in a sizeable audience looking for some knowing 3D gore. [Vue West End & Nationwide / 18]
[ad]
ALSO OUT
The Illusionist (Warner Bros / Pathe): Director Sylvian Chomet's follow up to The Triplettes of Belleville is based on an unproduced script by Jacques Tati and is about a struggling illusionist in 1950s Scotland who meets a young lady convinced he is a real magician.
It opened the Edinburgh Film Festival back in June to warm reviews and could be a sleeper art house success if audiences embrace Chomet's quirky style. [Key Cities / PG]
The Human Centipede (Bounty Films): A Dutch horror film written and directed by Tom Six about a deranged doctor who kidnaps three tourists and joins them surgically, in order to form a 'human centipede'. [Nationwide / 18]
Mother (ICO/ Optimum Releasing): A Korean drama from director Joon-ho Bong about an unnamed widow (Kim Hye-ja) living alone with her only son, in a small town. [ICA Cinema, Ritzy & selected Key Cities / 15]
Pianomania (More2Screen): A documentary about a piano tuner for Steinway & Sons, directed by Robert Cibis and Lilian Franck. [Clapham P'house, Stratford P'house, Greenwich P'house & Key Cities]
> UK DVD and Blu-ray picks for this week including Ingmar Bergman's The Faith Trilogy and Clint Eastwood's Director's Collection
> Get local cinema showtimes for your area via Google Movies