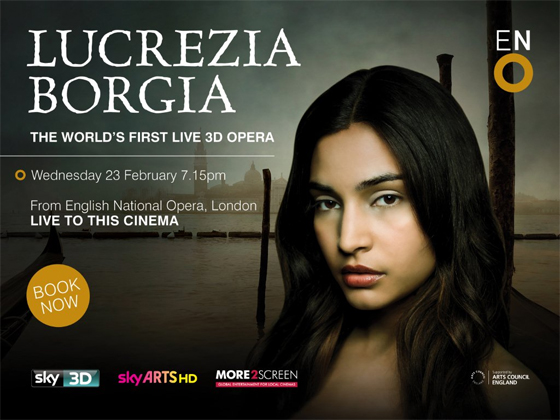 The opera Lucrezia Borgia will be broadcast live and in 3D to select digital cinemas later this month.
The opera by Gaetano Donizetti based on Victor Hugo's play, will be performed by the ENO and is directed by Mike Figgis.
Lucrezia Borgia follows the complex relationship between a mother and her illegitimate son, exploring the brutal nature of Machiavellian politics and the struggle for power.
Paul Daniel conducts a cast including Claire Rutter as Lucrezia Borgia, Elizabeth DeShong as Maffio Orsini, Michael Fabiano as Gennaro and British bass Alastair Miles in the role of Alfonso d'Este.
In a world first it will be brought live and in g3D to digital cinemas nationwide including Odeon, Vue, Apollo and Ormonde on Wednesday 23rd February at 7.30pm.
Mike Figgis is best-known for films such as Leaving Las Vegas (1995) and is making his operatic debut with this new production, which is in partnership with ENO, Sky 3D, Sky Arts and More2Screen.
> Find out more at the ENO
> More on Lucrezia Borgia at Wikipedia
> Mike Figgis at the IMDb