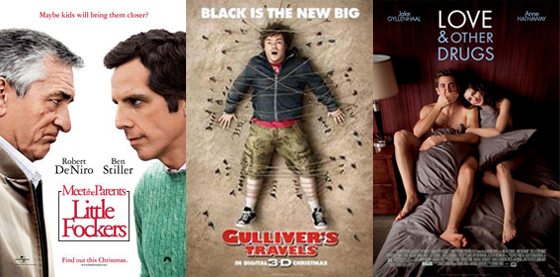 NATIONAL RELEASES
Little Fockers (Paramount): Thr third film in the comedy franchise sees the war between Jack Byrnes (Robert De Niro) and son-in-law Greg Focker (Ben Stiller) reach new levels.
Directed by Paul Weitz, it co-stars Laura Dern, Jessica Alba and Harvey Keitel, and one revolves around the fact that Greg has two children (the Fockers of the title) and Jack's suspicions about him having an affair. Expect big business on both sides of the Atlantic as undemanding audiences lap up the slapstick. [Odeon Leicester Square & Nationwide / 12A]
Gulliver's Travels (20th Century Fox): Jack Black stars in this update of Jonathan Swift's satire as Lemuel Gulliver, a travel writer on his way to Bermuda who ends up on the island of Liliput, where he towers over its tiny citizens.
The trailers and posters for this have not looked promising and the Jack Black brand is considerably diminished of late. But an easy story hook, a good supporting cast (Jason Segal, Emily Blunt and Billy Billy Connolly) might entice audiences during the Christmas period even if reviews are likely to be bad. [Out on Boxing Day]
The Way Back (E1 Entertainment): An epic escape from a Russian gulag during World War II forms the backdrop for Peter Weir's first film in seven years. Loosely based on Slavomir Rawicz's book "The Long Walk: The True Story of a Trek to Freedom" (more of which later), it begins with an soldier named Janusz (Jim Sturgess) being sent to a remote Siberian prison camp on trumped up charges of spying.
After enlisting the help of inmates to escape, including an ex-pat American (Ed Harris) and a tough gang member (Colin Farrell), the group venture on a massive trek across Asia where they meet an orphan (Saoirse Ronan), struggle to survive and attempt to reach the safety of India. Although it suffers from having a tangled truth problem, this is an absorbing, well crafted drama even though the gruelling nature of the story might put some viewers off. [Nationwide / 12A / Out on Boxing Day]
Love And Other Drugs (20th Century Fox): A new comedy drama set in the late 1990s, about a charming pharmaceutical rep (Jake Gyllenhaal) who falls an artist (Anne Hathaway) suffering from Parkinson's disease.
Directed by Ed Zwick, it is loosely based on the book Hard Sell: The Evolution of a Viagra Salesman by Jamie Reidy and co-stars Oliver Platt, Hank Azaria and Josh Gad. Although the stars do their best with the roles they've been given, the inconsistent tone and occasional gross out humour (often involving Josh Gad) might mean reduced box office and mixed reviews. [Out on Weds 29th December]
Arthur and the Great Adventure (Entertainment): A part-animated, part-live action film, which is a sequel to Arthur and the Invisibles. Written and directed by Luc Besson, and starring Freddie Highmore and Mia Farrow. [Nationwide / PG]
ALSO OUT
Chatroom (Revolver Entertainment): A psychological thriller about teenagers who encourage each other's destructive behavior. Directed by Hideo Nakata and starring Aaron Johnson, Imogen Poots, Matthew Beard and Hannah Murray. [Nationwide]
Toonpur Ka Superhero (Eros): India's first live action full length animated film which stars Ajay Devgan and Kajol. [Cineword Feltham & Ilford, Odeon Greenwich, Vue Acton & Key Cities / U]
> Find out what films are showing in your area with Google Movies or Find Any Film
> The Best Films of 2010
> The Best UK DVD and Blu-ray Releases of 2010
> Check out the films on TV in the UK over the Christmas period