Le Silence de Lorna (Lorna's Silence) screened today in Cannes and is the latest film from Luc Dardenne and Jean-Pierre Dardenne.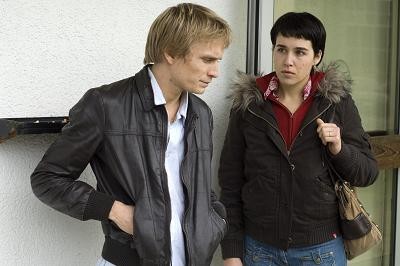 It deals with a young Albanian woman living in Belgium who becomes an accomplice to a local mobster's plan.
The Belgian duo have already won the Palme d'Or twice (with Rosetta in 1999 and L'Enfant in 2005) but what did critics make of their latest?
Here is a summary of reaction to the film, which is in competition:
Justin Chang of Variety praises the 'immaculate construction' and 'fine lead performance':
A resolutely naturalistic portrait of a young Albanian woman having second thoughts about a cold-blooded immigration scam, the film doesn't pack the same cumulative wallop as the brothers' earlier work, but its low-key artistry, immaculate construction and fine performance by relative newcomer Arta Dobroshi should rouse the usual fest acclaim and arthouse interest.
Mike Goodridge of Screen Daily says it starts well, but ultimately disappoints:
Fake marriages undertaken to get Belgian citizenship are the subject of the Dardenne brothers' latest drama, which starts as rivetingly as any of their films and then, an hour in, spins into an unexpected and unsatisfying direction.

Set in the city of Liege, a far less gloomy location than the industrial grime of their hometown Seraing, the film will disappoint fans of their last few films, notably L'Enfant which won the Palme d'Or in 2005 and was a strong arthouse seller around the world.
Joanthan Romney of The Independent praises the 'intensely gripping narrative':
The story of a young Albanian woman married to a heroin addict in an effect to get Belgian citizenship, the film is the brothers' usual blend of low-key realist cinematography and intensely gripping narrative.
Glenn Kenny of Some Came Running praises it as being 'surprising' and 'deeply moving':
Le Silence de Lorna is their followup to the 2006 Palme d'Or winner L'Enfant, and while I doubt that the Cannes prize is gonna go to this film (which IS, you know, "conscious of the world that we're living in" and all, but in a way that's likely too quiet to please self-righteous jury president Sean Penn), I think it's every bit as nuanced, surprising, and deeply moving as that film.
Here is a clip from the film:
Lorna's Silence will open in the UK on October 10th
> Le Silence de Lorna at the IMDb
> Watch the press conference The Dardenne Drothers gave earlier today
>