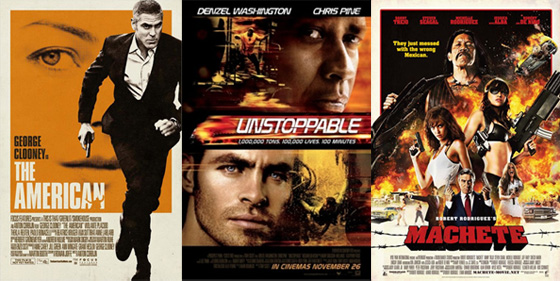 NATIONAL RELEASES
The American (Universal): Anton Corbijn's second film as a director is a stylish, existential drama about an enigmatic American hiding out in a remote Italian town. Beginning with a prologue in wintry Sweden, we first see the titular character, Jack (George Clooney), as circumstances force him to relocate to the Abruzzo region in Italy.
There we slowly learn more about him: he makes a rifle for an assassin (Thekla Reuten) under the orders of his handler (Johan Leysen), befriends a priest (Paolo Bonacelli) and falls for a local prostitute (Violante Placido), as he begins to think about changing his life.
Although The American appears to be channelling the minimalist crime dramas of Jean-Pierre Melville (especially Le Samouraï), the form and structure resemble a Sergio Leone western, with its story of a stranger arriving in a new town, extended silences and widescreen cinematography.
As a vehicle for Clooney, this is an unusually European film – despite being a US/UK production – and the slow burn pacing and gradual revelations will probably limit its appeal to a mass audience.
The trailer and TV spots have misleadingly sold it as an action thriller but its respectable opening in the US probably meant the box office ends were justified by the marketing means. [Empire Leicester Square & Nationwide / 15]
* Read our full review of The American here *
Unstoppable (20th Century Fox): Tony Scott's latest film is stimulating mainstream fare and, after last year's remake of The Taking of Pelham 123, he has returned with another film involving a train and Denzel Washington.
The setting this time is rural Pennsylvania and, inspired by true events, it deals with two railway engineers (Denzel Washington and Chris Pine) who must stop a runaway train which is loaded with toxic chemicals.
The supporting characters include a plucky yardmaster co-ordinating the rescue (Rosario Dawson); a weakly corporate boss (Kevin Dunn); a visiting safety inspector (Kevin Corrigan); and a persistent railroad welder (Lew Temple).
Like much of Scott's work, this is a nakedly commercial project executed with considerable technical skill, utilising his stylistic palette: multiple cameras, desiderated images, whip-pans, crash zooms and frenzied editing.
In the wrong hands this could be deeply average and clichéd, but under Scott's direction there is an invigorating professionalism to the whole film that elevates it above most studio fare. [Vue West End & Nationwide / 12A]
* Read the full review of Unstoppable here *
Machete (Sony Pictures): Based on one of the trailers from the Grindhouse project (the Robert Rodriguez/Quentin Tarantino double bill movie from 2007), this is about a rouge Mexican hit man (Danny Trejo) who seeks revenge after being double crossed and left for dead.
Directed by Ethan Maniquis and Robert Rodriguez, it co-stars Jessica Alba, Michelle Rodriguez and Robert De Niro. The mixed reviews from the US suggest that it might struggle to compete with other films in a crowded weekend at the UK box office. [Nationwide / 18]
London Boulevard (Entertainment): The directorial debut of screenwriter William Monahan (who wrote The Departed) is a crime drama about a man just released from prison (Colin Farrell) who falls for a reclusive young film star (Keira Knightley) and finds himself at odds with a vicious gangster (Ray Winstone).
Early buzz for this is not promising although the presence of heavyweight stars might attract adult audiences eager for a home grown crime film with recognisable stars. [Nationwide / 18]
The Girl Who Kicked The Hornet's Nest (Momentum Pictures): The third and final part of the Swedish version of Millennium trilogy sees Lisbeth Salander (Noomi Rapace) hospitalized after meeting her father, and put on trial. Mikael Blomkvist (Michael Nyqvist) tries to prove her innocence whilst uncovering the reasons why she has been targeted by the Swedish authorities.
Directed by Daniel Afredson, the mixed reviews might put off fans of the books in a busy week at the UK box office. The US version is currently filming in Sweden with David Fincher at the helm. [Cineworld Haymarket, Odeon Covent Garden & Nationwide / 15]
ALSO OUT
Waiting For Superman (Paramount/Vantage): A documentary about the failings of America's education system directed by Davis Guggenheim.
Although it won an audience award at Sundance and is a potential Oscar winner, it has generated considerably less buzz over here, possibly because its subject matter doesn't resonate outside America. [Curzon Soho & Picturehouse Clapham/ PG]
Leap Year (Axiom Films): Not to be confused with the Amy Adams comedy which came out earlier this year, this study of urban alienation in Mexico is the debut feature from Michael Rowe and earned him the Camera D'Or at Cannes earlier this year. [Key Cities / Axiom Films]
An Ordinary Execution (Arrow Films): Based on his novel of the same name, Marc Dugain's debut feature is the story of an imagined encounter between the ageing Joseph Stalin (André Dussolier) and a young doctor Anna (Marina Hands) who has healing powers. [Cine Lumiere, Clapham Picturehouse & Nationwide / 12A]
Break Ke Baad (Reliance Big Entertainment): A romantic coming-of-age dramedy directed by Danish Aslam and starring Deepika Padukone and Imran Khan. [Cineworlds Feltham, Ilford, Wandsworth, Woodgreen & Nationwide / PG]
> Find out what films are showing in your area with Google Movies or Find Any Film
> All the UK cinema releases for November 2010
> UK DVD and Blu-ray Releases for Monday 22nd November 2010