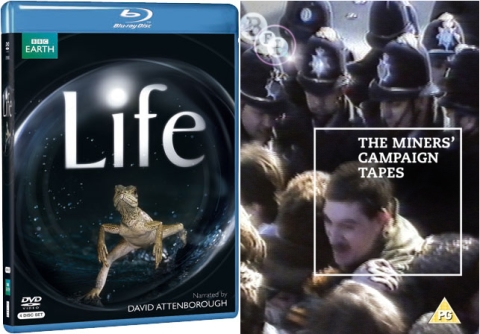 DVD & BLU-RAY PICKS
Life (2 Entertain): This ten-part series narrated by David Attenborough covers 130 stories from the natural world. Exploring the variety of life on Earth and the specialised strategies and extreme behaviour that living things have evolved in order to survive; what Charles Darwin termed "the struggle for existence". Four years in the making, the series was shot entirely in high definition and it includes 10 minute 'making of' diaries for each episode. [Available on DVD and Blu-ray]
The Miners' Campaign Tapes (BFI): Six short films about the 1984 Miners' Strike have been collected on DVD and released for the first time by the BFI. The footage was originally shot at the time by a group of independent film and video makers on the picket lines and marches where they recorded the testimonies of striking miners, their families and supporters. Among those that appear are Arthur Scargill, Dennis Skinner and the late Paul Foot.
The episodes include:
Not Just Tea and Sandwiches
The Coal Board's Butchery
Solidarity
Straight Speaking
The Lie Machine
Only Doing Their Job?
Also included is an illustrated 22-page booklet with essays by Chris Reeves of Platform Films – discussing the making and distribution of the Tapes; by Julian Petley (co-author of Media Hits the Pits: the Media and the Coal Dispute and Shafted: the Media, the Miners' Strike and the Aftermath and by David Peace, author of GB84, the Red Riding thrillers and The Damned Utd. [Available on DVD]
[ad]
ALSO OUT
Boom! (Second Sight) [Buy on DVD]
G-Force (Disney) [Buy on DVD / Buy on Blu-ray]
Gambit (Second Sight) [Buy on DVD]
Jiang Hu (Palisades Tartan) [Buy on DVD]
The Proposal (Disney) [Buy on DVD / Buy on Blu-ray]
To Hell and Back (Second Sight) [Buy on DVD]
Transformers: Revenge of the Fallen (Paramount) [Buy on DVD / Buy on Blu-ray]
> Check out all the DVD & Blu-ray releases for November 2009
> Browse more DVD & Blu-ray releases at Amazon UK and Play
> Check out the latest UK cinema releases including Paranormal Activity and Law Abiding Citizen (W/C Friday 27th November 2009)