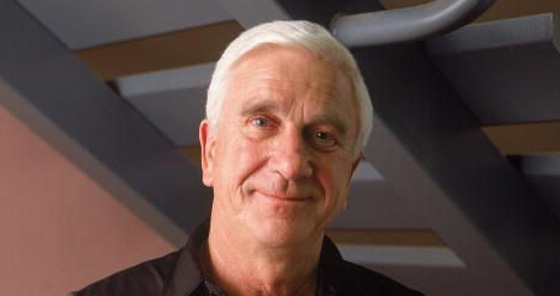 Veteran comedy actor Leslie Nielsen has died at the age of 84.
Most famous for his roles in the comedies Airplane! (1980) and The Naked Gun (1988), his career stretched back to the 1950s with roles in over 100 films and TV shows.
Nielsen was born in Regina, Saskatchewan in Canada in 1926 and became a radio announcer after serving in the Royal Canadian Air Force during WWII, before studying at Toronto's Academy of Radio Arts, which was run by CBC commentator and future Bonanza star Lorne Greene.
After a few years in radio, he became an actor in New York and appeared in TV shows such as Tales From Tomorrow before making his film debut in Ransom! (1956).
But with the exception of his supporting roles in Forbidden Planet (1956) and The Poseidon Adventure (1972), much of his work during this period involved supporting parts (often as a heavy).
It was later in his career that he found fame when he was cast as a serious doctor in the classic Zucker-Abrahams-Zucker spoof Airplane! (1980).
Movie Videos & Movie Scenes at MOVIECLIPS.com
This led to the lead role of inept police lieutenant Frank Drebin on Z.A.Z.'s TV series Police Squad! (1982), which achieved
cult fame for its rapid rate of inventive gags and distinctive intros which killed off the guest star (which included Nielsen's old teacher Lorne Greene in the pilot episode).
A groundbreaking show, it saw Nielsen receive an Emmy nomination for outstanding lead actor in a comedy series.
Despite being cancelled after 6 episodes, Paramount later revived the series as the hilarious spin off film The Naked Gun (1988) and its box office success led to two sequels.
This new found fame meant Nielsen was increasingly typecast in lesser spoofs although his turn as US President in Scary Movie 3 (2003) and Scary Movie 4 (2006) provided some good laughs at the expense of President Bush.
He died due to complications from pneumonia at a hospital near his home in Fort Lauderdale, Florida.
Nielsen married four times and is survived by his fourth wife Barbaree Earl and three daughters as well as his brother, Eric, who was deputy prime minister of Canada from 1984 to 1986.
> Leslie Nielsen at IMDb and Wikipedia
> New York Times obituary