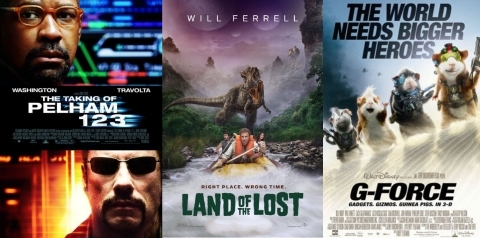 NATIONAL RELEASES
The Taking Of Pelham 1 2 3 (Sony Pictures): This remake of the 1974 thriller sees Denzel Washington take on the role of a MTA dispatcher who has to deal with the head of a criminal gang (John Travolta) who have hijacked a train in New York.
Directed by Tony Scott and scripted by Brian Helgeland, it largely came about because Sony had bought MGM and had the rights to remake certain titles in their library.
Although the original film is so distinctive and of its time, this version manages to be something more than just a rehash, mainly due to the fact that Helgeland went back to the original novel and changed some key plot points.
It features solid work all round from the two leads down to a fine supporting cast, which includes John Tuturro, James Gandolfini and Luis Guzman.
Scott directs in his usual frenetic, multi-camera setup style but there is something pleasingly straightforward about the way in which it is all delivered.
It disappointed at the US box office and got a mixed critical response but deserves to do better over here. However, Sony face a challenge in getting audiences out to see this in a busy summer season dominated by family fare. [Nationwide / Cert 15] (Previews from 29th July)
Land Of The Lost (Universal): This Will Ferrell comedy vehicle based on the 1970s TV show of the same name, was a major flop for Universal earlier this summer.
The story is about a has-been scientist (Ferrell) who is sucked back in time to an alternate universe full of dinosaurs and fantastic creatures. Accompanying him are a research assistant (Anna Friel) and a redneck survivalist (Danny McBride).
Directed by Brad Silberling, it is become the most infamous US box office failure this summer, capping a miserable year so far for Universal.
Given that most UK audiences haven't heard of, let alone seen, the show it isn't likely to do great business here either, although the Ferrell factor may attract some of his fans. [Vue West End & Nationwide / Cert 12A]
G Force (Walt Disney): An animated tale about guinea pigs doesn't sound like the material that would suit producer Jerry Bruckheimer.
However, he has always had a keen nose for what's making money at the box office and given the huge success of animated franchises with cute animals (see Ice Age 3) this is merely another film in that mould.
The plot revolves around around a special FBI organization of trained secret agent animals, which consists of guinea pigs Darwin (Sam Rockwell), Juarez (Penelope Cruz), Blaster (Tracy Morgan), a mole Speckles (Nicolas Cage) and a fly called Mooch.
The starry voice cast may alert you to the fact that these films can attract some serious A-list talent, who presumably enjoy the lack of physical acting and abundance of zeroes on their pay slip.
Given that this also knocked Harry Potter off the top of the US box office last week, Disney can expect it to do similar business over here. [Vue West End & Nationwide / Cert PG]
[ad]
IN LIMITED RELEASE

Coco Before Chanel (Optimum Releasing): Audrey Tautou plays 'Coco' Chanel in a biopic exploration of her early life before she rose to worldwide fame as a fashion designer.
Starting with her early years as an illegitimate daughter of a travelling salesman, it explores her life as a cabaret singer where she is nicknamed 'Coco' and where she meets the high society gentlemen who would ignite her passion and become instrumental in the development of her career.
Directed by Anne Fontaine (Nathalie), it co-stars Benoît Poelvoorde and Alessandro Nivola. Optimum can expect solid business amongst the arthouse crowd, especially those who loved La Vie En Rose. [C'World Wandsworth, Curzon Mayfair, Odeon Covent Gdn. & Nationwide / Cert 12A]
Crossing Over (Entertainment): On paper this drama about illegal immigrants in Los Angeles sounds like a Traffic-style awards season contender.
Directed by Wayne Kramer (who made The Cooler in 2004), it has an excellent cast including Harrison Ford (in a rare underpaying role), Ray Liotta, Ashley Judd, Jim Sturgess, Alice Eve and Cliff Curtis.
But scratch beneath the surface and you will discover some dire US reviews, a controversial sub-plot that was cut out, Sean Penn reportedly demanding that his role be removed (which it was) and a sense that this was something of a train wreck for The Weinstein Company and all concerned with it.
The UK distributor Entertainment will hope discerning audiences may turn up out of sheer curiosity but the lack of buzz makes it seem dead-on-arrival as a box office prospect. [Cert 18]
Mad, Sad & Bad (Soda Pictures): A comedy about a dysfunctional family and group of friends whose personal lives are continuously messed up by their own selfish needs and neuroses. Directed by Avie Luthra, it stars Meera Syal. [Empire Leicester Square & Key Cities / Cert 15]
Rumba (Network Releasing): Comedy about teachers in a rural school who share a passion for Latin Dancing, who see their lives changed by a car accident. [ICA Cinema, Odeon Panton Street & selected Key Cities / Cert PG]
Love Aaj Kal (Eros): A Bollywood film starring Saif Ali Khan and Deepika Padukone, directed by Imtiaz Ali and is said to be a Hindi remake of Taiwanese film 'Three Times'. [C'Worlds Feltham, Ilford, S'bury Ave, Odeon G'wich & N'wide (Previews from 30th July)
[ad]
> UK cinema releases for July 2009
> DVD Picks for this week including Il Divo and Watchmen (W/C Monday 27th July)