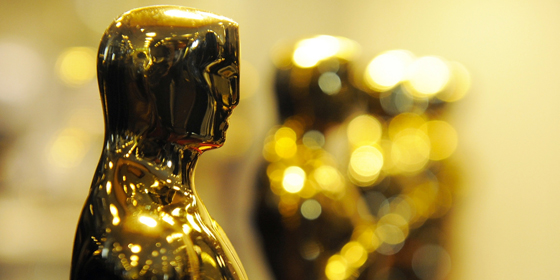 NOMINEES
A Cat in Paris  – Alain Gagnol and Jean-Loup Felicioli
Chico & Rita – Fernando Trueba and Javier Mariscal
Kung Fu Panda 2 – Jennifer Yuh Nelson
Puss in Boots – Chris Miller
Rango – Gore Verbinski
This is a relatively new category that was created in 2001 to reflect the growing artistic and commercial success of animated features.
The first winner was Shrek and, since the Best Picture nominees were expanded in 2009, both Up (2009) and Toy Story 3 (2010) have featured in both.
From French studio Folimage, is this tale of a cat who lives a double life – pet by day and skilled thief by night. Notable for being hand-painted, its highly stylized, colour-saturated design makes it unusual in an age of computer animation.
Directors Alain Gagnol and Jean-Loup Felicioli talk with David Poland as part of his DP/30 series [36 mins]
Directed by Fernando Trueba and Javier Mariscal this is the story of a songwriter and singer chasing their dreams set against the backdrops of Havana, New York City, Las Vegas, Hollywood and Paris in the late 1940s and early 1950s.
The official UK site is www.chicoandrita.co.uk, the US site www.gkids.tv/chico and director Fernando Trueba talks with David Poland here.
The sequel to the 2008 blockbuster sees Po and his friends battle to stop a new villain. The strong reviews managed to make this one of the better received sequels of the year and the darker than usual themes may have something to do with executive producer Guillermo del Toro.
Director Jennifer Yuh Nelson talks with David Poland for a DP30 interview and there are more materials at the DreamWorks awards season site.
The spinoff prequel to the Shrek franchise follows the character Puss in Boots and his sidekicks (Humpty Dumpty and Kitty Softpaws) as they take on Jack and Jill.
There are some similarities to its DreamWorks stable-mate Kung Fu Panda 2: it got good reviews, made a lot of money and featured Guillermo Del Toro.
More material is available at DreamWorks dedicated awards site and the director Chris Miller sits down for a lengthy DP/30 chat with David Poland.
Although produced by Nickelodeon Movies, Gore Verbinski and Graham King, this is the first CGI animation feature from Industrial Light & Magic, until now best known for their visual effects work.
A Western filled with references to movies and made like a theatrical production (instead of recording voice parts separately, the actors shared a soundstage) this is currently the hot favourite.
The Paramount Awards site has more material and director Gore Verbinski sat down for a DP/30 interview with David Poland.
> Official Oscar site
> Explore previous winners and nominees of Best Animated Feature