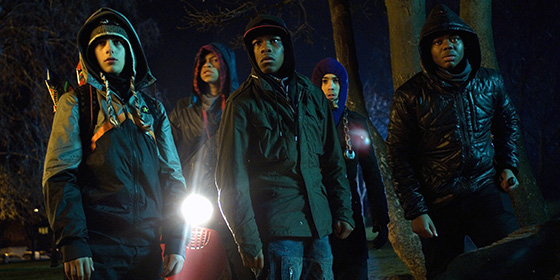 Combining genres with considerable confidence and skill, this anarchic alien-invasion film marks a highly promising directorial debut for Joe Cornish.
Set during the course of one night on a South London council estate, Attack the Block begins when a gang of youths – Moses (John Boyega), Pest (Alex Esmail), Dennis (Franz Drameh), Jerome (Leeon Jones) and Biggz (Simon Howard) come across an alien creature falling from the sky.
After killing it, they realise it is the start of a bigger invasion and retreat to their tower block, where they fend off their attackers along with the local pot dealer (Nick Frost), a posh neighbour (Luke Treadaway), a nurse they previously mugged (Jodie Whitaker) and the local drug lord (Jumayn Hunter), who is out for revenge.
What's immediately apparent about the film is the pacing and movement, as it plunges the audience straight into the action and doesn't let up for the lean, 87 minute running time.
The main influences seem to be the genre films that Cornish grew up watching: Assault on Precinct 13 (1976), The Warriors (1979), Escape from New York (1981), An American Werewolf in London (1981), The Thing (1982), Gremlins (1984) and Aliens (1986).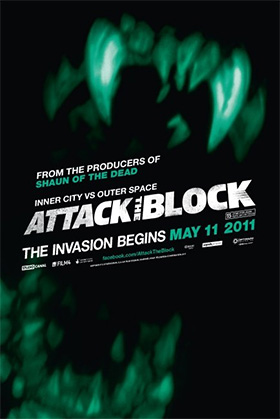 But these films are funnelled into something lighter and uniquely British, without getting bogged down by the ponderous clichés that can often infect filmmaking from these shores.
Whereas some British directors shy away from excitement and humour, here they are ramped to the max and the end result not only features some memorable set-pieces but is genuinely thrilling and funny.
In particular, the excellent night-time cinematography by Tom Townend and fluid editing by Jonathan Amos give everything the sheen of a much bigger movie, which is all the more impressive for a modestly-budgeted UK production.
The young actors who play the gang, especially John Boyega as the ringleader Moses, are perfectly cast and wisely there isn't any clumsy attempt made to sandpaper down their actions or characters as they try to survive the night.
Some moments feel like a mammoth piss take of recent UK urban dramas such as Kidulthood (2006) and Adulthood (2008), with frequent use of urban slang (especially the term 'fam', which seems like it gets used over 200 times).
But overall it manages to poke good-natured fun at all the characters who reside in the tower block as they unite against a common enemy.
The aliens themselves are an interesting creation, coming across as dark ape-like creatures with radioactive teeth, and the practical and CG effects (by Mike Elizalde and Double Negative respectively) are highly effective for the most part.
Steven Price's electronic score, with contributions from Felix Buxton and Simon Ratcliffe of Basement Jaxx, fits the setting well and ramps up the tension during the action set-pieces.
Given the pacing and genre trappings, it has major potential for a mainstream crossover success, although I suspect that the local slang used by the gang will prove impenetrable to mainstream US – and maybe some UK – audiences.
Despite this, it has a visual panache and sense of movement that could speak to audiences on a deeper, more visceral level and it could end up as a fan favourite in years to come.
Edgar Wright is a friend and collaborator of Cornish (even serving as producer on this film) and Attack the Block takes John Carpenter to South London in the same way that Shaun of the Dead (2004) took George A Romero to the North.
Both wear their influences firmly on their sleeve, but mash them up to create something vibrant, cinematic and funny.
> Official site
> More on Joe Cornish at Wikipedia
> Reviews of Attack the Block at IMDb and Rotten Tomatoes