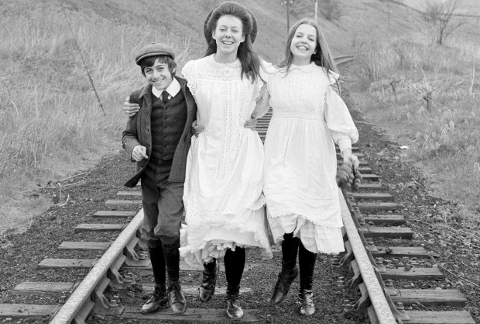 Adapted from E. Nesbit's novel in 1970, The Railway Children quickly established itself as perennial favourite amongst family audiences.
It is the tale of a family who are forced to move from London to a house in Yorkshire after the father is imprisoned on a mysterious charge.
There the three children, Roberta (Jenny Agutter), Peter (Gary Warren) and Phyllis (Sally Thomsett), are entranced by the nearby railway and become friendly with the locals, such as the station porter (Bernard Cribbins) and the Old Gentleman (William Mervyn) who takes the 9:15 train.
Written and directed by Lionel Jeffries, it was a critical success on its initial release – receiving three BAFTA nominations – and has since become a much loved film through regular broadcasts on television.
It is getting re-released at UK cinemas this week on a newly remastered digital print and I spoke with Jenny Agutter recently about her role in the film and its enduring appeal.
You can listen to the interview here:
[audio:http://filmdetail.receptionmedia.com/Jenny_Agutter_on_The_Railway_Children.mp3]
You can download this interview as a podcast via iTunes by clicking here
The Railway Children is out at selected UK cinemas from Friday 2nd April and is out on DVD and Blu-ray from Monday 3rd May
> Download this interview as an MP3 file
> IMDb entry
> Get local showtimes via Google Movies
> Pre-order the DVD or Blu-ray from Amazon UK
[ad]