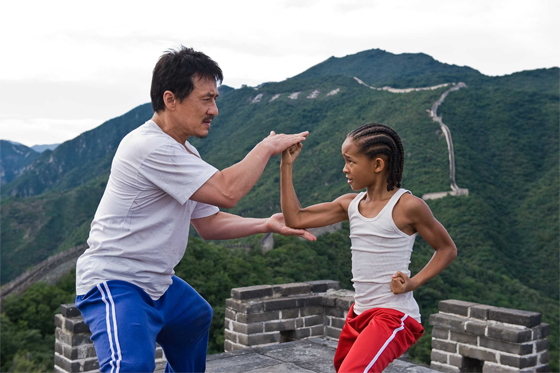 The remake of the 1984 film about a teenager who uses martial arts to defeat bullies is surprisingly good given the potential pitfalls that surrounded the project.
In this version a 12-year old kid named Dre (Jaden Smith) and his mother (Taraji P. Henson) move to Beijing from Detroit to start a new life.
Once there he falls for a young violinist (Wen Wen Han) which leads to bullying from the local kung-fu prodigy (Zhenwei Wang) until an enigmatic maintenance man Mr. Han (Jackie Chan) comes to his aid by teaching him how to defend himself.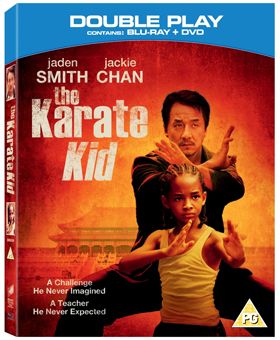 When producer Jerry Weintraub was approached with the idea of remaking the original he was understandably sceptical, as not only was it going to be relocated to China, but instead of Karate the main character would learn Kung-Fu.
A quick screenplay fix helped solve the glaring contradiction of the title, but the finished result is an entertaining affair whose only sin is that it goes on about 30 mins too long.
Smith is an agreeable lead, precociously charming throughout and convincing in the fighting sequences whilst Chan steals the show as the Chinese successor to Mr Miyagi, displaying the charm and physicality of his earlier career.
Director Harald Zwart makes this a more visually expansive film than the original, using the landscapes of China to full effect be it the Great Wall, the Wudang Mountains or Beijing itself.
A US-Chinese co-production, the filmmakers presumably got a lot of visual bang for their buck by filming it in China and it makes for a refreshing family-friendly drama in an era of CG-driven blockbusters based on comics.
Whilst a remake with more than a few nods to the original, it stands on its own as a drama and its success at the US box office (where it convincingly beat The A-Team remake on its opening weekend in June) was testament to the across-the-board appeal.
The Blu-ray transfer is particularly pristine 1080p transfer that conveys colours, details and depth with unusual clarity and the historical backdrops come across beautifully with the extensive use of crane shots giving it an added epic feel.
SPECIAL FEATURES
On Location: The Karate Kid Interactive Map of China
Alternate Ending
Play All Hosted by Jackie Chan
Production Diaries Hosted by Jackie Chan
Chinese Lessons – Learn Chinese!
Music Video: Justin Bieber Featuring Jaden Smith "Never Say Never"
Just for Kicks: The Making of The Karate Kid
movieIQ+sync
PS3 Wallpaper Theme
TECHNICAL DETAILS
Video codec: MPEG-4 AVC
Video resolution: 1080p
Aspect ratio: 2.40:1
Original aspect ratio: 2.39:1
English: DTS-HD Master Audio 5.1
French: DTS-HD Master Audio 5.1
Subtitles: English, English SDH, French
50GB Blu-ray Disc
Two-disc set (1 BD, 1 DVD)
Digital copy (on disc)
Digital copy PSP (on disc)
DVD copy
BD-Live
movieIQ
The Karate Kid is out today from Sony Pictures Home Entertainment
> Buy The Karate Kid on Blu-ray or DVD from Amazon UK
> Reviews at Metacritic and Rotten Tomatoes
> IMDb entry