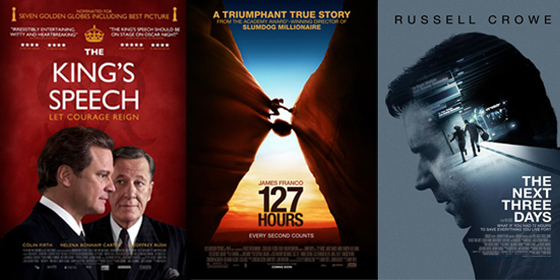 NATIONAL RELEASES
The King's Speech (Momentum Pictures): A superbly crafted period drama about the relationship between King George VI and his speech therapist provides a memorable showcase for its two lead actors.
Beginning in 1925, the film traces how with Prince Albert (Colin Firth), The Duke of York, enlisted the help of an unconventional speech therapist named Lionel Logue (Geoffrey Rush), who helped him overcome a crippling stammer as he eventually assumed the throne and helped rally his people during World War II.
The bulk of the film explores the relationship between the stiff, insecure monarch and the charmingly straightforward Logue, his loving and supportive wife Elizabeth (Helena Bonham-Carter) and the royal relatives who may have contributed to his problem.
Having spent his life in the shadow of his domineering father, George V (Michael Gambon), the shy Albert struggles with the responsibility of assuming the throne when his headstrong brother, Edward (Guy Pearce), decides to abdicate.
Rush and Firth are both outstanding, and their chemistry is a joy to watch, depicting the social hangups of the British class system as they gradually form a deep bond.
An astutely observed social comedy, it also has great depth as a drama, beginning and ending with sequences of considerable weight and tension.
The film has already proved a hit on the festival circuit this year and it is very hard to see audiences and Oscar voters resisting its classy blend of history, humour and emotion. [Odeon Leicester Square, Renoir, Barbican & Nationwide / 12A]
* Read our full review of The King's Speech here *
127 Hours (Warner Bros/Pathe): Director Danny Boyle returns from the success of Slumdog Millionaire with a vibrant depiction of man versus nature.
The story here is of Aron Ralston (played by James Franco), the outdoor enthusiast who in 2003 was stranded under a boulder after falling into a remote canyon in Utah.
Beginning with an extended opening section, Boyle uses a variety of techniques (including split screen, weird angles, quick edits) to express Ralston's energetic lifestyle as he ventures into a situation that would become ominously static.
He meets two women (Kate Mara and Amber Tamblyn) before parting with them and climbing across an isolated canyon where he becomes trapped for the next 127 hours (look out for a killer title card).
An unusual project, in that so much of it revolves around a central location, Boyle contrasts the vital specifics of Ralston's confinement in the canyon with his interior thoughts as it becomes an increasingly desperate experience.
Using two cinematographers (Anthony Dod Mantle and Enrique Chedia) working in tandem, the ordeal is powerfully realised using a bag of visual tricks to delve deep into his physical and emotional trauma.
Franco is the joker in the pack here: with an unusual amount of screen time he hits all the notes required: exuberant daring as he cycles across Utah; determined ingenuity as he tries to escape the canyon; and the desperate, haunted pain as he stares into the face of death.
Although the grisly details might put viewers off the climax is surprisingly transcendent. [Nationwide /15]
* Read our full review of 127 Hours here *
The Next Three Days (Lionsgate): A remake of the French thriller Anything For Her, which sees a Pittsburgh college professor (Russell Crowe) plan to break his wife (Elisabeth Banks) out of jail after he becomes convinced she is innocent of a murder conviction.
Directed by Paul Haggis, it is an old fashioned tale featuring two solid lead performances and is also put together with a quiet skill and confidence which makes the plot tick along nicely.
Although there is nothing revolutionary here, there is something pleasing about a nuts and bolts thriller in the current climate of superhero, CGI-drenched world in which we now live.
Some aspects strain credibility (Crowe becomes a criminal mastermind pretty quickly) and Liam Neeson is wasted in what is essentially a cameo role, but overall this is a solid effort even though it may struggle to make an impact at the box office given the muted reception in the US and tough competition at the UK box office this week. [Nationwide / 15]
Season Of The Witch (Paramount/Momentum): A sword and sorcery adventure about two knights (Nicolas Cage and Ron Perlman) who return from the Crusades and to find their homeland devastated by the Black Plague.
When a young woman (Claire Foy) is accused of being a witch and causing the devastation, they have to escort her on a journey across the land in order to put an end to her 'spell'.
Directed by Dominic Sena, this is a lame affair complete with hammy dialogue, unconvincing CGI and a ponderous narrative.
It feels like a paycheque affair for everyone involved and it is hard to see audiences get excited about it once the bad reviews are unleashed and the bad buzz spreads. [Nationwide / 15]
It's Kind Of A Funny Story (Universal Pictures): The latest film from Ryan Fleck and Anna Boden (the team behind Half Nelson and Sugar) comes this adaptation of Ned Vizzini's 2006 novel, which is the story of a burnt-out teenager (Keir Gilchrist) who checks into a mental health clinic, only to find himself in the adult ward.
There he befriends a fellow patient (Zach Galifianakis) and gets to know another teenage patient (Emma Roberts) during his five day stay.
After receiving decidedly mixed reviews on the festival circuit, this didn't exactly set the US box office alight back in October and will struggle to make an impact here in a busy week. [Nationwide / 12A]
ALSO OUT
Abel (Network Releasing): The drama of a nine-year-old boy who has stopped talking since his father left home only to then believe he is head of the family. Directed by Diego Luna. [Key Cities / 15]
Amer (Anchor Bay Films): A French horror, influenced by the giallo genre, charts the crazy journey of a Catholic schoolgirl into a mature woman. Directed by Hélène Cattet and Bruno Forzani. [Selected cinemas / 18]
Midgets Vs Mascots (Kaleidoscope Entertainment): In what appears to be a low-budget exploitation comedy, 10 contestants (including Gary Coleman) compete for 1 million dollars in prize money. [Selected cinemas / 18]
> UK cinemas releases for 2011
> The Best DVD & Blu-ray releases of 2010