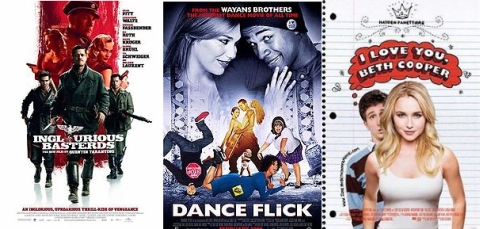 NATIONAL RELEASES
Inglourious Basterds (Universal): Quentin Tarantino's long awaited World War II film done in the style of a spaghetti western. A fantasy of sorts (with significant chunks of history rewritten for effect) it involves a large ensemble cast of characters, who are slowly drawn into a tale of revenge.
There is a young Jewish woman (Melanie Laurent) who escapes the slaughter of her family by a 'Jew hunting' Nazi (Christoph Waltz); a group of Nazi-hunting commandos known as 'The Basterds' led by a Southern lieutenant (Brad Pitt); a British agent (Michael Fassbender) behind enemy lines; a Nazi war hero (Daniel Bruhl) who has become a film star; an German actress double agent (Diane Kruger) and the Nazi high command of Hitler (Martin Wuttke) and Goebbels (Sylvester Groth).
It will almost certainly divide audiences and critics, but this, for me, was a significant return to form for the writer and director. It may not be up to the standards of Pulp Fiction, but it does contain some of his best writing and is filled with numerous delights, notably the performances of Christoph Waltz and Melanie Laurent; Robert Richardson's cinematography and some superbly worked sequences.
Universal and The Weinstein Company have marketed this as a Brad Pitt World War II movie which is misleading given that his character (although important) is just one slice in a much larger pie. That said it probably is the way to go after the mixed reception at Cannes and the importance of a strong opening weekend.
This movie will not please everyone, it will piss off some critics, it will cause heated debates and it may or may not even help save The Weinstein Company (who partnered with Universal on this $70 million production).
But in a summer that has given us soulless, mechanical junk like Wolverine,Terminator: Salvation, Transformers 2 and G.I. Joe, I am grateful that it exists and hopeful that it will be the platform for Tarantino to explore new creative territory. [Odeon Leicester Square & Nationwide (Previews 15 & 16 Aug) / Cert 18]
* Click here for longer thoughts on Inglourious Basterds *
Dance Flick (Paramount): Another spoof from the Wayans Brothers, although this time they are writing and producing with their nephew Damien Dante Wayans taking directing duties.
This time the target is the musical/dance genre and the plot involves the now familiar formula of a naive girl (Shoshana Bush) who uses dance to achieve her dreams, and the street smart guy (Damon Wayans Jnr) who helps her along the way. It was released in America back in May to decidedly mixed reviews although Paramount will be hoping younger audiences check it out. [Odeon West End & Nationwide / Cert 15]
I Love You Beth Cooper (20th Century Fox): A high school comedy set in a high school, based on the novel by Larry Doyle, about a graduating high school student (Paul Rust) who states to the entire gymnasium that he's had a crush on cheerleader Beth Cooper (Hayden Panettiere) for six years.
Directed by Chris Columbus, the film has already met with disappointing US box office and some fairly excoriating reviews. Fox will be hoping younger males turn out but the box office prospects here look similar to the US. [Empire Leicester Square & Nationwide / Cert 15]
Shorts (Warner Bros.): A kids film directed by Robert Rodriguez in the Spy Kids mould about a young boy (Jimmy Bennett) who discovers a wish-granting rock that causes chaos when everyone tries to get their hands on it.
The lack of buzz and middling reviews might see this slip quietly under the radar despite the fact that it is the summer holidays. [Vue Leicester Square & Nationwide (Previews 15/16 Aug) / Cert PG]
[ad]
IN LIMITED RELEASE
Afterschool (Network Releasing): Avery different kind of high school movie directed by Antonio Campos that explores a YouTube-obsessed outcast (Ezra Miller) at a privileged US prep school.
Adopting the style of DIY online video, it explores the effect of technology on school life in the style of Michael Haneke and Gus Van Sant. Although it has a limited release it may well get decent arthouse buzz and a longer shelf life on DVD. [Odeon Panton Street & Key Cities / Cert 18]
Chiko (Vertigo Films): A German gangster drama about a young drug dealer (Denis Moschitto) coping on the mean streets of Hamburg is the debut film from Turkish-German director Özgür Yildirim. [Odeon Panton Street & Key Cities / Cert 18]
Shooting Robert King (Quadrant Films): A documentary about the American photojournalist Robert King, a veteran of Sarajevo and Grozny, that was shot over a decade. [ICA Cinema (Previews Renoir – 16 Aug) / Cert 18]
[ad]
> UK cinema releases for August 2009
> DVD & Blu-ray Picks for this week (including Angel Heart, La Haine and Near Dark (W/C Monday 17th August)