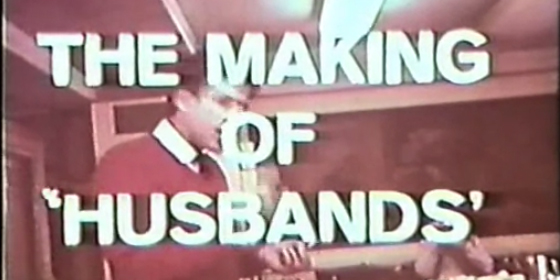 An old BBC documentary shows how John Cassavetes made his low budget film Husbands (1970).
Although slightly more expensive than his first four films – Shadows (1959), Too Late Blues (1961), A Child is Waiting (1963) and Faces (1968) – it is a fascinating insight into how independent films were made before the Sundance revolution.
During this period of directing he was better known as an actor in films such as Don Siegel's The Killers (1964), Robert Aldrich's The Dirty Dozen (1967) and Roman Polanski's Rosemary's Baby (1968).
But he was using this acting money to self-finance his films as a director – often shooting scenes in his own home – and even forming as a company to handle foreign distribution.
Husbands saw him star alongside Peter Falk and Ben Gazzara as a trio of married men who go on a spree around New York and London, after the funeral of one of their close friends.
This BBC documentary probably aired on BBC1 around the UK release.
Note the following:
The incredibly posh BBC presenter
The light handheld cameras
Use of real locations
The improvised dolly on the back of a car
How Cassevetes works his actors
Use of long lenses
The 'problem' of a professional crew
Working with 'no story'
The hose down at (what is presumably) Heathrow airport
Cassevetes getting frustrated with his crew
The sheer amount of smoking that goes on
Filming at Bank Station on the London Underground
Cassavetes saying: "Actors will put their money where their mouth is. Directors won't"
> Husbands at the IMDb and Wikipedia
> Ray Carney's links on Cassevetes
> Article on the making of Husbands
> Ben Gazzara (1930-2012) – including video of a memorable chat show appearance
> More on Independent film at Wikipedia