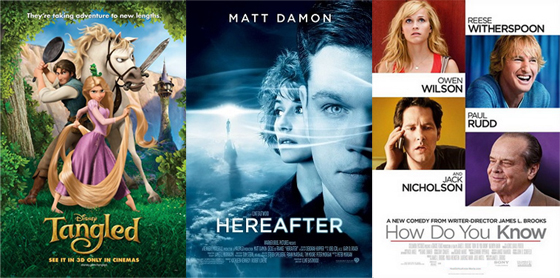 NATIONAL RELEASES
Tangled (Walt Disney): Disney's latest animated film is a reworking of Rapunzel, featuring a young maiden with magical hair (Mandy Moore) who lives in a secluded tower, until a visiting thief (Zachary Levi) shows her the outside world. In keeping with the renaissance of Disney Animation under the guidance of John Lasseter, Tangled is a satisfying and well-crafted affair with a good mix of heart and humour.
The 3D is very well done – although not entirely necessary – and visually the hair works a treat, with the animators finding ever more creative ways to manipulate it for narrative and comic effect. Directed by Nathan Greno and Byron Howard, it is reportedly the second most expensive film of all time due to years of development, but it has already grossed over $400m worldwide and along with strong reviews is likely to do excellent business over here with family audiences. [Vue West End & Nationwide / PG]
Hereafter (Warner Bros.): Clint Eastwood's latest outing as a director is this curious tale of three people across the world affected in different ways by death. There is a French TV presenter (Cécile de France) who narrowly surviving the 2004 Asian Tsunami; a former psychic (Matt Damon) in San Francisco who feels cursed by abilities; and a London schoolboy (Frankie McLaren) grieving after losing his twin brother.
Scripted by Peter Morgan, best known for political dramas The Queen (2006) and Frost/Nixon (2008), the material boldly dives in to big themes but as it progresses feels curiously disjointed and more like an early draft of something more profound.
The intercutting of the three stories at first feels like a bold move but soon becomes wearying and as the film enters into the final act, the curious lack of tension or revelation for a subject as big as death feels oddly underwhelming. Box office is likely to be as muted as it was in the US, where it sank relatively quickly after mixed reviews. [Nationwide / 12A] [Read full review here]
Barney's Version (Universal Pictures): Adapted from the novel by Mordecai Richler, this comedy-drama stars Paul Giamatti as Barney Panofsky, a man who falls for a woman (Rosamund Pike) at the wedding to his second wife (Minnie Driver).
Narrated by the central character, the film spans 30 years of his odd life – from his first marriage, his affair with a free spirit (Rachelle Lefevre), his third marriage and his relationship with his loyal father (Dustin Hoffman). Directed by Richard J. Lewis, it has got mostly positive reviews in the US although it will face significant challenges to find an audience over here in a crowded week. [Empire Leicester Square & Nationwide / 15]
How Do You Know (Sony Pictures): A romantic comedy centering around a softball player (Reese Witherspoon), an executive (Paul Rudd) and a baseball pitcher (Owen Wilson) for the Washington Nationals.
Directed by James L Brooks, it co-stars Jack Nicholson as Rudd's father and boss but bombed in the US, triggering an industry debate about how much a film like this should really cost. Box office here is likely to be similar. [Nationwide / 12A]
The Mechanic (Lionsgate UK): A remake of the 1972 thriller, with Jason Statham as the title character, a professional assassin who hunts down the murderers of his friend Harry (Donald Sutherland). Directed by Simon West, it is unlikely to win any critical support or acting awards. It will probably find its natural home on DVD. [Nationwide / 15]
ALSO OUT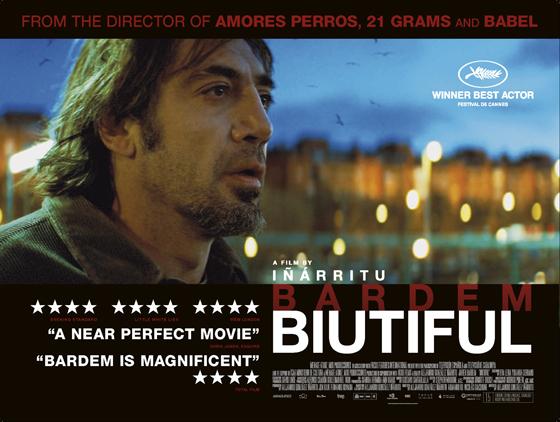 Biutiful (Optimum Releasing): A powerful depiction of life on the edges of a modern city, the latest film from Alejandro González Iñárritu is a full on experience featuring a dazzling central performance by Javier Bardem. Marking a break from his triptych of films with screenwriter Guillermo Arriaga, Biutiful is the more linear tale of Uxbal (Bardem), a father struggling in the slums of contemporary Barcelona.
The character is brought vividly to life by an incredible central performance by Javier Bardem: in addition to his magnetic screen presence, he convinces as a shady, underworld operator but also conveys his interior emotions with remarkable grace and authenticity.
Iñárritu is a director who likes to deal with big themes on a wide canvas, which can run the risk of seeming grandiose or self-important. But Biutiful – the title comes from a misspelling within the story – is admirable precisely because it tackles huge subjects with an unusual intensity and a refreshing lack of distance or irony.
The film's grim milieu is expertly realised and, to its great credit, doesn't shy away from showing the stark reality of a modern metropolis built on cheap labour and the suffering of the poor. Technical contributions are especially of note here: Rodrigo Prieto's handheld camerawork, Stephen Mirrione's editing and the sound design by Martin Hernandez are all first class.
Optimum will be hoping for buzz of Bardem's Oscar nominated performance but this is a tough watch, even for discerning arthouse audiences, and will do well to make an impact. [Curzon Soho & Nationwide /15] [Listen to our interview with Alejandro González Iñárritu here]
Accursed Blood (Metrodome): A horror film starring Kellan Lutz and Roddy Piper, about five people who unlease a curse in a hotel. [Altrincham, Burnely, Leamington, Redditch Appollos & Key Cities]
How Much Does Your Building Weigh, Mr Foster? (Dogwoof): A documentary by Deyan Sudjic about the architect Norman Foster, who has designed Beijing airport and the revamped Reichstag in Berlin. [ICA & selected Key Cities]
Men on the Bridge (Verve Pictures): Turkish drama following the lives of three young inhabitants from the suburbs of Istanbul. Directed by Asli Ozge. [Odeon Panton Street, BFI Southbank & Key Cities]
The Lovers' Guide 3D (Optimum Releasing): A 3d update of the 1991 Lovers' Guide video presumably intended as some kind of cash-in or joke. Or maybe both. [Selected cinemas / 18]
Zebra Crossing (Exile Media): A drama set against the backdrop of a south London council state, directed by Sam Holland. [Riverside Hammersmith & Selected Cinemas / 18]
> Get local cinema showtimes at Google Movies or FindAnyFilm
> UK DVD & Blu-ray releases for Monday 24th January 2011, including Spartacus and The Breakfast Club