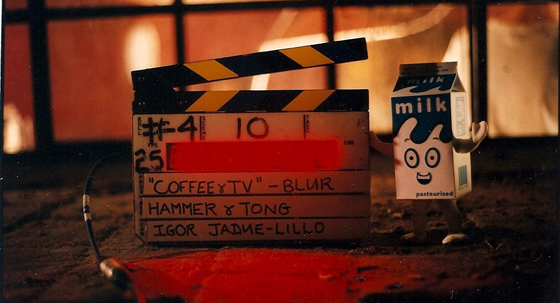 The directing and producing duo Hammer and Tongs (aka Garth Jennings and Nick Goldsmith) have a new DVD out which features their various music videos for artists such as Blur, R.E.M., Pulp and Vampire Weekend.
The collection also features various audio commentaries from band members featured in the collection, including Jarvis Cocker, Graham Coxon, Norman Cook and Ezra Koenig.
Garth and Nick first started making videos in the early 1990s for dance act SL2 and gradually began to make promos for acts including Pulp, Eels, Fatboy Slim, Supergrass, Blur, R.E.M., Beck and Vampire Weekend.
There are also various short films on the DVD that showcase their work from 1998 until 2009, including behind-the-scenes footage from the various videos and their two feature films so far, The Hitchhiker's Guide to the Galaxy (2005) and Son of Rambow (2008).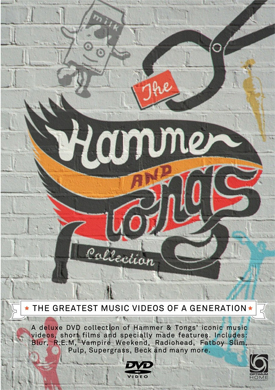 The tracklisting for the DVD is as follows:
Blur: "Coffee & TV"
Vampire Weekend: "A Punk"
Vampire Weekend: "Cousins"
Radiohead: "Nude"
R.E.M.: "Imitation of Life"
Pulp: "Help the Aged"
Pulp: "A Little Soul"
Supergrass: "Low C"
Supergrass: "Pumping on Your Stereo"
Bentley Rhythm Ace: "Bentley's Gonna Sort You Out"
Bentley Rhythm Ace: "Theme From Gutbuster"
Badly Drawn Boy: "Disillusioned"
Badly Drawn Boy: "Spitting in the Wind"
Beck: "Lost Cause"
The Wannadies: "Little by Little"
The Wannadies: "Big Fan"
The Wannadies: "Hit"
Moloko: "Flipside"
Fatboy Slim: "Right Here Right Now"
Eels: "Cancer for the Cure"
Eels: "Last Stop This Town"
I spoke with Garth and Nick recently at their offices in North London and you can listen to the interview here:
You can also subscribe to the interview podcast via iTunes by clicking here or by downloading the MP3.
The Hammer and Tongs Collection is out on Monday 22nd November from Optimum Home Entertainment
> Buy the Hammer and Tongs Collection on DVD from Amazon UK
> Tongsville – The official site for Hammer and Tongs