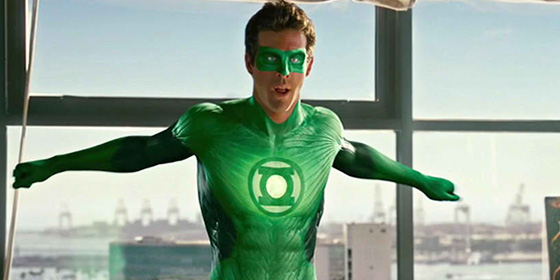 Does the expensive folly of Green Lantern mark the end of an era for super-expensive comic book movies?
Over the last decade Hollywood studios fully realised the commercial potential of bringing famous comic characters to the big screen.
Whilst Superman (1978) and Batman (1989) were big hits, ever since 2000 there has been a deluge of Marvel and DC characters at multiplexes.
The commercial success of X-Men (2000) proved that, if done well, mainstream audiences were ready for what was once regarded the preserve of geeks.
When Spider-Man (2002) became a record-breaking blockbuster, the pattern for the ensuing decade was set as franchises were built and merchandising dollars flowed in.
A generation who grew up familiar with the original characters embraced seeing them on the big screen with modern visual effects, as what once seemed goofy now became spectacular.
Out of this period came some well-crafted genre films, such as X-Men 2 (2003) and Spider-Man 2 (2004), along with some instant clunkers like Catwoman (2004) and Elektra (2005).
It even resulted in the previously unthinkable when The Dark Knight (2008) not only became a critical and commercial success, but was even talked of as a Best Picture contender.
But the summer of 2008 may in retrospect have been when a certain plateau was reached, as Christoper Nolan's Batman sequel (which embraced an unusually realistic feel for the genre) became a genuine box-office and cultural phenomenon.
Predictably, the major studios green lit another wave of comic book adaptations, resulting this summer in Thor, X-Men: First Class and Captain America later this summer.
Which brings us to Green Lantern.
To actually see this in a multiplex with a paying audience (as I did) was quite an experience.
Not because it is good (it is pretty bad), or because it is an all-out fiasco on the level of Catwoman (it isn't quite that either).
But because as I was watching it unfold, it started to seem fascinatingly bad given the gargantuan sums of money that were spent on it.
For starters, how much name recognition does the Green Lantern character actually have outside the comic book realm?
I know studios are running out of iconic names so fast that they are making reboots and team-up movies, but Green Lantern is probably best known for being easily confused with The Green Hornet.
Directed by Martin Campbell, the resulting film is a sloppy mish-mash of superhero tropes, in which a maverick fighter pilot (Ryan Reynolds) is granted special powers through a ring given to him by a dying alien warrior.
He then has to prevent a mysterious being from destroying large chunks of the galaxy (including Earth), as well as dealing with his former fighter pilot/businesswoman girlfriend (Blake Lively) and a rogue scientist with a silly moustache and large forehead (Peter Sarsgaard).
Opening with a baffling prologue that sets out the film's wider universe, it races between set-pieces on earth and outer space, in which we essentially see the same old superhero crap.
A reckless protagonist gains powers which teach him to be humble; a glamourous female lead who is just there to be rescued; a father and son sub-plot involving Oedipal rage; mentor characters who don't have any faith in their new student; and lots of visual effects which are just there to make fanboys go "awesome".
But watching all this again, it felt like the law of diminishing returns had finally caught up with the genre.
The deluge of clichés and lack of any real surprise made it feel like Green Lantern marked the fading of the era which began over a decade ago.
One moment in particular stood out.
Part of the Green Lantern's powers are that he can make any object providing his 'will' is strong enough, which means in a fight he can produce swords and machine guns.
But when he produced what looked like a big, comedy fist I really thought the filmmakers and effects guys were just having a laugh.
Added to that is way in which CGI is integrated with the live action. Yes, it is a fantasy, but did it have to look so goofy?
Word around the Hollywood camp-fire (or what Warner Bros insiders have leaked to Nikki Finke) is that this has been a troubled production.
Four credited screenwriters (Greg Berlanti, Michael Green, Marc Guggenheim and Michael Goldenberg) is never a good sign and there are scenes that smack of rewrites and reshoots (especially one during the climax, which feels laughably out of place).
Finke reports that Warner Bros marketing saw the finished film "extremely late in the game" and that they "didn't have access to more than 70% of the finished movie until two weeks ago".
If true, this might explain why the studio has spent $100 million dollars on a late marketing blitz (expensive even for a blockbuster) in the hope that people turn up this weekend.
Whilst the deserved bad reviews (23% on Rotten Tomatoes and a 40 score on Metacritic) will only have a marginal effect on box office, it is hard for a wide release like this (it opens at 3,816 US cinemas this weekend) to actually have a bad opening, as mainstream audiences generally go to see the next big tentpole release.
But when a Warner Bros executive reportedly says: "I'm not going to tell you this is the greatest movie" when the studio have spent around $300 million dollars to make and market it, something has gone badly wrong.

'Green Lantern' To Fulfill America's Wish To See Lantern-Based Characters On Big Screen
If it ultimately turns out to be a disaster for the studio, and let's not assume it will be a commercial flop, could it stem the long term tide of big budget comic-book films?
Next summer sees The Dark Knight Rises and The Avengers, directed by Nolan and Joss Whedon respectively, and they will probably turn out to be major hits, even though it will almost certainly be Nolan's last Batman movie.
And then of course there is Zack Snyder's Superman reboot, Man of Steel, which comes just a few years after the perceived commercial disappointment of Bryan Singer's Superman Returns (2006).
Thor and X-Men: First Class earlier this summer actually turned out pretty well (despite my early reservations about both), although the latter is perceived to have underperformed commercially given the unexpectedly positive reviews it got.
But why do I sense that superhero fatigue has set in?
One theory is that the recession has hit the 16-34 demographic that traditionally spends money watching these films.
Conversely, the surprising commercial success of The Social Network, Black Swan and True Grit last autumn might hint that the studios have underestimated the box office potential of more discerning viewers.
Is it just because all the good characters and story lines have been exhausted, or have executives got lazy in assuming mainstream audiences automatically care about films based on comic books or graphic novels?
When studios announce that they are cutting back on pandering to the crowds at Comic-Con, maybe they've realised that it isn't worth the hassle in the long run.
Time will ultimately tell, but when you see gargantuan amounts of money wasted on a major release like this you wonder if an era is slowly crumbling before our eyes.
> Green Lantern at the IMDb
> Reviews of Green Lantern at Metacritic
> List of comic book movies at Wikipedia