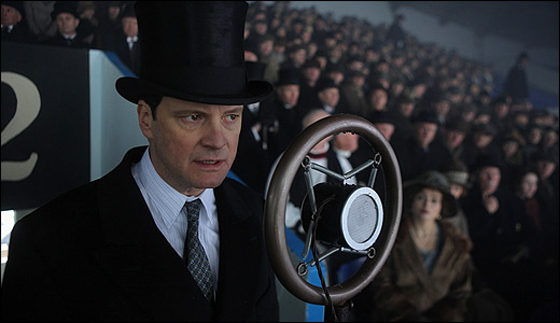 After rave reactions on the festival circuit The King's Speech finally opens in the UK today and the story of how it came to the screen is a fascinating one.
The film traces the relationship between Prince Albert (Colin Firth) and an unconventional speech therapist named Lionel Logue (Geoffrey Rush), who helped him overcome a crippling stammer as he eventually assumed the throne – as George VI –  and helped rally his people during World War II.
Directed by Tom Hooper, it is a superbly crafted period piece but also a genuine crowd pleaser with surprising levels of humour and emotion.
Already a frontrunner for the Oscars, Colin Firth follows up his performance in A Single Man with another reminder of how good he can be in the right role, whilst Rush is equally good as the man who helps him.
This is the kind of film that might appear on the surface to be another British costume drama beloved of middle class, Telegraph reading audiences but it is actually much more than that.
By exploring the pain and anguish behind the King's stutter, it is not only a surprisingly emotional film but also a sneakily subversive one.
Not only does it allows us to see how Logue's irreverent treatment stripped the ultimate aristocrat of his social hang ups, but how two people from different backgrounds eventually became friends.
But the story behind the film is equally fascinating, involving a veteran screenwriter with a stutter and the late Queen Mother.
At 73 David Seidler is considerably older than many of his screenwriting peers, with previous films including Tucker: The Man and his Dream (1988), directed by his high school classmate Francis Ford Coppola, and The King and I (1999).
What makes the film uniquely personal for the writer is the fact that as a child he grew up with a stutter and found inspiration in how King George VI overcame similar difficulties.
Although born in England, Seidler was raised in America in Long Island and underwent speech therapy over a number of years before managing to cope with the condition at the age of 16.
But the experience left its mark, and speaking to Newsweek recently he said:
"You carry it within you for a long time. I'm still a stutterer, but I've learned all the tricks so that you don't hear it"
It was over thirty years ago that he first started work on a script for what would eventually become The King's Speech and in his research the enigmatic figure of Lionel Logue kept cropping up.
Even years after the King had died, Logue was still a figure of whom little was known as the issue was still a painful one for the royal family and, in particular, the Queen Mother.
After some detective work Seidler eventually tracked down Dr Valentine Logue, a son of Lionel who was now a retired Harley Street brain surgeon.
In 1981 they met in London and Logue Jnr showed the screenwriter the notebooks his father had kept while treating the monarch.
However, Logue wouldn't do the film unless the writer secured written permission from the Queen Mother. After writing to Clarence House, he received the following request:
'Please, Mr Seidler, not during my lifetime, the memory of those events is still too painful.'
It wasn't until 2002 that the Queen Mother passed away at the age of 101 and in 2005 Seidler struggled with a bout of throat cancer.
As part of his recovery he resumed work on his script for The King's Speech and after an early draft decided to turn it into a stage play in order to focus on the characters.
It was eventually picked up by Bedlam Productions, who optioned it and then joined forces with See-Saw Films who felt that a film project could work.
Geoffrey Rush became attached early on and a staged reading of the play in Islington, North London was seen by the parents of a British director named Tom Hooper, who was then filming the HBO mini-series John Adams.
After being sent the script, and persuaded by his Australian mother that it was really good, he eventually got around to reading it and was keen to direct it as a film, which like John Adams, explores them interior lives of famous historical figures.
When Colin Firth came on board, the production – after nearly 30 years – was finally going to happen.
Weeks before filming began, Hooper and the production team got their hands on Logue's original diaries which informed the sequences between Rush and Firth.
After filming in the UK last year it got its world premiere at the Telluride Film Festival in early September where it got a rave reaction from the audience and was immediately talked of as an Oscar contender.
A week later at the Toronto Film Festival it got similar reactions, winning the Audience Award, and for Seidler it was an emotional moment:
"I was overwhelmed because for the first time ever, the penny dropped and I felt I had a voice and had been heard. For a stutterer, it's a profound moment".
The King's Speech opens in the UK today and is currently out in the US
> My LFF review of The King's Speech
> Find out more about Lionel Logue at Wikipedia
> Early reactions to The King's Speech at Telluride and Toronto
> InContention interview with Tom Hooper, Colin Firth and Geoffrey Rush at Telluride
> An interview with writer David Seidler at Stutter Talk