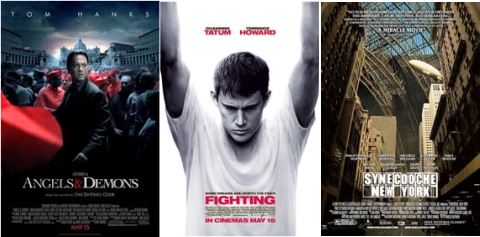 NATIONAL RELEASES
Angels and Demons (Sony Pictures): The sequel to The Da Vinci Code sees Tom Hanks return as Harvard symbologist Robert Langdon and he has to solve a plot by the Illuminati, who are threatening to destroy Vatican City with stolen antimatter during a papal conclave. Directed by Ron Howard, it is only slightly less dull than the first film and the supporting cast (featuring Ayelet Zurer, Ewan McGregor and Stellan Skarsgård) do their best with wafer thin characters. 
An expensive waste of a talented cast and crew, servicing the Hollywood machine with a film that will almost certainly be amongst the top 5 grossers of the year. Perhaps Dan Brown's next book could be about a conspiracy involving why so many people lap up these turgid books and films. However, despite the bad reviews this film is going to get, Sony can expect to make almost as much money as the Vatican this month, which is really saying something. [Nationwide / Cert 12A]
Fighting (Universal): An action film directed by Dito Montiel, about a young ticket scalper introduced to the world of underground street fighting. It stars Channing Tatum, Terrence Howard, Luis Guzmán, Brian J. White, Flaco Navaja and Strikeforce Middleweight Champion Cung Le. 
Universal might be bracing themselves for everyone else to go and see Angels and Demons but a question that most UK audiences with be asking this weekend is who the hell is Channing Tatum? [Empire Leicester Square & Nationwide / Cert 12A / Previews 13 & 14 May]
Synecdoche, New York (Revolver Entertainment): The directorial debut of Charlie Kaufman (who wrote Being John Malkovich, Adaptation and Eternal Sunshine of the Spotless Mind) centres around a theatre director named Caden Cotard (Philip Seymour Hoffman) who starts to re-evaluate life after both his health and marriage break down. He then devises an enormous theatre project inside a life size replica of New York city that reflects and imitates his own life. 
What follows is a strange and often baffling movie, complete with the kind of motifs that are peppered throughout Kaufman's scripts. But despite the oddities and the Chinese-box narrative, this is a film overflowing with invention and ideas. It explores the big issues of life and death but also examines the nature of art and performance – a lot of the film, once it goes inside the warehouse, is a mind-boggling meditation on our lives as a performance. 
Imagine The Truman Show rewritten by Samuel Beckett and directed by Luis Buñuel and you'll get some idea of what Kaufman is aiming for here. Much of the film hinges on Seymour Hoffman's outstanding central performance in which he conveys the vulnerability and determination of a man obsessed with doing something worthwhile before he dies. The makeup for the characters supervised by Mike Marino is also first rate, creating a believable ageing process whilst the sets are also excellent, even if some of the CGI isn't always 100% convincing. 
The supporting cast was also impressive: Catherine Keener, Michelle Williams, Samantha Morton, Emily Watson, Hope Davis, Tom Noonan and Dianne Weist all contribute fine performances and fit nicely into the overall tone of the piece. Although the world Kaufman creates will alienate some viewers, it slowly becomes a haunting meditation on how humans age and die. 
As the film moves towards resolution it becomes surprisingly moving with some of the deeper themes slowly, but powerfully, rising to the surface. This means that although it will have it's admirers (of which I certainly include myself) it is likely to prove too esoteric for mass consumption as it has a downbeat tone despite the comic touches.  [Curzon Soho, Odeon Covent Gdn., Barbican & Key Cities / Cert 15]
N.B. The first word of the title is pronounced "Syn-ECK-duh-kee".
[ad]
IN LIMITED RELEASE
French Film (Vertigo Films): A comedy about how French and English cultures differ in their attitudes on relationships. It is directed by Jackie Oudney and stars Hugh Bonneville, Anne-Marie Duff and Eric Cantona. [Apollo Piccadilly Circus & Key Cities / Cert 15]
Viva (Nouveaux Pictures): Two suburban couples experiment with sex, drugs and bohemia in early 1970's Los Angeles. Directed by and starring Anna Biller. [ICA Cinema]
> UK cinema releases for May 2009
> UK DVD releases for this week (W/C Monday 11th May)