[ad]
NATIONAL RELEASES
Everybody's Fine (Walt Disney): A comedy about a widower (Robert De Niro) setting off on an impromptu trip ride to reunite with each of his grown children.
Arriving from the States with decidedly mixed reviews and tepid box office, this looks to be another sad chapter in the decline of DeNiro from the greatest actor of his generation to a goofy comedy uncle. Another irony of this film is the title – as one of the last films to be produced by Miramax before Disney effectively shut the studio down, everyone was decidedly not fine. [Cineworld Shaftesbury Ave., & Nationwide / 12A]
Extraordinary Measures (Sony Pictures): A drama about a biotechnology executive (Brendan Fraser) whose two young children are afflicted with Pompe disease (acid maltase deficiency) and the research scientist (Harrison Ford) who might have a cure for their rare genetic disorder.
The first film from the newly formed CBS Films (released in the UK by Sony) was a critical and commercial bomb, with some critics saying it sidestepped the glaring issue of medical costs in the US. [Nationwide / PG]
From Paris With Love (Warner Bros.): A thriller set in Paris, involving a young employee in the office of the US Ambassador (Jonathan Rhys-Myers) who hooks up with an American spy (John Travolta) looking to stop a terrorist attack in the city.
Directed by Pierre Morel (who had an unexpected hit last year with Taken) and produced by Luc Besson, it seems likely to have the same formula of mindless action, cheesy dialogue and decent box office. [Nationwide / 15]
Leap Year (Optimum Releasing): A romantic comedy about an American woman (Amy Adams) who travels to Ireland to propose to her boyfriend only to fall for an earthy local (Matthew Goode).
The above trailer is one of the most hideous in recent memory and it looks like all concerned (especially director Anand Tucker, who recently directed the third part of The Red Riding Trilogy) are doing this for commercial rather than creative reasons. Hollywood films set in Ireland usually contain the following cliches: Celtic flutes all over the soundtrack; earthy-but-charming locals who drink Guinness and red headed girls who are persuaded to dance in a pub. This looks like it could tick all those boxes. [Odeon Covent Garden, Vue West End & Nationwide / PG]
The Crazies (Paramount/Momentum): A remake of George A Romero's 1973 horror about a town which goes crazy (or should that be crazie?) after the water supply has been poisoned by an unknown toxin.
Starring Timothy Olyphant and Radha Mitchell, it looks like it will attract poor reviews but decent initial box office. [Vues Finchley Rd, Fulham Broadway, Cineworld Shaftesbury Ave., & Nationwide / 15]
Capitalism: A Love Story (Paramount/Momentum): The latest documentary from Michael Moore examines the effect of corporate dominance on the everyday lives of Americans, especially in the light of the recent global economic meltdown.
Although the buzz on this film was mixed when it premiered at Venice and Toronto back in the Autumn, it is a more thoughtful film than some critics have given it credit for. The title is misleading as it's more of a critique against the winner-takes-all capitalism ushered in by the Reagan administration and how the policies under Clinton and Bush have contributed to the current financial crisis. There are some sequences that drag a little, but for the most part it is a thought provoking examination of how we've got to where we are as a society. Strangely, it could actually win Moore audiences amongst the right-wing 'Teabaggers' as well as his core liberal audience as his criticisms of the TARP scheme chime in with theirs. [Curzon Soho & Key Cities / PG]
[ad]
ALSO OUT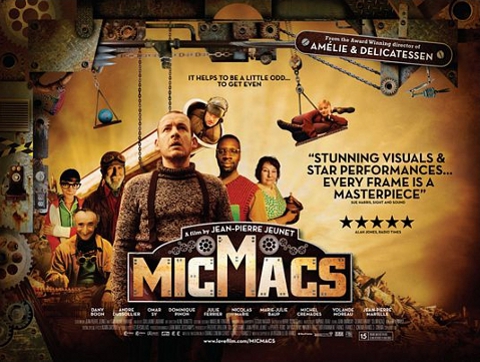 Micmacs (E1 Entertainment): The latest film from Jean Pierre-Jeunet is a charming and highly inventive caper about a man (Dany Boon) who hooks up with an eccentric group of activists in order to get revenge on two unscrupulous arms dealers.
Despie being a fixture on the festival circuit, I'm surprised there isn't more buzz about this film because it is one of the most inventive and pleasurable I've seen in the last year. It bears more similarities to Jeunet's earlier work like Delicatessen and The City of Lost Children, but also manages to mix in a powerful social message without being preachy. The technical aspects of the film are a treat to watch and most of the actors (including Jeunet regulars like Dominique Pinon) are excellent in roles which require a great deal of physicality, sometime reminiscent of a Buster Keaton comedy. [C'World Haymarket, Curzons Mayfair, Soho & Nationwide / 12A]
Gentlemen Prefer Blondes (Park Circus): A BFI reissue for one of the most overrated comedies of all time. [BFI Southbank & Key Cities/ 12A]
Freestyle (Revolver Entertainment): A British film about a poor basketball player (Arinze Kene) who falls for rich girl (Lucy Stanhope) when he coaches her in the art of freestyle (basketball set to music). [London & Key Cities / 12A]
She, A Chinese (Optimum Releasing): Directed by London-based Chinese novelist Xiaolu Guofrom her own book, it is the tale of a young woman (Lu Huang), who travels from a ­remote Chinese village to London, finding that the West is a tougher place than she expected. [ICA Cinema]
Karthik Calling Karthik (Eros); A Bollywood film about a loser whose life is changed with a phone call.
> DVD and Blu-ray Picks for Monday 22nd February including Wings of Desire and M
> Get local cinema showtimes for your area via Google Movies