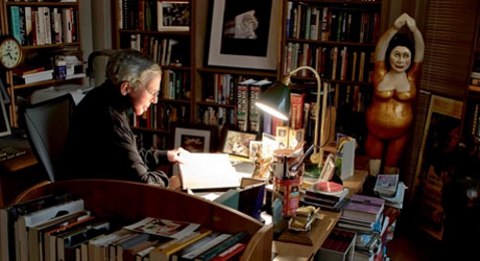 Film critic Roger Ebert was profiled recently in a terrific Esquire piece by Chris Jones.
It details how he has coped with cancer over the last few years and how it has – paradoxically – led to an explosion of writing on his blog.
Some of the highlights include:
His enjoyment of watching a screening of Broken Embraces:
It's a quirky, complex, beautiful little film, and Ebert loves it. He radiates kid joy. Throughout the screening, he takes excited notes — references to other movies, snatches of dialogue, meditations on Almodóvar's symbolism and his use of the color red. Ebert scribbles constantly, his pen digging into page after page, and then he tears the pages out of his notebook and drops them to the floor around him.
How his hands now do the talking, after losing his lower jaw and the ability to speak:
Now his hands do the talking. They are delicate, long-fingered, wrapped in skin as thin and translucent as silk. He wears his wedding ring on the middle finger of his left hand; he's lost so much weight since he and Chaz were married in 1992 that it won't stay where it belongs, especially now that his hands are so busy. There is almost always a pen in one and a spiral notebook or a pad of Post-it notes in the other — unless he's at home, in which case his fingers are feverishly banging the keys of his MacBook Pro.
His narrow brush with death when his cancer resurfaced in 2006:
In 2006, the cancer surfaced yet again, this time in his jaw. A section of his lower jaw was removed; Ebert listened to Leonard Cohen. Two weeks later, he was in his hospital room packing his bags, the doctors and nurses paying one last visit, listening to a few last songs. That's when his carotid artery, invisibly damaged by the earlier radiation and the most recent jaw surgery, burst. Blood began pouring out of Ebert's mouth and formed a great pool on the polished floor. The doctors and nurses leapt up to stop the bleeding and barely saved his life. Had he made it out of his hospital room and been on his way home — had his artery waited just a few more songs to burst — Ebert would have bled to death on Lake Shore Drive.
How his online journal started in 2008:
At first, it's just a vessel for him to apologize to his fans for not being downstate. The original entries are short updates about his life and health and a few of his heart's wishes. Postcards and pebbles. They're followed by a smattering of Welcomes to Cyberspace. But slowly the journal picks up steam, as Ebert's strength and confidence and audience grow. You are the readers I have dreamed of, he writes. He is emboldened. He begins to write about more than movies; in fact, it sometimes seems as though he'd rather write about anything other than movies. The existence of an afterlife, the beauty of a full bookshelf, his liberalism and atheism and alcoholism, the health-care debate, Darwin, memories of departed friends and fights won and lost — more than five hundred thousand words of inner monologue have poured out of him, five hundred thousand words that probably wouldn't exist had he kept his other voice.
How writing is 'saving' him:
He calls up a journal entry to elaborate, because it's more efficient and time is precious: "When I am writing my problems become invisible and I am the same person I always was. All is well. I am as I should be".
It is a powerful portrait filled with sadness at his condition and yet one can only admire Roger's dedication to his craft.
In the midst of a terrible illness he is still being sustained by doing the thing he loves. A lesson for us all.
Read the profile in full here and check out his journal here.