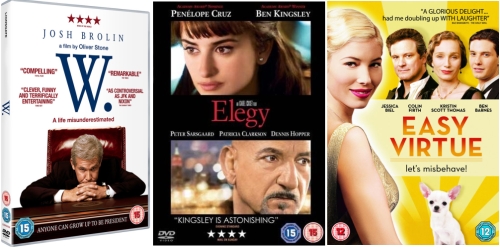 DVD PICKS
W. (Lionsgate): Oliver Stone's quickly assembled biopic of George W Bush is a much more accomplished and thoughtful film than some UK reviews would have had you believes.
Starring Josh Brolin as Bush, it explores his life in flashback through the lens of the Iraq War in 2002-2004.
An impressive cast includes Elizabeth Banks (Laura Bush), James Cromwell (George H. W. Bush), Ellen Burstyn (Barbara Bush), Richard Dreyfuss (Dick Cheney), Thandie Newton (Condoleezza Rice) and Toby Jones (Karl Rove) and the performances are generally very good, especially Brolin in what is a very tough role.
The script by Stanley Weiser and Stone does a fine job at compressing Bush's life through the lens of it's defining episode.
The film deserves credit for attempting to get inside the head of the maligned president and not just indulging in a blunt hatchet job.
However, the tepid box office reaction suggested that the the nuances of the film got lost amongst liberal haters and the conservative champions and those in the middle just trying to forget him.
The plan for the film (independently financed with Chinese, German and Australian money) was for a timely release around the recent election.
But the election race itself overshadowed it by being more exciting than any script writer could have imagined, whilst Bush himself was consigned to the shadows for his final year in office by the likes of Barack Obama, Joe the Plumper, Sarah Palin and Tina Fey.
Extras on the DVD and Blu-ray disc include:
Audio Commentary with director Oliver Stone
Dangerous Dynasty: The Bush Presidency
No Stranger to Controversy: Oliver Stone's George W. Bush
Deleted Scenes With Commentary by Director Oliver Stone
Elegy (Entertainment In Video): The latest adaptation of a Philip Roth novel hits the big screen with Ben Kingsley playing a cultural critic afraid of committing to a relationship with a younger woman (Penélope Cruz).
Although Roth has often been poorly served on the big screen, the choice of Isabel Coixet to direct proved an inspired one as she coaxes out fine performances from an impressive cast that also includes Dennis Hopper, Patricia Clarkson, Peter Sarsgaard and Debbie Harry. 
It didn't do huge business at the box office but definitely deserves a look on DVD if you missed it at cinemas.
The only extras on the DVD are 'Soundbites' and 'B-Roll footage'.  
Easy Virtue (Pathe): A social comedy based on Noel Coward's play of the same name which was itself  made into a silent movie by Alfred Hitchcock in 1928.
This version has been reshaped by director by Stephan Elliott as a much frothier concoction and stars Jessica Biel as an American socialite who marries a young Englishman (Ben Barnes) in the South of France before going to England to meet his stiff, upper-crust parents (Colin Firth, and Kristin Scott Thomas).
Whilst the setup might sound very familiar, the end result is actually a much more energetic affair with more laughs than you might expect.
Biel in particular, impresses in her most substantial role to date and Elliott wisely doesn't take things too seriously but at the same time also gets in some nice digs at the joyless nature of the British upper classes.
Extras include: 
Making of Documentary
Director's Commentary
Photo Gallery
Deleted Scenes
Outtakes
Jessica Biel Music Video (TBC)
* Listen to our interview with Stephan Elliot & Colin Firth about Easy Virtue *
[ad]
ALSO OUT
4:30 (Peccadillo Pictures)
88 Minutes (Warner)
A Mind To Kill – Complete Series 1 (Network)
After… (Optimum)
Baby Mama (Universal)
Billy Connolly: Journey to the Edge of the World (Universal)
Brothers & Sisters – Season 2 (Disney)
Doctor Who: Attack of the Cybermen (2 Entertain)
Dolphins (Sony)
Eagle Eye (Paramount)
Espionage – The Complete Series (Network)
How To Lose Friends and Alienate People (Paramount)
Lady in White – Director's Cut (Optimum)
Marple: The Collection (ITV DVD)
Minder (Fremantle)
Minder: The Complete Series (Fremantle)
Pride and Prejudice – Special Edition (2 Entertain)
Private Practice – Season 1 (Disney)
Smother (Optimum)
Sophie Scholl – Special Edition (ICA)
Space Buddies (Disney)
Strawberry and Chocolate (Mr. Bongo Films)
The Antichrist (Optimum)
The Duchess (Pathe)
The IT Crowd – Series 3 (2 Entertain)
The Oblong Box (Optimum)
The Rage (Anchor Bay)
The Women (EIV)
Thérèse Raquin (Optimum)
Vacancy (Sony)
War, Inc. (Lionsgate)
Woman Times Seven (Optimum)
Yangtse Incident (Optimum)
> Buy W., Elegy and Easy Virtue at Amazon UK
> Browse more DVD Releases at Amazon UK and Play
> Check the latest DVD prices at DVD Price Check
> Take a look at the current UK cinema releases (W/C Friday 13th March)