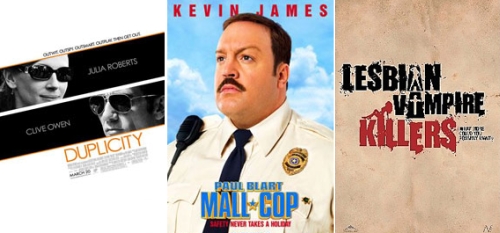 NATIONAL RELEASES
Duplicity (Universal): The big release of the week sees Clive Owen and Julia Roberts in a caper where they play a pair of corporate spies who hook up to con their respective bosses.
Written and directed by Tony Gilroy (who made a highly impressive directorial debut last year with Michael Clayton) this has a number of things going for it: two charismatic A-list stars, a superb supporting cast (featuring Tom Wilkinson and Paul Giamatti) and some wonderful cinematography from Robert Elswit.
However, the narrative twists and turns are often hard to follow and it will be interesting to see how they go down with a mainstream audience. At times it is like a game of cinematic sudoko.
Universal (who open the film in the US today as well as here) can expect a strong opening weekend but it may fall off next week as audiences scratch their collective heads and don't enthuse about it to their friends.
That said, it is heartening to see a major studio take risks like on a project like this and it may prove more of a favourite in years to come when people get to see it a second and third time. [Empire Leicester Square & Nationwide / Cert 12A]
Lesbian Vampire Killers (Momentum Pictures): A British comedy horror which stars James Corden and Mathew Horne.
Directed by Phil Claydon, the plot revolves around two slackers who go on holiday to a remote village, only to find that all of its women have been enslaved by lesbian vampires due to an ancient curse. [C'World Shaftesbury Ave., Odeon Tottenham Ct Rd., Vue West End & N'wide / Cert 15]
Paul Blart: Mall Cop (Sony Pictures): This relatively low budget ($26 million) comedy vehicle for Kevin James sees him play a goofy security guard at a shopping mall which gets overtaken by a gang of organized crooks.
A sleeper hit in the US, it may do similarly depressing business here. [London & Nationwide / Cert PG]
[ad]
IN SELECTED RELEASE
Il Divo (Artificial Eye): A stylish and fascinating film that explores the extraordinary career former Italian prime minister Giulio Andreotti.
It spans the period since the seventh election of Andreotti (played by Toni Servillo) as Prime Minister of Italy in 1992, until the trial in which he was accused of collusion with the Mafia.
Although at times the action moves so fast that you need a PhD in modern Italian politics, it is brilliantly shot, features a terrific central performance by Servillo and is directed with real panache by Paolo Sorrentino.
It was favourite on the festival circuit in the past year and was nominated for the Palme D'Or at the Cannes Film Festival last May, where it was awarded the Prix du Jury. [Curzons Mayfair & Soho, Gate, Renoir & Key Cities / Cert 15]
* Listen to our interview with Paolo Sorrentino *
Diminished Capacity (Paramount): Matthew Broderick plays a Chicago journalist suffering from memory loss who takes leaves from his job and returns to his rural hometown, where he bonds with his Alzheimer's-impaired uncle Rollie (Alan Alda) and his old flame (Virginia Madsen). [Odeon Leicester Square & Key Cities / Cert 15]
Flash Of Genius (Optimum Releasing): A film about the life of Robert Kearns (played by Greg Kinnear), the man who fought a patent infringement case against Ford in the 1960s. Directed by Marc Abraham, it also stars Lauren Graham and Dermot Mulroney and is based on a 1993 New Yorker magazine article by John Seabrook. [C'Worlds Haymarket, W'worth, Odeon Swiss Cottage, Greenwich & Nationwide / Cert 12A]
Bottle Shock (Paramount): A film about the events that led up to the Judgment of Paris in 1976, when California wine beat French wine in a blind taste test. It stars Alan Rickman, Bill Pullman, Chris Pine and Rachael Taylor and was directed by Randall Miller. [Key Cities / Cert 12A]