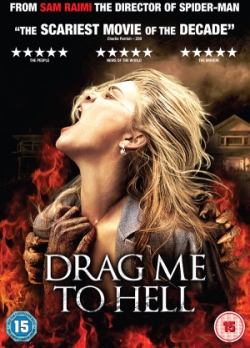 We have 2 copies of Drag Me To Hell to give away on DVD courtesy of Lionsgate.
A return to the horror genre for director Sam Raimi it is the tale of a real estate agent (Alison Lohman) who falls under an ancient curse when she is forced to evict an elderly woman (Lorna Raver) from her house.
She then has three days to dissuade a dark spirit from stealing her soul before she is dragged to hell for an eternity of unthinkable torment.
Available on DVD and Blu-ray Disc, the extra features on the DVD are as follows:
Theatrical Cut
2.40:1 Anamorphic Widescreen
English DD5.1 Surround
English HOH subtitles
Production Diaries:
The Bloody Nose
Inside the Psychic World
Makeup Effects
Alison in the Mud
Wirework
Nightmare
Justin Long Profile
The Parking Lot Fight
The Goat
Set Tour: The Great Room, Puzzle Car, Dragging Her To Hell
[ad]
[ad]
To stand a chance of winning a copy just answer this question:
Which 1981 horror film did Sam Raimi direct?
Drag Me To Hell is out on DVD & Blu-ray now  from Lionsgate
N.B. We never pass on any contact details to other companies or organisations as we know just how annoying unsolicited spam is.
> Drag Me To Hell at the IMDb
> Find out more about Sam Raimi at Wikipedia