Douglas Trumbull's moving sci-fi drama gets a welcome re-release on Blu-ray from Eureka's Masters of Cinema label.
After the unexpected commercial success of Easy Rider (1969) and the slow demise of the old studio system, Universal decided to green light some lower budget features by up and coming directors.
This meant that a young special effects artist who had helped Stanley Kubrick create some of the greatest visual effects in cinema history made his directorial debut.
Silent Running is set in a future where all plant life on Earth is extinct and the remaining specimens are preserved in giant spaceships outside the orbit of Saturn.
When the man entrusted with looking after them (Bruce Dern) receives orders to jettison the floating greenhouses and return to Earth, he begins to have second thoughts about his mission and fellow crew members.
At its core this is a film about man's relation to nature, as seen from the isolation of space, but it goes further than that by posing interesting moral questions about how far we should go to protect an ideal as well as the conflict of an individual against the society he is from.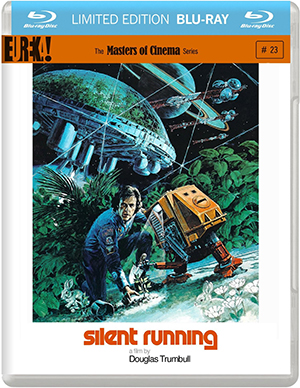 In this sense, the film is very much of a product of its time, when there was widespread disillusionment at foreign wars, a stagnant economy and concerns about the environment – sound familiar?
But down the years this film has endured as something much more substantial than just a hippy space opera with cute robots.
Part of it's unique charm and power comes from Bruce Dern in the lead role, with a brave performance filled with anguish and humanity.
He conveys a genuine love for the natural plants and animals on board the ship, combined with an empathy for technology, especially his servant drones, which he nicknames Huey, Dewey, and Louie.
These were actually played by four double-amputees, inside custom-built suits, and they remain some of the most enduring characters in the sci-fi movie genre, influencing Star Wars (1977), WALL-E (2008) and Moon (2009).
Trumbull also achieved a lot on a limited budget with clever use of front-projection and model work to depict the ships in space – despite the enormous advances in visual effects since it was made, Silent Running still holds up as a textbook example of high creativity on a low budget.
Modern audiences used to the intricate, computer generated world of Avatar might like to note that it shares a similar environmental theme, which suggest that Trumbull's messages and themes are enduring ones.
Although the use of Joan Baez songs might seem to date the movie, it is a reminder of the despair and hope of the early 1970s, which isn't so different as we begin a new decade of social and environmental uncertainty.
In retrospect, the screenwriters were the unlikely trio of Deric Washburn, Michael Cimino and Steven Bochco. Washburn and Cimino went on to co-write The Deer Hunter (1978), whilst Bochco went on to create Hill Street Blues, L.A. Law and NYPD Blue.
The new Blu-ray from Masters of Cinema looks terrific, with an impressive digital restoration by Deluxe 142 in London creating a sharp but not overly pristine image with light traces of grain.
The uncompressed DTS-HD Master 2.0 channel stereo track comes with the option of listening to the music and effects separately.
SPECIAL FEATURES
Full-length commentary by director Trumbull and actor Bruce Dern: This commentary track recorded in 2000 for the DVD is pretty special. It not only reunites actor and director- both very interesting figures in their own right – but provides some fascinating insights into the production.
The Making of Silent Running (49:17): This on-set documentary by Charles Barbee provides yet more information on how they made the film. It is also an interesting snapshot of how these kind of making of features helped promoted the film in an era before the mass marketing blitz of today. Showing the inventive ways in which Trumbull stretched the budget – shooting on a decomissioned aircraft carrier and using amputees to play the robots – it is a reminder of how resourceful the production was.
Two video pieces with Douglas Trumbull (30:08 + 4:51): These interviews with Trumbull go into his career in some depth, including his pioneering work in visual effects and how this film came about. Interestingly, since the 1980s Trumbull has pushed for a newer cinema process called Showscan (films projected at higher frame rates of 60 frames per second) which now may become a reality with both James Cameron and Peter Jackson pushing for higher frame rates.
A Conversation with Bruce Dern (10:56): Dern clearly has a lot of affection both for Trumbull and the film – it offered him a juicy lead role in contrast to all the oddball supporting parts he was offered down the years. Here he expounds on the experience of working with one of two genius directors (the other was Hitchcock).
Original theatrical trailer (2:57)
A lavish 48-page full-colour booklet: Featuring rare photographs and artwork from Trumbull's personal collection, and recollections of the film's cinematographer and composer.
Isolated music and effects track
Silent Running is out on Monday 14th November from Eureka/Masters of Cinema
> Buy Silent Running on Blu-ray from Amazon UK
> Find out more about Douglas Trumbull and Bruce Dern at Wikipedia