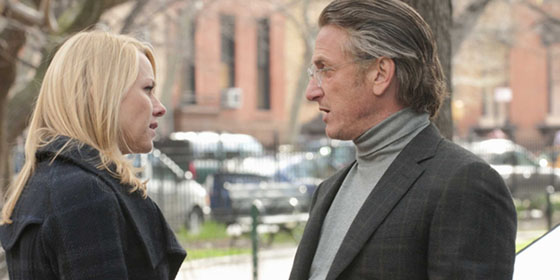 Although it barely made a dent at the US box office, the story of ex-CIA agent Valerie Plame makes for an impressive political drama.
Despite being one of the key world events of the last decade, the Iraq War has proved to be box office poison for films attempting to deal with it.
Films such as In the Valley of Elah (2007), Body of Lies (2008), Stop-Loss (2008) and Green Zone (2010) have all shunned by mainstream US audiences who presumably don't want to dwell on the painful consequences of a politically divisive conflict.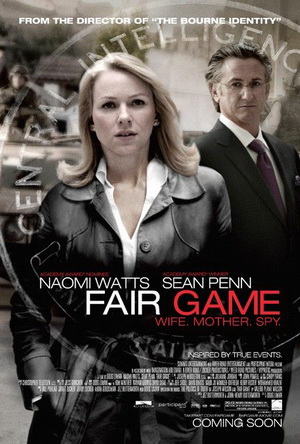 So it proved with Fair Game, which explores how the Bush White House leaked the identity of CIA agent Valerie Plame (Naomi Watts) in retaliation for an article her diplomat husband Joe Wilson (Sean Penn) had criticised the justification for war in 2003.
But despite the lack of interest from US audiences it is an expertly assembled piece of work and easily director Doug Liman's best film in years.
After an opening which establishes Plame's background as an undercover operative the drama begins when Wilson is asked to travel to Niger in order to ascertain whether they have sold uranium to Iraq.
After concluding that there's no substance to the claim, he is enraged when the White House use his report as part of their justification for war, prompting him to write an angry counter-blast in the New York Times.
This then triggers a rebuttal by syndicated columnist Robert Novak which outs Plame and triggers not only the end of her career but a political scandal involving Vice President Cheney's chief of staff, Scooter Libby (David Andrews) and undercover operatives endangered by the leak.
Some will have issues with the details of the script by Jez Butterworth and John Butterworth, which is largely based on the Wilson's two memoirs.
But whatever the interpretations it weaves reporting, details and anecdotes to powerfully evoke the heady rush to war in 2003 when the Bush White House was keen to steamroller any dissent regarding the invasion.
It is also a powerful depiction of a marriage thrown into turmoil as many in the media establishment initially side with the White House having swallowed the justifications for war.
Watts is convincing as a working CIA agent, conveying her frustrations with agency politics and the consequences for her life and career.
Penn inhabits his role effectively, as one might expect, even if his performance does involve a fair bit of scenery chewing as he seeks to defend his wife and principles.
In small but significant supporting roles, Sam Shepard, Noah Emmerich, Michael Kelly and Bruce McGill are all good value as Washington insiders.
The real star though is Doug Liman and the film represents a new creative lease of life for him after making studio fare such as Mr and Mrs Smith (2005) and Jumper (2008).
Serving as his own cinematographer for the first time since Go (1999), the visuals have a compelling immediacy and the narrative moves at a decent pace despite cramming in a lot of material into the 105 minute running time.
The world of Washington circa 2003 is also effectively evoked by Jess Gonchor's production design.
It may be some years before mainstream US culture is ready to digest the Iraq War – it took a decade before films like Platoon (1986) revisited the deep scars of Vietnam – but Fair Game is an honourable and well made reminder of the nature of the government who engineered the conflict.
Fair Game opens at UK cinemas on Friday 11th March
> Official site
> Reviews of Fair Game at Metacritic
> Find out more about the Plame Afair at Wikipedia