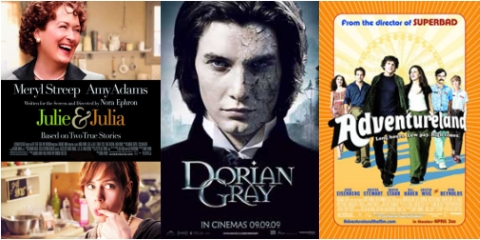 [ad]
NATIONAL RELEASES
Julie & Julia (Sony Pictures): Nora Ephron's comedy-drama juxtaposes the lives of US chef Julia Child (Meryl Streep), as she falls in love with French cooking during the 1950s, and Julie Powell (Amy Adams), a blogger who attempts to cook all 524 recipes from Child's cookbook many years later.
Although the tone is relatively light throughout, the film is an enjoyable confection with Streep on especially fine form as a middle aged woman who finds her true calling in life whilst abroad. Adams, understandably, lacks the gravitas of her co-star but she still manages to make her character engaging as she struggles to find her way in life (and the kitchen).
The production design by Mark Ricker and costumes by Ann Roth capture the different time periods with aplomb and watching this digitally projected was at times a mouthwatering experience. It never reaches the food porn levels of something like Babette's Feast but is still likely to have foodies drooling due to it featuring a lot of cooking and discussion about what we eat.
Sony will be hoping that female audiences will be turning out in force for this one, especially after Meryl Streep has become an unlikely box office draw in the wake of Mamma Mia! and it is likely to do good business despite being a very crowded week at UK cinemas. [Nationwide / Cert 12A / Previews from Sept 9th]
Dorian Gray (Momentum Pictures): An adaptation of Oscar Wilde's classic novel The Picture of Dorian Gray, this version is directed by Oliver Parker and stars Ben Barnes in the title role, with Colin Firth as Lord Henry Wotton and Rebecca Hall as Emily Wotton.
Momentum will be hoping fans of the book will be up for this but it may struggle to find a decent sized audience in such a crowded week. [Odeon Leicester Square & Nationwide / Cert 15 / Opened on Weds 9th]
Sorority Row (E1 Entertainment): Teen-themed horror about a group of sorority sisters try to cover up the death of their house-sister after a prank gone wrong, only to find themselves stalked by a serial killer.
Directed by Stewart Hendler, it fatures a cast of unknowns such as Briana Evigan, Leah Pipes, Rumer Willis, Jamie Chung, Margo Harshman and Audrina Patridge. Horror can still be profitable but I feel this may struggle to do big box office mainly because UK audiences have no idea what the word "sorority" means. [Empire Leicester Square & Nationwide / Cert15 / Opened on Weds 9th]
Adventureland (Walt Disney): A comedy set in the summer of 1987 which revolves around a recent college graduate (Jesse Eisenberg) who takes a job at his local amusement park, only to find it's the perfect course to get him prepared for the real world.
Directed by Greg Mottola (who made Superbad in 2007), it co-stars Kristen Stewart, Ryan Reynolds, Bill Hader and Kristen Wiig. Despite getting very positive reviews in the US it didn't make a huge impact at the box office. It could do OK here, but I suspect it will find more appreciation and love on DVD. [Cineworld Shaftesbury Ave., & Nationwide / Cert 15]
Whiteout (Optimum Releasing): Based on the 1998 comic book of the same name, the plot involves a U.S. deputy marshal (Kate Beckinsale) assigned to Antarctica, where she must solve a murder three days before the antarctic winter begins.
Directed by Dominic Sena, it was produced by Joel Silver but appears to be dead-on-arrival with zero buzz and expectation. [C'World Shaftesbury Ave., Vue West End & Nationwide / 12A]
Miss March: Generation Penetration (Fox): A comedy about a young man who awakens from a four-year coma to hear that his high-school sweetheart has since become a centerfold in one of the world's most famous men's magazines.
He and his sex-crazed best friend decide to take a cross-country road trip in order to crash a party at the magazine's legendary mansion headquarters and win back the girl. Another film lacking in buzz that would appear to be straight to DVD fodder were it not actually being shown in cinemas. The pitiful score of 7 (yes, seven) on Metacritic would suggest that it all is not well with this film. [Nationwide / Cert 15]
[ad]
IN LIMITED RELEASE

Fish Tank (Artificial Eye): The latest film from director Andrea Arnold is the tale of a young teenager (Katie Jarvis) who's life begins to change when her mother brings home a new boyfriend (Michael Fassbender).
It won the Jury prize at Cannes back in May and Artificial Eye will be hoping for decent arthouse business after the mostly positive critical buzz it has got since then. The bleak setting may put off more mainstream audiences but this looks likely to find an audience and cement Arnold's reputation futher. [Chelsea Cinema, Curzon Soho, Renoir, Richmond P'House & Nationwide / Cert 15]
The September Issue (Momentum Pictures): A documentary chronicling Vogue editor-in-chief Anna Wintour's preparations for the 2008 fall-fashion issue. Momentum might be surprised at how well this does given the amount of press it has got, so look out for a good per-screen-average and a decent chunk of business on DVD. [Curzon Mayfair & Key Cities / Cert 12A]
Morning Light (Walt Disney): A documentary about fifteen young sailors. [Odeon Southampton / Cert PG / Selected Key Cities from Sept 18th) Reckoning Day (Revolver Entertainment) [Key Cities / Cert 18]
Shank (Parasol Pictures): Low budget drama about a romance between a self-hating hoodie (Wayne Virgo) and a flighty French student Olivier (Marc Laurent) which explores such issues as class and criminal violence. [Greenwich P'House & selected Key Cities (Previews Bristol 18 July)
[ad]
> UK cinema releases for September 2009
> DVD & Blu-ray picks for this week including This is Spinal Tap, Fifty Dead Men Walking and Gladiator (W/C Monday 7th September 2009)