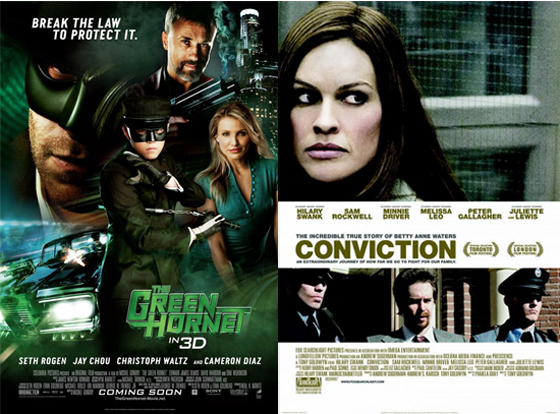 NATIONAL RELEASES
The Green Hornet (Sony Pictures): This story featuring the masked vigilante, who previously appeared in radio serials, comic books and a TV series, updates the action to modern day Los Angeles. When Britt Reid (Seth Rogen), inherits his father's media empire, he decides to turn his life around and become a crime fighter with the help of a mysterious employee named Kato (Jay Chou).
After recruiting a new secretary (Cameron Diaz), Britt (aka The Green Hornet) takes on a Russian crime boss (Christoph Waltz) who is controlling the city's underworld operations.
Unlike more recent superhero adaptations, the tone here is closer to an irreverent 1980s action-comedy, with the script by Rogen and Evan Goldberg showing glimpses of their work on Superbad (2007) and Pineapple Express (2008). There are some amusing moments, mainly between Rogen and Chou as they get to know each other, but mostly this is formulaic stuff.
One dimensional characters, explosions, Matrix-style fight sequences and a general feel of creative auto-pilot make you wonder if Michel Gondry actually directed this.
This is getting a major release, so it will be very interesting to see how it fares against The King's Speech and 127 Hours as they enter their second weeks. Bad word of mouth could be a problem for a comedy like this but the action could be a pull for undemanding audiences. [Read the full review here] [Nationwide / 12A]
Conviction (20th Century Fox): A legal drama based on the real life case of Betty Anne Waters (HIlary Swank), an unemployed single mother who exonerated her wrongfully convicted brother (Sam Rockwell) of murder over the course of two decades.
Directed by Tony Goldwyn, the case makes for a potentially gripping film which is never quite realised. Although the performances are solid (especially Swank and Rockwell), it is hampered by too many cliches and the pedestrian direction which gives it a TV-movie vibe. [Nationwide / 15]
Henry's Crime (Entertainment Film Distributors): This offbeat romantic comedy is an unambitious man named Henry (Keanu Reeves), who has his dull routine change when he stumbles across an armed robbery crime scene and is mistaken by police for one of the robbers and thrown into jail.
There he shares a cell with career criminal Max (James Caan), who becomes a mentor of sorts and on his release, Henry joins forces with Max to commit the crime for which he figures he has already done the time, and becomes romantically entangled with local TV presenter (Vera Farmiga), who literally runs into him at the crime scene. [Nationwide / 15]
ALSO OUT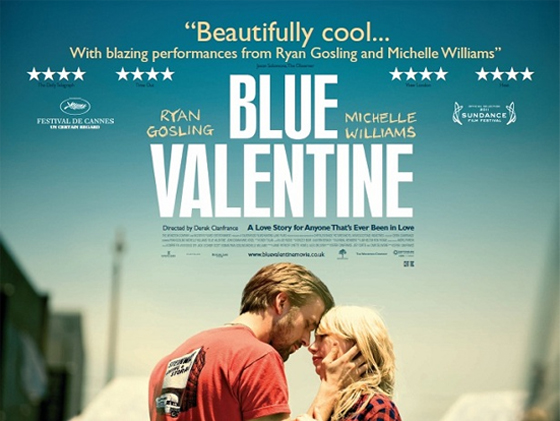 Blue Valentine (Optimum Releasing): The changes in a long-term relationship are examined with rare intimacy in this second feature from writer-director Derek Cianfrance. Over the course of several years we see how a young couple, Dean (Ryan Gosling) and Cindy (Michelle Williams), fall in and out of love over a number of years.
Juxtaposing their initial, youthful courtship (shot on super 16mm) with their marital struggles (filmed on the Red One digital camera), it employs clever framing along side the contrasting visual palettes to convey how their lives have changed.
The narrative and visual design is impressive, conveying the passage of time and providing a highly effective counterpoint for the two stages of their relationship.
Already acclaimed after a buzz-fuelled run on the festival circuit, it looks likely to snag Oscar nominations for Gosling and Williams. Although a tough watch in places, it feels like a breath of fresh air in the current climate for movies. Highly recommended. [Selected cinemas nationwide / 15]
Brotherhood (Kaleidoscope): Directed by Will Canon, this US thriller uses college initiation ceremonies as the backdrop to explore who a group of students spiral out of control. [/ 15]
Travellers (High Fliers): A Deliverance-style British thriller about a group of guys from the city who venture into the countryside only to be terrorised by Irish travellers. Directed by Kris McManus. [Selected cinemas / 18]
Yamla Pagla Deewana (Eros International): Bollywood comedy-drama film directed by Samir Karnik, starring Dharmendra, Sunny Deol, and Bobby Deol in the lead roles. [Acton Vue, Feltham Cineworld, Harrow Vue, Trocadero & Key Cities]
> Get local cinema showtimes at Google Movies or FindAnyFilm
> UK DVD & Blu-ray releases for Monday 10th January 2011, including Catfish and I'm Still Here