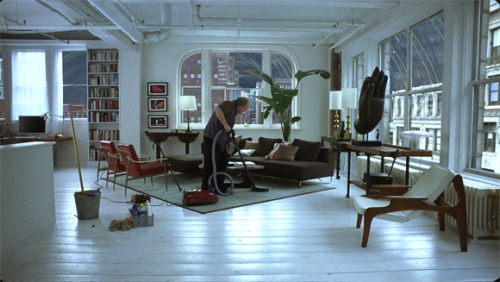 In the last decade Charlie Kaufman has become one of those rare screenwriters whose work has even overshadowed the directors he has worked with. 
This is quite a feat given that he has collaborated with Spike Jonze (on Being John Malkovich and Adaptation) and Michel Gondry (Human Nature and Eternal Sunshine of the Spotless Mind). 
However, it is fair to say that all those films bear certain recognisable tropes: ingenious narratives, surreal images and a tragi-comic view of human affairs.
It would also be fair to assume that his directorial debut would be similar, but Synecdoche, New York does not just bear token similarities to his previous scripts. 
In fact it is so Kaufman-esque that it takes his ideas to another level of strangeness, which is quite something if you bear in mind what has come before.
The story centres around a theatre director named Caden Cotard (Philip Seymour Hoffman) who starts to re-evaluate life after both his health and marriage start to break down. 
He receives a grant to do something artistically adventurous and decides to stage an enormously ambitious production inside a giant warehouse.
What follows is a strange and often baffling movie, complete with the kind of motifs that are peppered throughout Kaufman's scripts: someone lives in a house oblivious to the fact that it is permanently on fire; a theatrical venue the size of several aircraft hangars is casually described as a place where Shakespeare is performed; and visitors to an art gallery view microscopic paintings with special goggles.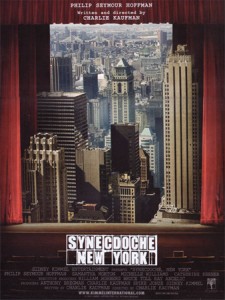 But despite the oddities and the Chinese-box narrative, this is a film overflowing with invention and ideas. 
It explores the big issues of life and death but also examines the nature of art and performance – a lot of the film, once it goes inside the warehouse, is a mind-boggling meditation on our lives as a performance. 
Imagine The Truman Show rewritten by Samuel Beckett and directed by Luis Buñuel and you'll get some idea of what Kaufman is aiming for here. 
I found a lot of the humour very funny, but the comic sensibility behind the jokes is dry and something of an acquired taste.
Much of the film hinges on Seymour Hoffman's outstanding central performance in which he conveys the vulnerability and determination of a man obsessed with doing something worthwhile before he dies. 
The makeup for the characters supervised by Mike Marino is also first rate, creating a believable ageing process whilst the sets are also excellent, even if some of the CGI isn't always 100% convincing. 
The supporting cast too is very impressive: Catherine Keener, Michelle Williams, Samantha Morton, Emily Watson, Hope Davis, Tom Noonan and Dianne Weist all contribute fine performances and fit nicely into the overall tone of the piece. 
Although the world Kaufman creates will alienate some viewers, it slowly becomes a haunting meditation on how humans age and die.
As the film moves towards resolution it becomes surprisingly moving with some of the deeper themes slowly, but powerfully, rising to the surface.
This means that although it will have it's admirers (of which I certainly include myself) it is likely to prove too esoteric for mass consumption as it has a downbeat tone despite the comic touches.
Having seen it only once, this is a film I instantly wanted to revisit, so dense are the layers and concepts contained within it.
On first viewing it became a bit too rich at times for it's own good. However, it isn't often that filmmakers aim this high.
I certainly haven't seen a film like this in years.
N.B. Apparently the first word of the title is pronounced "Syn-ECK-duh-kee". 
The following video from Cannes back in May showed the confusion over how to pronounce it:
Synecdoche, New York screens at the London Film Festival on Tuesday 28th and Wednesday 29th October
* It opens in the US on October 24th in limited release but the UK release is TBA *
UPDATE 25/10/08: In an earlier version of this article I wrote that Judy Chin was in charge of makeup for this film but just to clarify, Mike Marino designed the ageing makeups whilst Judy was department head of the rest. (Thanks to Mike for getting in touch to point this out.) 
> Synecdoche, New York at the IMDb