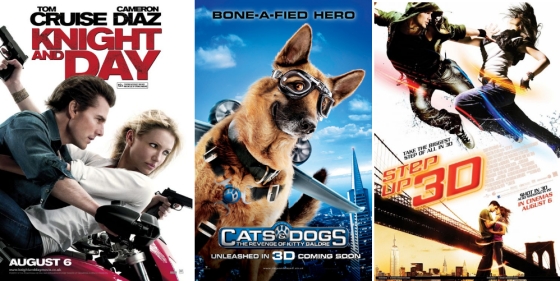 [ad]
NATIONAL RELEASES
Knight & Day (20th Century Fox): A action-comedy about a rogue spy (Tom Cruise) and a car restorer (Cameron Diaz) who meet at an airport and are then pursued by the FBI and arms dealers across several countries.
A strange hybrid which feels like it has undergone several script rewrites, this is neither as funny or exciting as it should be. Director James Mangold was a curious choice for this kind of material and he seems undecided on how to balance the contrasting elements.
There is no real suspense or danger because the situations are basically played for laughs, whilst the romantic elements feel undercooked for the same reason. This wouldn't be a problem if the comedy was strong, but mostly this is just inoffensively watchable.
It is also a reminder that Cruise and Diaz have lost some of their star power. Their characters here feel like faded duplicates of previous roles: Cruise essentially plays a sillier version of his Mission: Impossible persona, whilst Diaz does her ditzy blonde routine.
For a summer release from a major studio, it also feels cheaper than expected. The sense of scale and the action scenes (which often feature some ropey CGI) are all fairly underwhelming.
A solid supporting cast on paper includes Peter Sarsgaard, Paul Dano and Viola Davis, but there are wasted in one dimensional roles.
The disappointing US box office performance came as a shock to Fox and they will be hoping that it performs better in foreign markets such as the UK. [Odeon Leicester Square & Nationwide / 12A]
Cats & Dogs: The Revenge Of Kitty Galore (Warner Bros.): You know that something has gone seriously wrong with the summer movie season when a major studio has decided to make a sequel to a 2001 film about a war between cats and dogs.
This film sees the battle between canines and felines put on hold when they join forces to thwart a rogue cat spy.
Featuring the voices of Chris O'Donnell, Christina Applegate, Michael Clarke Duncan, James Marsden, Joe Pantoliano and Katt Williams this clearly isn't going to be the standout film on anyone's IMDb listing.
To add insult to injury this is another film trying to cash in on the 3D craze, although the poor reviews and less-than-spectacular US box office will probably mean that this will be quickly forgotten. [Nationwide / 15]
Step Up 3D (Universal): The second unnecessary sequel in 3D this week is the third film in the Step Up series, which sees a guy called Moose (Adam Sevani) team up with a street dance crew for a competition against some other dancers.
Directed by Jon Chu, it co-stars Alyson Stoner and Harry Shum Jr. and looks set to cash in on the current craze for all things dance-related. [Vue West End & Nationwide / 12A]
[ad]
ALSO OUT
Coco Chanel & Igor Stravinsky (Soda Pictures): A French drama based on the fictional novel 'Coco & Igor' by Chris Greenhalgh, which fictionalises the affair between Coco Chanel and Igor Stravinsky in Paris during 1920, the year that Chanel No. 5 was created. Directed by Jan Kounen it stars Mads Mikkelsen and Anna Mouglalis. [C'World Hammersmith, Curzon Mayfair, Odeons Covent Gdn, Wimbledon & Nationwide / 15]
Eccentricities Of A Blonde-Haired Girl (New Wave Films): Adapted from the short story by author Eça de Queiroz, this drama is the tale of a beleaguered man (Ricardo Trêpa), who recounts his romantic woes involving a blonde whilst on a train ride to the Algarve. Directed by Manoel de Oliveira. [ICA Cinema & Key Cities / U]
Undertow (Axiom Films): A Peruvian drama about a man (Cristian Mercado) struggling to deal with a secret affair in a small coastal town. Directed by Javier Fuentes-Leon. It won the Audience Award for Best World Dramatic Feature at Sundance earlier this year. [Apollo Piccadilly Circus, Everyman Hampstead, Odeon Covent Gdn., & Key Cities / 15]
> DVD and Blu-ray releases for this week including Shutter Island and The Lives of Others
> Get local cinema showtimes for your area via Google Movies