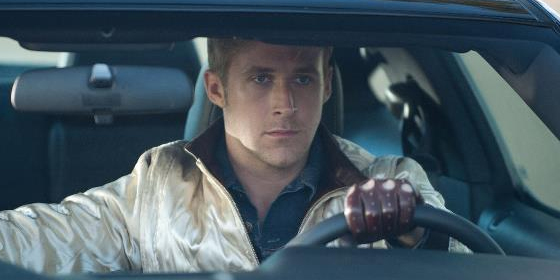 This ultra stylish LA noir not only provides Ryan Gosling with an memorable lead role but cleverly takes a European approach to an American genre film.
When an enigmatic stunt driver (Ryan Gosling) decides to help out his neighbour (Carey Mulligan) and her family, he finds himself caught up in a dangerous game with a local businessman (Albert Brooks).
Hollywood driver by day and getaway driver at night, the nameless protagonist finds his spartan existence threatened by his emotions and an increasingly tangled web of criminality.
The opening sequence sets the mood as we hear the Driver explain his code of rules and then assist in a getaway which shows both his mastery of cars and the backstreets of Los Angeles.
Danish director Nicolas Winding Refn shoots the city with a coolly detached European eye: his images are steady, composed and artful, whilst jolts of violence and sparse dialogue make it feel like a modern day update of a Leone western or a Melville crime drama.
Adapted from a 2005 novel by James Sallis by screenwriter Hossein Amini, it was originally going to be a bigger budget film with Hugh Jackman in the lead and Neil Marshall directing.
However, the decision to rebuild the project as a sleeker, lower cost model has proved inspired as it manages to successfully combine satisfying genre elements within a stylish European exterior.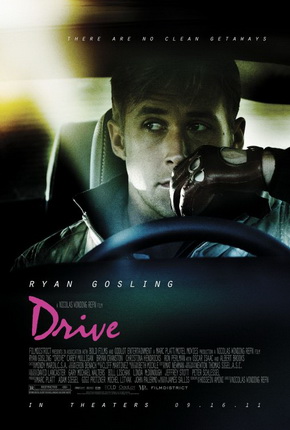 Attired in a satin jacket, Gosling is borderline iconic in the lead role, channelling the likes of Steve McQueen in Bullit (1968) and Alain Delon in Le Samurai (1967), but also displaying an undercurrent of emotion as he quietly seeks human intimacy.
In a male-dominated crime story Mulligan is given less to do, although she has a tangible screen presence, and in a minor supporting role Christina Hendricks feels almost unrecognisable from Mad Men.
Brooks has the stand out supporting role as a wily crime boss and he's brilliantly cast against type, injecting the role with just the right blend of geniality and menace, whilst Bryan Cranston, Ron Perlman and Oscar Isaac offer solid support.
Refn often opts for enigmatic silence or music, instead of clumsy dialogue to reveal emotions: sequences involving drives, hallways or lifts are expertly handled and the help connect the dazzling visual artifice with a deep emotional core.
The pacing is lean and mean, without a scene being wasted as the narrative plays around with the heist movie form; establishing, overhead shots of LA unusually focus on the cars and there are some genuinely surprising moments sprinkled amongst the genre elements.
Newton Thomas Siegel's widescreen cinematography paints a striking vision of LA as a neon-soaked den of crime but also frames the domestic interior and driving sequences in fresh and interesting ways.
Using the digital Arri Alexa camera, the LA night time visuals are strikingly alive (superior in quality to the digitally-shot Collateral back in 2004) and the tasteful, considered compositions feel like gulps of fresh air in an era of chaotic action visuals.
The sound design by Lou Bender and Victor Ray Ennis also really sells the action, be it the squeak of Gosling's driver gloves, the roar of his car engine or the cracking of bone, even though conventional set-pieces are kept to a minimum.
A dramatic car chase stands out not only because it is expertly put together but because in an age of over reliance of green screen trickery, the filming of real cars on actual roads seems to be a dying art.
The soundtrack blends tracks from the likes of Kavinsky, College and Desire with Cliff Martinez's pulsating electronic score, creating a rich sonic backdrop which chimes in perfectly with the visuals.
This all provides the best musical backdrop to an LA crime movie since Heat (1995), where Michael Mann recruited Elliot Goldenthal to provide a dramatic score, whilst utilising invaluable contributions from Brian Eno, Michael Brook and Moby.
The film builds on the noble tradition of European directors filming crime movies in California: Point Blank (1967) and Bullit (1968) are obvious touchstones, but there is also a strong American influence of films such as The Driver (1978), To Live and Die in LA (1985) and Manhunter (1986).
This blending of European and American sensibilities is what makes Drive such an intoxicating mix: like the central character, it is stylish creation of few words but has a lasting impact on those who see it.
It is no wonder the audience at the Cannes premiere were beguiled by the fusing of transatlantic sensibilities which have fuelled the festival since its inception.
The question mark that hangs over the film is whether or not US distributor FilmDistrict can get people to go and see it: some may be put off by the flashes of violence but if art house and mainstream audiences keep an open mind, this could be a richly deserved hit.
Drive opens in the UK on September 23rd and in the US on September 16th
> Official Facebook page
> Reviews of Drive at Metacritic
> Reactions to Drive at Cannes 2011
> Excellent Cinema-Scope interview with Refn on the making of Drive