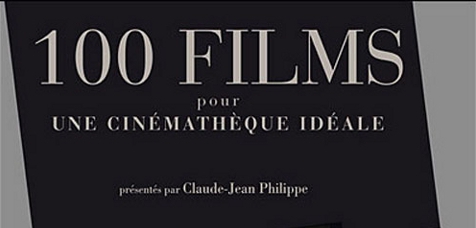 French film magazine Cahiers du Cinéma have compiled a list of the 100 greatest films of all time.
It is published this month in an illustrated book and was put together by 76 French film directors, critics and industry executives.
Here are the 100 films:
Citizen Kane – Orson Welles
The Night of the Hunter – Charles Laughton
The Rules of the Game (La Règle du jeu) – Jean Renoir
Sunrise – Friedrich Wilhelm Murnau
L'Atalante – Jean Vigo
M – Fritz Lang
Singin' in the Rain – Stanley Donen & Gene Kelly
Vertigo – Alfred Hitchcock
Children of Paradise (Les Enfants du Paradis) – Marcel Carné
The Searchers – John Ford
Greed – Erich von Stroheim
Rio Bravo – Howard Hawkes
To Be or Not to Be – Ernst Lubitsch
Tokyo Story – Yasujiro Ozu
Contempt (Le Mépris) – Jean-Luc Godard
Tales of Ugetsu (Ugetsu monogatari) – Kenji Mizoguchi
City Lights – Charlie Chaplin
The General – Buster Keaton
Nosferatu the Vampire – Friedrich Wilhelm Murnau
The Music Room – Satyajit Ray
Freaks – Tod Browning
Johnny Guitar – Nicholas Ray
The Mother and the Whore (La Maman et la Putain) – Jean Eustache
The Great Dictator – Charlie Chaplin
The Leopard (Le Guépard) – Luchino Visconti
Hiroshima, My Love – Alain Resnais
The Box of Pandora (Loulou) – Georg Wilhelm Pabst
North by Northwest – Alfred Hitchcock
Pickpocket – Robert Bresson
Golden Helmet (Casque d'or) – Jacques Becker
The Barefoot Contessa – Joseph Mankiewitz
Moonfleet – Fritz Lang
Diamond Earrings (Madame de…) – Max Ophüls
Pleasure – Max Ophüls
The Deer Hunter – Michael Cimino
The Adventure – Michelangelo Antonioni
Battleship Potemkin – Sergei M. Eisenstein
Notorious – Alfred Hitchcock
Ivan the Terrible – Sergei M. Eisenstein
The Godfather – Francis Ford Coppola
Touch of Evil – Orson Welles
The Wind – Victor Sjöström
2001: A Space Odyssey – Stanley Kubrick
Fanny and Alexander – Ingmar Bergman
The Crowd – King Vidor
8 1/2 – Federico Fellini
La Jetée – Chris Marker
Pierrot le Fou – Jean-Luc Godard
Confessions of a Cheat (Le Roman d'un tricheur) – Sacha Guitry
Amarcord – Federico Fellini
Beauty and the Beast (La Belle et la Bête) – Jean Cocteau
Some Like It Hot – Billy Wilder
Some Came Running – Vincente Minnelli
Gertrud – Carl Theodor Dreyer
King Kong – Ernst Shoedsack & Merian J. Cooper
Laura – Otto Preminger
The Seven Samurai – Akira Kurosawa
The 400 Blows – François Truffaut
La Dolce Vita – Federico Fellini
The Dead – John Huston
Trouble in Paradise – Ernst Lubitsch
It's a Wonderful Life – Frank Capra
Monsieur Verdoux – Charlie Chaplin
The Passion of Joan of Arc – Carl Theodor Dreyer
À bout de souffle – Jean-Luc Godard
Apocalypse Now – Francis Ford Coppola
Barry Lyndon – Stanley Kubrick
La Grande Illusion – Jean Renoir
Intolerance – David Wark Griffith
A Day in the Country (Partie de campagne) – Jean Renoir
Playtime – Jacques Tati
Rome, Open City – Roberto Rossellini
Livia (Senso) – Luchino Visconti
Modern Times – Charlie Chaplin
Van Gogh – Maurice Pialat
An Affair to Remember – Leo McCarey
Andrei Rublev – Andrei Tarkovsky
The Scarlet Empress – Joseph von Sternberg
Sansho the Bailiff – Kenji Mizoguchi
Talk to Her – Pedro Almodóvar
The Party – Blake Edwards
Tabu – Friedrich Wilhelm Murnau
The Bandwagon – Vincente Minnelli
A Star Is Born – George Cukor
Mr. Hulot's Holiday – Jacques Tati
America, America – Elia Kazan
El – Luis Buñuel
Kiss Me Deadly – Robert Aldrich
Once Upon a Time in America – Sergio Leone
Daybreak (Le Jour se lève) – Marcel Carné
Letter from an Unknown Woman – Max Ophüls
Lola – Jacques Demy
Manhattan – Woody Allen
Mulholland Dr. – David Lynch
My Night at Maud's (Ma nuit chez Maud) – Eric Rohmer
Night and Fog (Nuit et Brouillard) – Alain Resnais
The Gold Rush – Charlie Chaplin
Scarface – Howard Hawks
Bicycle Thieves – Vittorio de Sica
Napoléon – Abel Gance
The reaction from some outlets in this country is surprise that there are no British films on the list.
The Telegraph say:
The list in the publication Les Cahiers du Cinema features films from the USA, Germany, Russia, Italy and Sweden but there is no place for some of the biggest British directors including David Lean, Ken Loach and Peter Greenaway.

British-born Alfred Hitchcock and Charlie Chaplin are both mentioned but only for the movies that they made in Hollywood.

The nearest the British cinema industry comes to a mention is the 17th (equal) place given to 2001: A Space Odyssey, made in 1968, by the American director, Stanley Kubrick, partly with British money and with British technicians.

The 1962 classic Lawrence of Arabia came seventh in a recent list of the best 100 movies drawn up by the American Film Institute in Hollywood but is perhaps the highest profile omission.
Jean-Michel Frodon, the editor of Les Cahiers du Cinema, has pointed out that the lack of British-made films was "striking" but not part of any Gallic conspiracy:
"It does not reflect an anti-British bias. It is simply the result of the individual choices of 76 people in the French industry. Each was asked to name their 100 best films and this was the result.

Yes, it is surprising, maybe, that there is no Lawrence of Arabia, or no film by Ken Loach or Stephen Frears (The Queen).

But there are many other national film industries which are also missing. There are no Brazilian films, for instance."
Some British films that should have made the list would surely include:
That said, if you were to ask me what are the truly great British films of the last 20 years, then I would struggle to come up with one.
In May 1957 a former editor of Cahiers (and later director) Francois Truffaut once remarked:
"The British cinema is made of dullness and reflects a submissive lifestyle, where enthusiasm, warmth, and zest are nipped in the bud. A film is a born loser just because it is English."
Maybe nothing has changed in 50 years.
> The Telegraph on the list
> Official site for Cahiers du Cinema
> Geoffrey MacNab of The Guardian in 2001 on Cahiers du Cinema