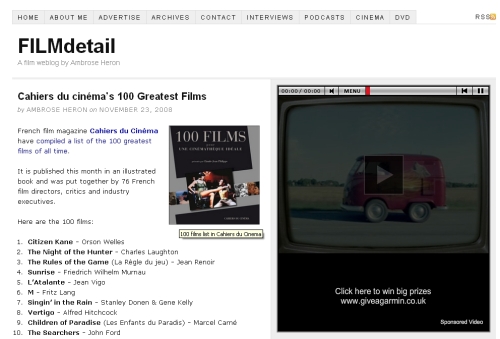 So, a couple of weeks ago I posted an item on a list of 'the greatest films of all time' by French film magazine Cahiers Du Cinema.
It was really just a piece commenting on the films they had chosen and the fact that some observers were upset about the lack of British films on it.
However, soon after The Guardian posted two pieces on the same list – one by Marcel Berlins without any links until a commenter pointed to my post and then one by Ronald Bergan on the 'scourge' of the greatest film list.
Then the IMDb linked to it on their front page hit list and my traffic went into overdrive. (The page views for yesterday were 27 times over the average number for a 24 hour period).
At one point the site buckled under the pressure, but we got it back up thanks to Matt and the author of the Super Cache plugin (which helped deal with the surge in traffic).
I never expected it to be so popular but all the interest and comments shows there is still a big appetite for debating the best films ever.
Personally, I zone out a little when I see yet another list of 'the greatest films of all time' as it is the usual suspects that seem to dominate (Citizen Kane, The Godfather, Star Wars, The Shawshank Redemption).
Perhaps a more interesting exercise would be something like a list of more overlooked films that deserve wider publicity (Ivansxtc, Crumb, Midnight Run, Gattaca, Taxi to the Darkside and Top Secret!).
That said, there is something healthy about debating and analysing what the great films are and why they are still worth watching.
So, I've thought of compiling a 'superlist' of films you should see.
It wouldn't be restricted to 50, 100 but would be whatever is important and worth watching. It could be a 1000, 5123 or whatever number it grows to.
The main idea is that it would grow and be debated online – a bit like the IMDb Top Movies, only it wouldn't be restricted to 250 titles.
As great films come out every year, maybe it shouldn't even have a fixed number.