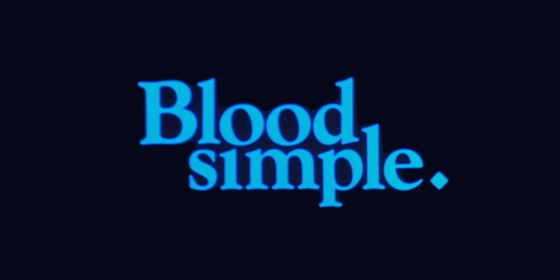 The debut film of the Coen Brothers gets a welcome re-release on DVD.
Whilst true fans might mourn the lack of a Blu-ray (though there is a Region 1), this Director's Cut is a reminder of how striking their entrance into the film world was.
Bearing similar hallmarks to some of their later works, notably Fargo (1996) and No Country For Old Men (2007), this neo-noir crime drama is a dark tale of murder, cash and betrayal.
Over the next twenty years the Joel and Ethan Coen would ascend to the front rank of American filmmakers and one can see the seeds here: quirky characters, the music of Carter Burwell, confident editing and a distinct visual style would all blossom in later works.
Also established here was their fraternal working methods, as Time magazine noted in 2007:
Joel writes and directs (with Ethan's help), Ethan writes and produces (with Joel's help), and both edit under the joint pseudonym Roderick Jaynes.
It also demonstrated their tremendous eye for character actors, the standout here being M. Emmet Walsh, as a corrupt private investigator, who bears some resemblance to Javier Bardem's hitman in No Country.
One wonders if the Coens were thinking of their debut film when adapting Cormac McCarthy's novel: both are set in early 80s Texas, make use of voiceover and paint a dark picture of humanity whilst sprinkling it with humour.
The multi-Oscar winning No Country is still the more accomplished film, but Blood Simple still stands up as one of the key independent films of the 1980s.
Funded by making a trailer, which was then screened for potential investors, it soon made waves on the festival circuit, winning the main prize at Sundance in 1985.
The sense of unease blended with comedy, the startling camera moves and clever narrative twists were all rightly applauded at the time, and the performances from Dan Hedaya, Frances McDormand, John Getz and the aforementioned Walsh are exemplary.
Walsh especially is hard to forget: his eerie Cold War voiceovers about the Soviet Union, pale yellow suit , silver revolver and laugh make him among the most memorable figures the Coens have ever put on screen.
Part of the pleasure of Blood Simple is in seeing how things unravel for the lead characters, as the story takes frequently unexpected turns and ventures down some dark alleys.
Utilising Texas locations on a low-budget, the Lone Star state provides a haunting backdrop to the skullduggery on-screen.
In retrospect, one can see cinematographer Barry Sonnenfeld's raw, yet stylish, visuals as a forerunner to their long collaboration (he would later direct in his own right) and Joel's background as an editor served him well, as sequences just click into place.
In their playful style the Coen Bros did a Director's Cut 3 minutes shorter, along with some minor changes to the original version, and that is the one that is being re-released on DVD.
Blood Simple (Director's Cut) is released on Monday 15th April by Studiocanal
> Buy Blood Simple on DVD via Amazon UK
> Find out more about the Coen Brothers at Wikipedia