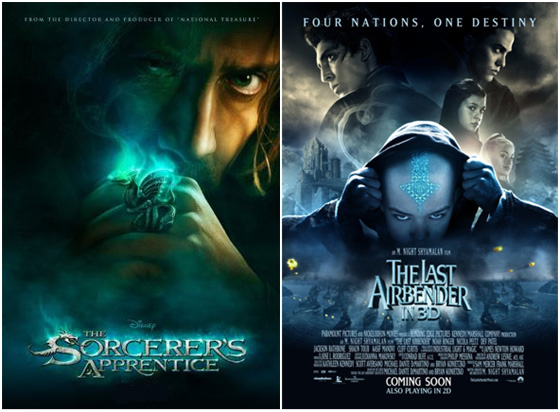 [ad]
NATIONAL RELEASES
The Sorcerer's Apprentice (Walt Disney): Inspired by the famous segment of the Walt Disney classic Fantasia (1940), this modern day update moves to contemporary New York, where an awkward teenager (Jay Baruchel) learns how to use magic under the guidance of a master sorcerer (Nicolas Cage).
They soon have to deal with two evil wizards (Alfred Molina and Toby Kebbell) who want to control New York.
Director Jon Turtletaub and producer Jerry Bruckheimer achieved massive box office success at Disney with the National Treasure series and this was clearly aimed at the same family demographic that went to see those films.
However, this underperformed last month in the US when it went head-to-head with Inception and the middling reviews meant that it was a disappointing summer for Bruckheimer after Prince of Persia also failed to set the box office alight. [Vue West End & Nationwide / PG]
The Last Airbender (Paramount): Writer-director M. Night Shyamalan's latest film is a live action fantasy film based on the animated US television series. The story takes place is a mystical kingdom split between four tribes who can manipulate (or 'bend') the different elements of fire, water, air and earth.
When a young boy (Noah Ringer) is discovered as an 'Avatar', someone who can uniquely manipulate all four elements, he journeys to the North in order to help the two members of the Water tribe (Nicola Peltz and Jackson Rathbone) in their battle against the war-mongering Fire Lords (Dev Patel, Cliff Curtis).
This got brutal reviews and underwhelmed at the US box office when it opened there last month. The basic problem is that it feels like several episodes of TV series squeezed into a 94 minute feature film.
In addition, the tone is so self-consciously serious that at times it feels like a parody. It isn't quite as horrendous as some have claimed, but it marks another low point in the once feted career of Shyamalan whose career has gone in to a creative nosedive after The Sixth Sense (1999) and Unbreakable (2000). [Vue West End & Nationwide / PG]
Tinkerbell and The Great Fairy Rescue (Walt Disney): The other Disney film out this week is an animated feature based on the Disney Fairies franchise, produced by DisneyToon Studios. A sequel to 2009's Tinker Bell and the Lost Treasure, the story revolves around Tinker Bell, the fairy character from J. M. Barrie's Peter Pan and features the voices of Lucy Lui and Michael Sheen. [Empire Leicester Square & Nationwide / U]
[ad]
ALSO OUT
Black Dynamite (Icon): A low budget blaxploitation spoof starring Michael Jai White as a Shaft-like character seeking revenge after his brother dies.
Made for an authentically low-budget, this received a warm critical reception when it opened in the US, which meant its underwhelming box office performance was a surprise.
Icon will be hoping the reviews and buzz will help spread the word it looks like this is a film that will find its true audience on DVD. [Ritzy & Key Cities / 15]
Le Refuge (Artificial Eye): The latest film from French director François Ozon is about a heroin addict (Isabelle Carré) who overdoses with her rich boyfriend (Melvil Poupaud) and upon waking realises that her life has significantly changed. [Curzons Mayfair, Renoir, Richmond, Ritzy & Key Cities / 15]
The Secret In Their Eyes (Metrodome Distribution): An Argentinean crime film told in flashback sees a federal agent become entangled in the investigation of a brutal murder in Buenos Aires. Directed by Juan José Campanella, it was based on Eduardo Sacheri's novel La Pregunta de Sus Ojos (The Question in Their Eyes) and stars Ricardo Darín, Soledad Villamil, Javier Godino, Guillermo Francella and Pablo Rago. It won the Oscar for Best Foreign Language Film earlier this year and has become the second biggest box office success in Argentine film history. [Barbican, Clapham Picturehouse, Curzon Soho, Rio & Key Cities / 18]
The Final (Chelsea Films): A horror film set in a high school about pupils at a school who plan revenge on their bullies by staging a fancy-dress party in the woods. Directed by Joey Stewart. [Empire Leicester Square / 18]
Five Easy Pieces (Park Circus): A reissue for Bob Rafelson's 1970 film about a oil rig worker (Jack Nicholson) who is disenchanted with everyday American life. A vintage performance from Nicholson and a perceptive screenplay by Carole Eastman and Rafelson make this one of the best films of the early 1970s. [BFI Southbank, Everyman, Gate, Ritzy & Key Cities / 15]
> UK DVD and Blu-ray releases for this week including Psycho and The Seven-Ups
> Get local cinema showtimes for your area via Google Movies