I've only just come across the official YouTube channel for the British Film Institute (BFI).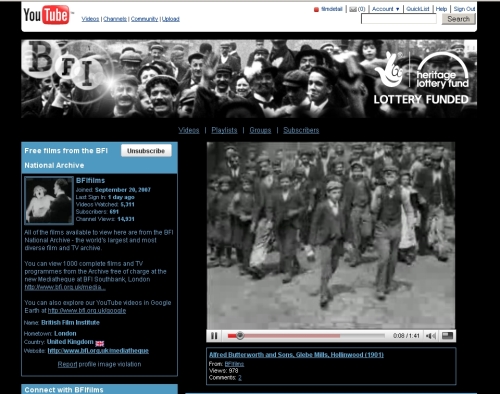 If you aren't aware of their good work, Wikipedia defines them as 'a charitable organisation' established by Royal Charter to:
Encourage the development of the arts of film, television and the moving image throughout the United Kingdom
To promote their use as a record of contemporary life and manners
To promote education about film, television and the moving image generally, and their impact on society
To promote access to and appreciation of the widest possible range of British and world cinema
To establish, care for and develop collections reflecting the moving image history and heritage of the United Kingdom.
If you live in the UK or London you may have been to see a film at the NFT or IMAX cinemas which are both run by the BFI.
Their YouTube channel now has a lot of videos from their extensive vault, which (according to them) is the world's largest and most diverse film and TV archive.
There is some very interesting footage from a football match in 1901 between Newcastle United and Liverpool:
A short film called 'Springtime in an English Village' which offers a snapshot of rural life in wartime:
You can also explore their videos in Google Earth and if you are in London you can view 1000 complete films and TV programmes from the archive for free at the new Mediatheque at the BFI Southbank.
[Link via Speechification]
> BFI YouTube channel
> Find out more about the BFI at Wikipedia