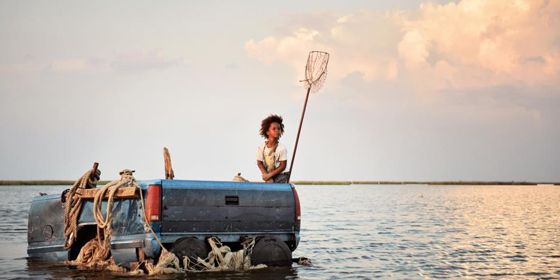 One of the breakout films from this year's Sundance film festival has been Beasts of the Southern Wild, the directorial debut of Benh Zeitlin.
Based on a play called Juicy And Delicious, this is the official synopsis from the Sundance catalogue:
Hushpuppy, an intrepid six-year-old girl, lives with her father, Wink, in "the Bathtub," a southern Delta community at the edge of the world. Wink's tough love prepares her for the unraveling of the universe; for a time when he's no longer there to protect her. When Wink contracts a mysterious illness, nature flies out of whack—temperatures rise, and the ice caps melt, unleashing an army of prehistoric creatures called aurochs. With the waters rising, the aurochs coming, and Wink's health fading, Hushpuppy goes in search of her lost mother.

Hushpuppy is not just the film's heroine; she's its soul. Beasts of the Southern Wild exists entirely in its own universe: mythological, anthropological, folkloric, and apocalyptic. Benh Zeitlin's first feature (a Sundance Institute Feature Film Program project) employs a cast of nonactors—reflecting its grassroots production—to fiercely portray the bond between father and daughter in a world where only the strong survive. Standing defiantly at the end of the world, Hushpuppy affirms the dignity of telling their own story: that they were once there.
Here is Zeitlin discussing the film with the Sundance Channel before the festival:
He also did a Q&A with Filmmaker Magazine:
Filmmaker: What is the tone of Beasts of the Southern Wild? Who is this film for?

Zeitlin: The film is for everyone. The movie's weird, because we made the it in a way that no one else would really be stupid enough to try, but, I know that the feelings it's trading in are universal. It's all about hope, glory, courage, wisdom, in the face of loosing the people and places that made you. It's not a brooding, mopey, art film. Even though it has this folkloric poetic-ness that you don't generally get in the AMC palace, the AMC palace is deeply present in the energy of the movie. People from both sides of the multiplex / art house line are going to relate to it.
Zeitlin's short film Glory at Sea (2006) had led to Filmmaker Magazine listing him in their 2008 list of the 25 New Faces in Independent Film.
It was uploaded to YouTube in 2008 and you can watch it here:
There is also this interview with Zeitlin from 2009, about the short:
But reception to his debut feature has been on another level, with some effusive reactions in Utah.
Variety's Peter Debruge wrote:
"…a stunning debut. Despite limited means, Zeitlin and his Court 13 collective conjure an expansive world in which to set this richly textured bayou pastoral"
Todd McCarthy of The Hollywood Reporter (who has seen a few Sundance sensations in his time) is also highly impressed:
"One of the most striking films ever to debut at the Sundance Film Festival. …Benh Zeitlin's directorial debut could serve as a poster child for everything American independent cinema aspires to be but so seldom is"
So the two major US trade journals are buzzing, but what about other outlets?
Ty Burr of the Boston Globe is dazzled:
"It doesn't happen often here, but it's a heady experience when it does: An unknown Sundance movie that grips you from its very first images, follows through on its promise (and even raises the stakes), then sends you out dazed with other festivalgoers to wonder if you all witnessed the same minor miracle.
Eric Kohn of Indiewire is more tempered:
"Zeitlin offers up a majestic encapsulation of a child's worldview. Supremely ambitious and committed to profundity, "Beasts" sets the bar too high and suffers from a muddled assortment of expressionistic concepts, but it still manages to glide along its epic aspirations. Beasts is bound to generate Sundance buzz for its sheer jaw-dropping scope, but it's simply too odd to garner more than a limited theatrical release (or perform well if it's released any wider)."
Comparisons have already been made with a young Terrence Malick and Noel Murray of the AV Club says:
"a live-action Miyazaki film, with Days of Heaven narration"
Jeff Wells of Hollywood Elsewhere praises its atmosphere:
"The passionately praised Beasts of the Southern Wild, …is everything its admirers have said it is. It's something to sink into and take a bath in on any number of dream-like, atmospheric levels, and a film you can smell and taste and feel like few others I can think of."
Anthony Kaufman of Screen Daily doubts it will break out of the cineaste festival circuit:
"It's all original and weird enough to be watchable, but not coherent or concise enough to be commercial. Beasts is a curiosity, to be sure, likely headed for worldwide festival play, but not much business"
Here is Peter Sciretta and Germain Lussier of /Film:
Fox Searchlight, one of the remaining powerhouses in the US indie world, bought the rights soon after.
It was presumably a sign that they want to be in business with Zeitlin for his next couple of films and reminiscent of last year when they acquired Sundance breakout Another Earth.
Another film they acquired this week was The Surrogate – a drama with John Hawkes and Helen Hunt, which sounds like a cross between My Left Foot (1989) and The 40-Year Old Virgin (2005), which has already been attracting awards season buzz for next year's Oscars.
> Official site, Twitter and Facebook
> Benh Zeitlin at the IMDb
> Interview with Benh Zeitlin from 2008