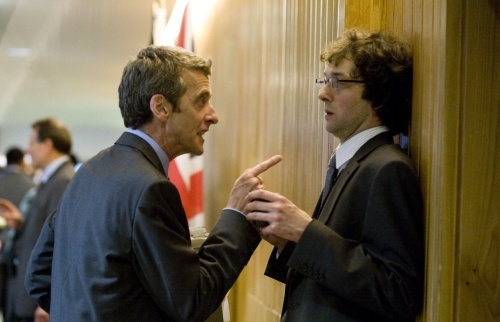 A UK release date has been announced for In the Loop, the political satire which played to considerable acclaim at Sundance recently.
It will open the Glasgow Film Festival on February 12th and will be released nationwide by Optimum Releasing on Friday 17th  April.
Directed by Armando Iannucci, it is a loose spinoff of the TV series The Thick of It and stars Tom Hollander, James Gandolfini, Chris Addison, Peter Capaldi, Gina McKee and Steve Coogan.
Here is the official press release:
Optimum Releasing presents IN THE LOOP, a devastatingly sharp political comedy from the reigning king of satire, writer and director Armando Iannucci (The Thick of It, The Day Today, Knowing Me, Knowing You with Alan Partridge).

Following its world premiere at the Sundance Film Festival, IN THE LOOP will open the Glasgow Film Festival on February 12th 2009 and will be opening in cinemas across the United Kingdom on April 17th 2009.

IN THE LOOP is a foul-mouthed comedy that draws on non-specific events to create a world that is terrifyingly familiar: The US President and UK Prime Minister fancy a war, but not everyone agrees that war is a 'good thing'. US General Miller (James Gandolfini) certainly doesn't think so and neither does the British Secretary of State for International Development, Simon Foster (Tom Hollander).

But when the mild-mannered minister inadvertently appears to back the war on prime-time television, he immediately attracts the attention of the PM's venomously aggressive communications chief Malcolm Tucker (reprised from The Thick of It by Peter Capaldi), who latches onto him like a hawk. Soon, the Brits are in Washington, where diplomatic relations collide with trans-Atlantic spin doctors and Foster's off-hand remark quickly spirals into an insurmountable 'mountain of conflict'.

Foster quickly becomes the oblivious plaything of the US and British government, on the one side by Malcolm Tucker, on the other by paranoid US Assistant Secretary for Diplomacy Karen Clarke (Mimi Kennedy) and her ambitious intern Liza Weld (Anna Chlumsky). The loyal British delegation at Foster's side consists largely of his new aide Toby (comedian Chris Addison), whose inept attempts to preserve his job are matched only by his hapless bid to sleep with US intern Liza.

Meanwhile, the minister's efficient and thoroughly skeptical Director of Communications Judy (Gina McKee) has been left behind in London to deal with the breaking story of an angry constituent and his collapsing garden wall (Steve Coogan). It soon becomes clear that the light at the end of Simon Foster's tunnel is likely to be an oncoming ballistic missile.

Armando Iannucci reunites the award-winning writing team behind The Thick of It, bringing together collaborative writers Jesse Armstrong and Simon Blackwell (The Old Guys, The Thick of It, Peep Show), Tony Roche (The Thick of It, Alistair McGowan's Big Impression), producers Adam Tandy (The Thick of It, I'm Alan Partridge, The Armando Iannucci Shows) and Kevin Loader (History Boys, Brideshead Revisited).

IN THE LOOP is shot in a pseudo-documentary style, incorporating Iannucci's infamous improvisational techniques, creating an unforgiving, lightning-fast comedy peppered with razor-sharp expletives, which gives a frighteningly uncomfortable sense of how things really might be.
This is a Sundance Channel report on the premiere:
> In the Loop at the IMDb
> The Guardian and The Times report on the reaction at Sundance