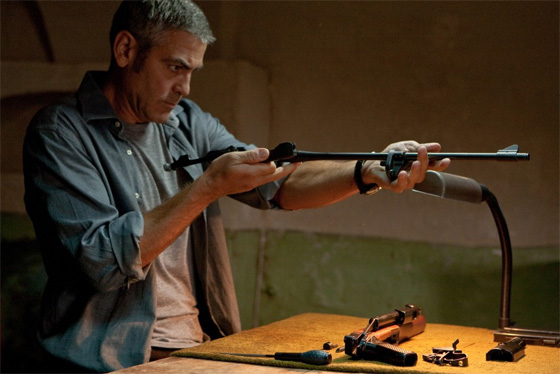 Anton Corbijn's second film as a director is a stylish, existential drama about an enigmatic American hiding out in a remote Italian town.
Beginning with a prologue in wintry Sweden, we first see the titular character, Jack (George Clooney), as circumstances force him to relocate to the Abruzzo region in Italy.
There we slowly learn more about him: he makes a rifle for an assassin (Thekla Reuten) under the orders of his handler (Johan Leysen), befriends a priest (Paolo Bonacelli) and falls for a local prostitute (Violante Placido), as he begins to think about changing his life.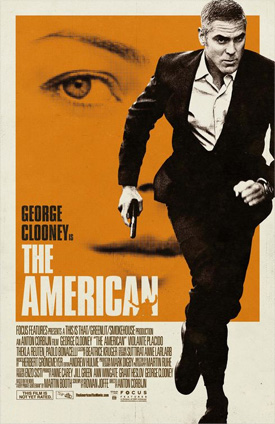 Although The American appears to be channelling the minimalist crime dramas of Jean-Pierre Melville (especially Le Samouraï), the form and structure resemble a Sergio Leone western, with its story of a stranger arriving in a new town, extended silences and widescreen visuals.
Careful viewers may note that Leone's Once Upon A Time in The West can be seen on a television in one sequence and that some of his westerns were shot in the same region back in the 1960s.
Despite the crime elements, this is not an action movie and is essentially a suspense drama revolving around Jack's gradual construction of a gun and his relationships with various characters, who may or may not be trusted.
It is also deliberately ambiguous about various elements: Jack is a gunsmith but could also be a hit man; a group of characters are simply referred to as 'the Swedes'; and there is the mystery of why the gun is being constructed.
As a vehicle for Clooney, this is an unusually European film – despite being a US/UK production – and the slow burn pacing and gradual revelations will probably limit its appeal to a mass audience.
The trailer and TV spots have misleadingly sold it as an action thriller (Corbijn recently said that he directed the film 'but not the trailer') but its respectable opening in the US probably meant the box office ends were justified by the marketing means.
But there is much to appreciate and right from the opening sequence Corbijn and his cinematographer Martin Ruhe, working together again after Control, demonstrate their considerable visual abilities.
The snowy landscapes of Sweden and the misty, old world charms of rural Italy are captured with exquisite clarity and the artful compositions are often stunning.
Rowan Joffe's screenplay appears to have some key differences with the novel it's based on (A Very Private Gentleman by Martin Booth), but the sparse dialogue provides a neat fit for Corbijn's visual approach.
Clooney is in downbeat mode, but like his performances in Michael Clayton and Syriana it plays against his usual charming screen persona and he convincingly conveys the weary solitude of the central character.
The supporting characters tend to fit in to types: the impossibly soulful and glamorous prostitute, the wise old priest and the impatient boss, but the actors who play them are convincing.
Their chemistry with Clooney also works well, be it in the unusually frank sex scenes, chats in the graveyard, gun tests in the forest or sinister conversations in a restaurant.
Another captivating aspect is how the rifle is actually constructed. Corbijn depicts Jack's handiwork in detail as each part is assembled with a loving care that contrasts with its ultimate use as an instrument of death.
There is also an effective sense of unease that is gradually teased throughout the film, as everyday events gain a sinister edge due to the danger and mistrust involved in the business of killing people.
This atmosphere is enhanced by Herbert Gronemeyer's minimal, atmospheric piano-and-percussion score which, like the poster, evokes the tone of similar films from the 1970s.
As with his debut feature, Corbijn has crafted another considered and tasteful film.
Although the cool, European flavour won't be for everyone, it bodes very well for his future career as a director.
The American opens in the UK on Friday 26th November
> Official site
> The American at the IMDb
> Reviews of The American at Metacritic and Rotten Tomatoes
> Interview with Violante Placido about The American