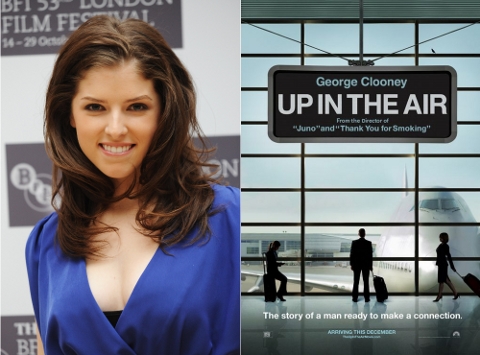 Up in the Air is a new film about a corporate downsizer named Ryan Bingham (George Clooney) whose job is to inform people that they no longer have theirs.
Employed by an Omaha based company, his life is spent flying around the US firing people in a smooth and efficient manner because bosses want to outsource this awkward process.
Free of human relationships, he has become attached to frequent flyer miles, a fellow air mile addict (Vera Farmiga) and the buzz of living out of a suitcase. But when his boss (Jason Bateman) partners him with a new recruit (Anna Kendrick) who advocates firing people via video-link, things begin to change.
Directed by Jason Reitman, it is a smart, funny and thoughtful adaptation of Walter Kim's 2001 novel that explores the current recession, relationships and travel.
I spoke with Anna Kendrick in London recently and we talked about her role and her experiences making it.
You can listen to the interview here:
[audio:http://filmdetail.receptionmedia.com/Anna_Kendrick_on_Up_in_the_Air.mp3]
You can download this interview as a podcast via iTunes by clicking here
Up in the Air is out at UK cinemas on Friday 15th January
> Download the interview as an MP3 file
> Official UK site
> Anna Kendrick at the IMDb
> Read my review of the film
> Buy more about author Walter Kirn and director Jason Reitman at Wikipedia