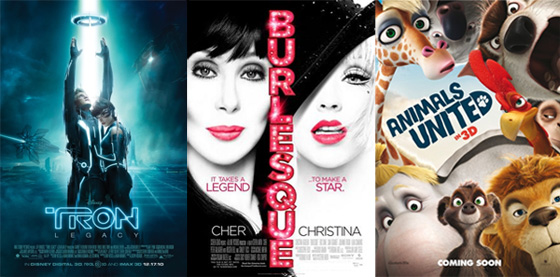 NATIONAL RELEASES
Tron: Legacy (Walt Disney): The original Tron was about a brilliant software engineer, Kevin Flynn (Jeff Bridges), who enters into a virtual world whilst this sequel picks up many years later as his son Sam (Garrett Hedlund) tries to solve the disappearance of his father.
Responding to a mysterious message he finds himself pulled into the world where Kevin has been trapped. Aided by a female warrior Quorra (Olivia Wilde), father and son have to escape the new digital universe and the clutches of those who now rule it.
Disney's decision to reboot Tron for a new generation, seems to be an attempt to engage audiences who remember it and to adapt the technology driven story for the current digital age, utilising cutting edge 3D and digital effects.
Visually, it looks amazing with director Joseph Kosinski upgrading the look of the first film and making good use of 3D cameras.
The dark, neon lit landscape is a dazzling upgrade from the original and the stylised costumes, light cycles, discs and various vehicles all provide a feast for the eyes in both the action sequences and calmer moments.
However, the script by Adam Horowitz and Edward Kitsis is much more problematic and feels clunky and episodic, playing out like levels on a computer game that are just there to be completed.
This leads to an inherent lack of drama and consequence to the material, despite the visual pyrotechnics that make it so captivating to look at. It also means the performances suffer, as the characters are often just cogs in a wheel.
Disney will be nervous as the film cost a lot of money (reportedly $200 million) and early reports suggest that audience awareness isn't what it could be, which along with mixed reviews could dent its box office potential over the Christmas period. [Empire Leicester Square & Nationwide / PG]
* Read our full review of Tron: Legacy here *
Burlesque (Sony Pictures): A drama about a small-town girl (Christina Aguilera) who ventures to Los Angeles and finds her place in a neo-burlesque club run by a former dancer (Cher).
Directed by Steven Antin, it co-stars Cam Gigandet, Stanley Tucci, Alan Cumming, Kristen Bell and Eric Dane. The script was originally written by Diablo Cody and later revised by Susannah Grant. This appears to be a tamer version of Showgirls and the critical reaction is likely to be mixed. [Nationwide / 12A]
Animals United (Entertainment): An animated film with an eco-message about a group of animals, including a meerkat and a lion, who team up to protest at the UN about climate change. Directed by Reinhard Klooss and Holger Tappe, it features the voices of Ralf Schmitz, Thomas Fritsch, Christoph Maria Herbst and Vanessa Redgrave. [Nationwide / U]
ALSO OUT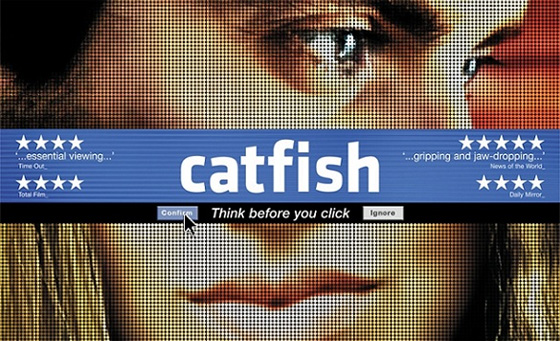 Catfish (Momentum Pictures): One of the most talked about films of the year is this intriguing documentary about a group of New York filmmakers who go on a road trip to find out more about a woman one of them has befriended online.
Even though there has been much controversy about the 'truth' depicted in the film, it is a gripping experience that has been put together with considerable taste and skill. (Warning: you should know as little as possible before seeing it). [Curzon Soho, Screen on the Green / Various VOD outlets including Lovefilm and iTunes / 12A]
* Read our full review of Catfish here *
Boudu Saved From Drowning (Park Circus): A re-issue of Jean Renoir's 1932 comedy about a Parisian bookseller (Charles Granval) who rescues a drowning tramp named Boudu (Michel Simon), which leads to considerable complications when he invites him to stay at his home. [Curzon Renoir, Curzon Richmond & Key Cities / PG]
Cuckoo (Verve Pictures): British thriller starring about an academic (Richard E Grant) and his troubled research student (Laura Fraser). [Apollo Piccadilly Circus, Clapham Picturehouse & Key Cities]
Fred: The Movie (Lionsgate UK): The feature film version of a YouTube phenomenon about a teenager named Fred with a speeded-up voice. [West End Vue & Key Cities / 12A]
Loose Cannons (Peccadillo Pictures): Italian romantic comedy about what happens when two scions of a family are reluctant to take over a pasta business. [Apollo Piccadilly Circus, Cine Lumiere, Odeon Covent Garden, Shepherds Bush Vue & Key Cities]
> Find out what films are showing in your area with Google Movies or Find Any Film
> UK DVD and Blu-ray Releases for Monday 13th December 2010