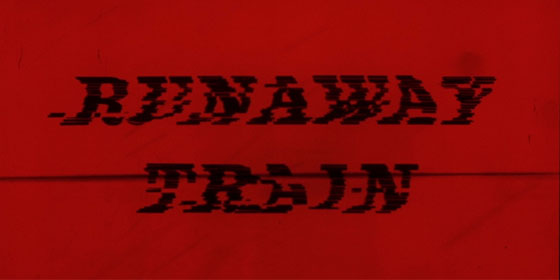 The best film to emerge from Cannon in the 1980s was this tense thriller about two prisoners who escape from an Alaskan high-security jail.
For those who don't remember Cannon, they were the studio who gained something of a reputation as schlockmeisters, under the leadership of Menahem Golan and Yoram Globus.
An over-abundance of Chuck Norris and Charles Bronson action films along with such films as Breakin' 2: Electric Boogaloo and Tough Guys Don't Dance soured their reputation.
However, the great exception was Runaway Train directed by Andrei Konchalovsky, and loosely based on a screenplay by Akira Kurosawa, it is a compelling mixture of the brutal and beautiful.
The three central characters are all deeply unpleasant: Manny (Jon Voight), a hardened bank robber; Buck (Eric Roberts), convicted of rape; and Warden Ranken (John P. Ryan), who at times seems as crazy as his prisoners.
But the performances are first-rate, with Voight giving one of the best of his career: seeing him struggle with the forces of nature – when his character Manny is a force of nature – is the central pull of the film.
Eric Roberts is also impressive as the younger convict and Rebecca De Mornay has a surprising role as a railway worker, which was decidedly different from her breakout role in Risky Business (1983).
The chemistry between Voight, Roberts and De Mornay as they are stuck in the claustrophobic train cabin is one of the highlights and the blending of sound stage work and location shooting is pretty seamless for a film with no CGI.
This was Konchalovsky's second film in America and it remains his best, with its masterful blend of spectacle and tension set against the backdrop of some stunning locations.
Sadly, his mainstream career suffered a setback when he was fired from Tango and Cash (1989), the action-comedy starring Sylvester Stallone and Kurt Russell, and he retreated to the world of theatre and opera.
But the new Blu-ray is a reminder of his talent and comes with the following extras:
High Definition transfer of the film prepared by MGM for the 2010 Cannes Film Festival premiere.

High Definition Blu-ray and Standard Definition DVD presentation of the film.

Optional English SDH Subtitles for the deaf and hard of hearing.

Running on Empty – An Interview with director Andrei Konchalovsky.

From Thespian to Fugitive – Star Jon Voight shares his memories of his Academy Award-nominated role.

Sweet and Savage: Eric Roberts recalls his Academy Award-nominated performance.

The Calm Before the Chaos – Co-star Kyle T. Heffner remembers Runaway Train.

Trailer with commentary by Rod Lurie.

Original Trailer.

Booklet featuring new writing on the film by Michael Brooke, a new interview with Runaway Train's Production Designer Stephen Marsh conducted by Calum Waddell and the original Life Magazine article that inspired the film, illustrated with rare behind-the-scenes production images.
> Buy Runaway Train on Blu-ray from Amazon UK
> Runaway Train at the IMDb