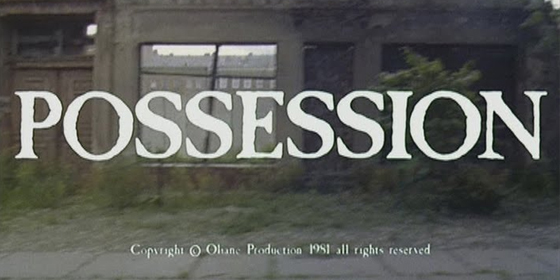 Andrzej Zulawski's intense 1981 psychodrama is still a puzzling and disturbing work.
Set in a bleak, sparsely populated Berlin, it depicts the gradual meltdown of a married couple: Mark (Sam Neill) and Anna (Isabelle Adjani), the latter of whom wants a divorce.
But words only tell part of the story with Possession, as it combines many different elements including horror, politics and psychological breakdown into a unique mix.
Imagine if David Cronenberg, Lars Von Trier and David Lynch teamed up for a remake of Who's Afraid of Virginia Woolf? and you get an inkling of the kind of territory Zulawski is exploring.
The director may have been exorcising his own personal and professional demons: he was going through a messy divorce and his two previous films saw him effectively blacklisted as a filmmaker in his native Poland.
This may indeed have contributed to the extreme acts we see on-screen: characters scream at each other, seem to hallucinate and engage in strange acts of violent and sexual behaviour.
Adjani is given the most difficult role – having to portray a convincingly hysterical woman for most of the film.
Although at times it threatens to descend into comedy, she manages to make a strong impression with one unsettling sequence inside a subway the highlight.
Sam Neill provides a good foil for her, even if some of the scenes suffer because of the limited technical resources such as the post-synced audio. (The film was a French-German co-production).
Cinematographer Bruno Nuytten's use of wide-angle lenses and Zulawski's direction make good use of interior space (the film is mostly set inside), whilst Andrzej Korzynski's electronic score complements the action well.
Possession is a hard film to figure out, both on a plot level and a genre level. It contains elements of horror (a creature designed by Carlo Rimbaldi) but also seems to be expressing a link between personal and social breakdown.
The Berlin Wall features prominently in the background (at one point the camera zooms back from a watch tower) and one wonders if Zuwalski was expressing a connection between Cold War divisions and the inner torment of a married couple.
It is an ambiguous film and this approach has seen it acclaimed at Cannes, where Adjani won Best Actress, and banned in the UK as a 'Video Nasty', almost certainly making it unique in achieving these two feats.
Second Sight have done a fine job on the Region 2 UK Blu-ray, with a wealth of extras included.
BONUS FEATURES
The Other Side of the Wall – The Making of Possession

Audio Commentary with co-writer Frederic Tuten and Daniel Bird

Repossessed – A short feature showing the film's UK and US reception, the 'video nasties' furore

and the US recut

A Divided City – The Berlin locations

The Sounds of Possession – An exclusive interview with composer Andrzej Korzynski about his working relationship with Andrzej Zulawski

Our Friend in the West – An exclusive interview with legendary producer Christian Ferry

Basha – A new featurette on Polish artist Barbara 'Basha' Baranowska, who created the famed poster for Possession.

Theatrical Trailer

Andrzej Zulawski Interview
Possession is released in the UK on July 29th by Second Sight